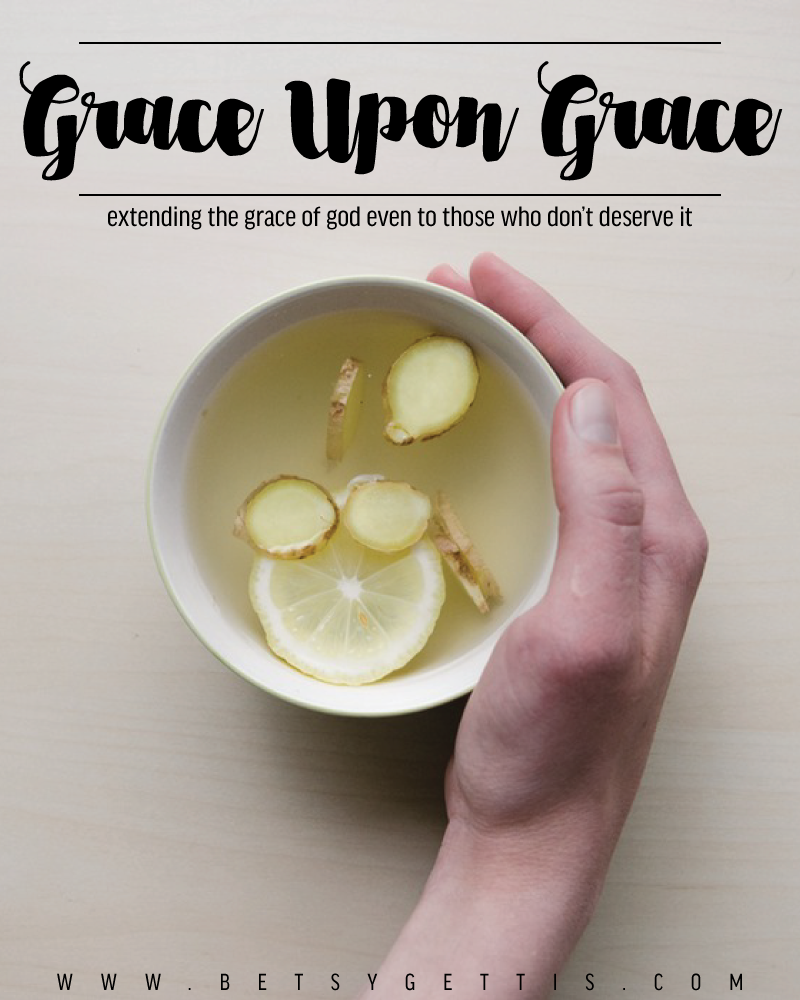 I've been thinking a lot about grace lately.
I've been thinking about all of the times that I fall short, that I don't fulfill a commitment in the way I meant to, or didn't live up to being the kind of friend or employee or daughter or fiancé that I intend to.
The times that my temper gets the best of me and I snap back at someone or the times that I say the wrong thing and then have to apologize for coming across in a way that I'm not proud of.
I've had to ask for a lot of grace lately. Stress does that to you. Busyness does that to you. In light of what the month of June held...my dad's whole brain radiation treatment for the 30+ lesions they found in his brain, our pastor's motorcycle accident in which his wife lost her life, the impending stress of the last two months of wedding planning and not having time to even think about it...I've found myself asking for another to extend grace to me or thanking someone for their understanding and grace when I've had to put life on hold.
It's never been easy for me to ask for grace. Even though I was saved by it at a young age, it's still not easy for me to accept it, even from the One who wants to give it so freely.
John 1:16 says, "For from His fullness we have all received, grace upon grace." I'm not even sure that I can
comprehend
what that even means...grace upon grace. As if just plain 'ol grace wasn't enough, here's some more. Grace upon grace.
I've never been one to jump into the political fray, and I'm not going to start now, but it's hard to ignore the arguments and the bitterness and the hurt that is all over social media after last week's news. And as I scroll through my Facebook feed, my heart breaks, because I keep missing one thing from both sides of the debate: grace. While politics bring out the good, bad, and the
ugly
in people, the
debate
going on through our screens right now seems to just be a microcosm of how we conduct ourselves and how we treat others as a whole.
We lack grace in our words, both typed and spoken, and its hurtful to ourselves and to the person we're speaking to. It's easy to justify lacking grace towards people who have hurt us or who we don't think deserve it or who are unable to compromise and see our side of things, but if we deny grace to those we don't favor, then we've missed the point.
Grace, by definition, means "the free and unmerited favor of God." By our human nature, by the fall, by sin, we're so unworthy of grace. Yet He gives it freely and without merit.
It's so humbling when you think about it. That the Savior of the World, the One who created it all, the Prince of Joy, would distribute grace upon grace to broken, fallen people who are
so unworthy of it,
and who so often turn
around
and don't extend the same grace to others.
I bet it breaks His heart when we don't give out grace in the same way He does.
But thank goodness that He does give it out. And He delights in it. He's so full of grace that He can't help but to spill it out on each of us.
And we, in turn, are called to pour that grace out on our neighbor. Whether it means lending a hand or accepting an apology before it's even offered, or simply showing kindness and love even when our feelings are hurt, we're called to it. In the
glow of the heated debates and declarations and decisions that light up our social media feeds, we're called to extend grace in our responses, our declarations, and our interactions so that Christ's light can shine more fully in us.
I don't know about you, but I'm sure that I don't deserve the grace that Christ has handed to me. I don't get it right every time, and more often than not, my own sinful human nature rears its ugly head and I'm left with the shame that I didn't possess the right amount of patience or self control or gentleness. But oh, what a Savior, that He should look past all of that and love me anyway. Who am I to not show that same love and grace to others?