if you're anything like me, then you can't get enough mercury glass. i pick it up whenever i find it on sale, and i love decorating with little mercury glass votives! when i started thinking about wedding decor, i immediately knew i wanted to incorporate mercury glass into my centerpieces, but i had two problems: while we're incorporating both gold and silver into our decor, gold is our main metallic in our color scheme and traditionally, mercury glass is silver, not gold. also, it's not exactly cheap. the solution? diy!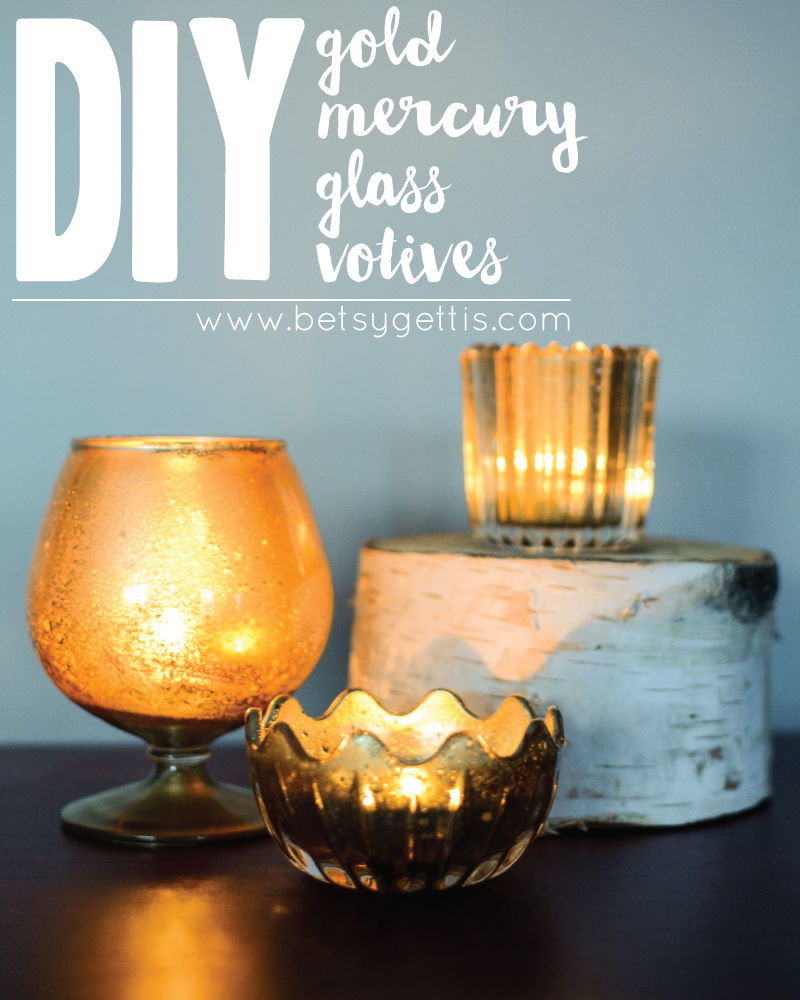 i have a whole list of diy ideas for our wedding, and amongst them was making my own faux mercury glass votives. after checking out a few ways to do it with mirror-finish paint, i thought i'd try adapting what i had read using gold paint to create some pieces that would better fit our color palette. i'm happy to report that i was
not
disappointed! this diy was so easy to do, and for this instant-gratification-loving girl, was even better because it could be done in an afternoon!
so let's dive right into it. here are the instructions for creating your own gold faux mercury glass votives!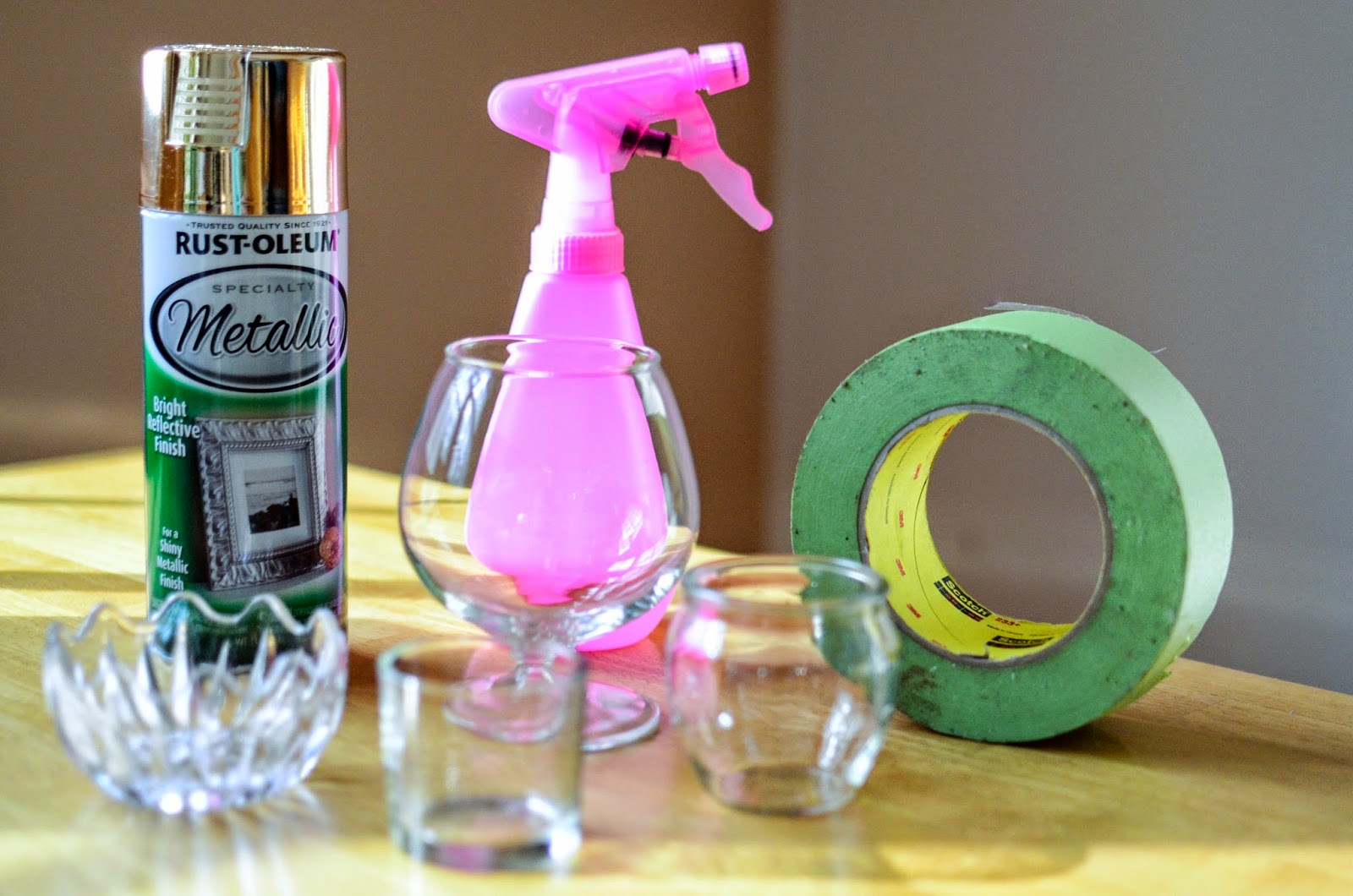 here's what you'll need:
a spray bottle (i picked this one up for less than a dollar in the travel section at target)
water
gold metallic spray paint
glass votives or jars
napkins or paper towels
paint tape or masking tape
newspaper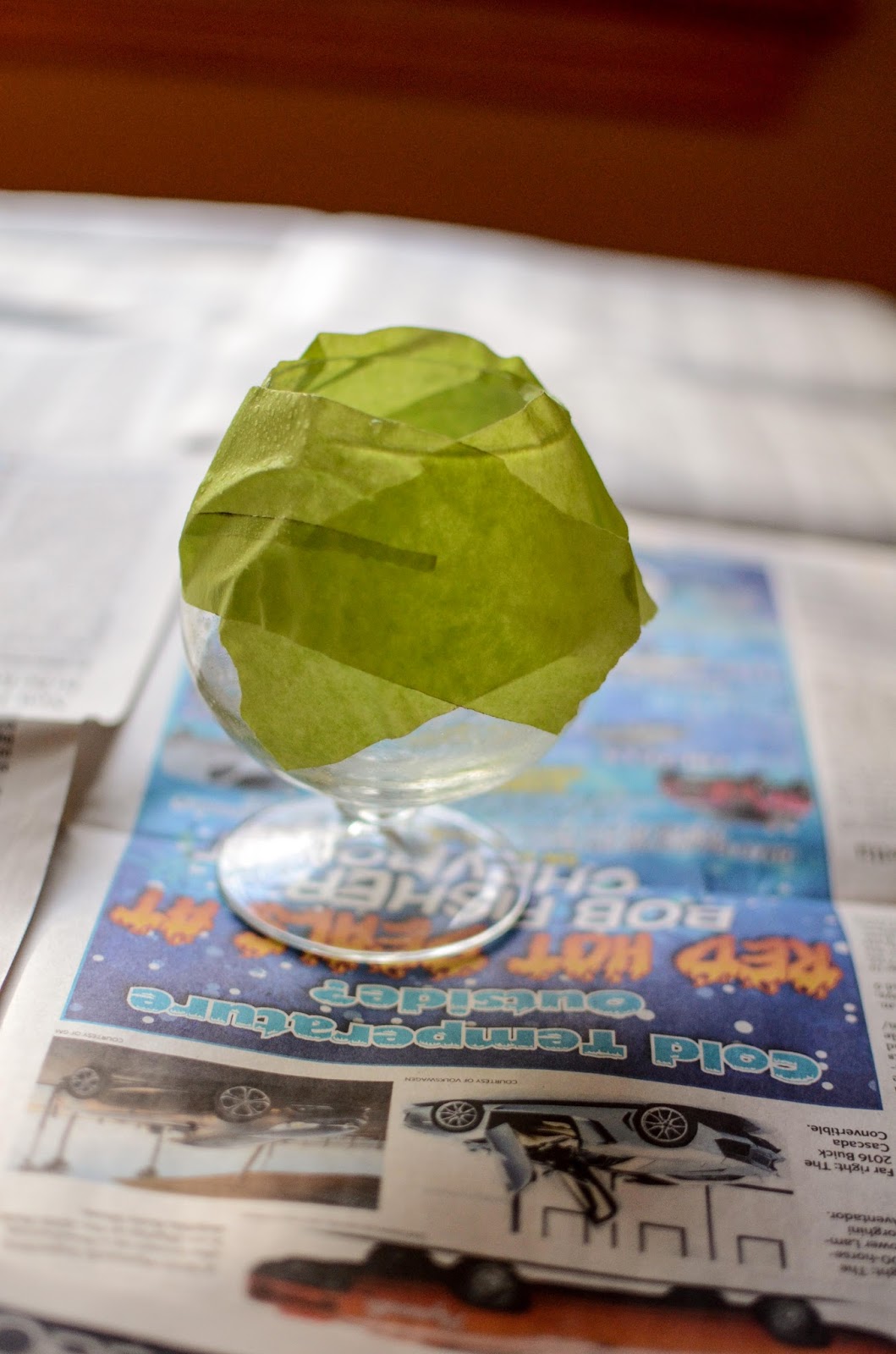 1 //
line your work surface with newspaper (if you can, it's probably better to do this outside, but if you're stuck in an arctic tundra like me, work in a ventilated space and cover your table!)
2 //
using your masking tape or painter's tape, tape around the top of your votives. this 2" wide tape was perfect and helped protect the outside of my glassware from overspray.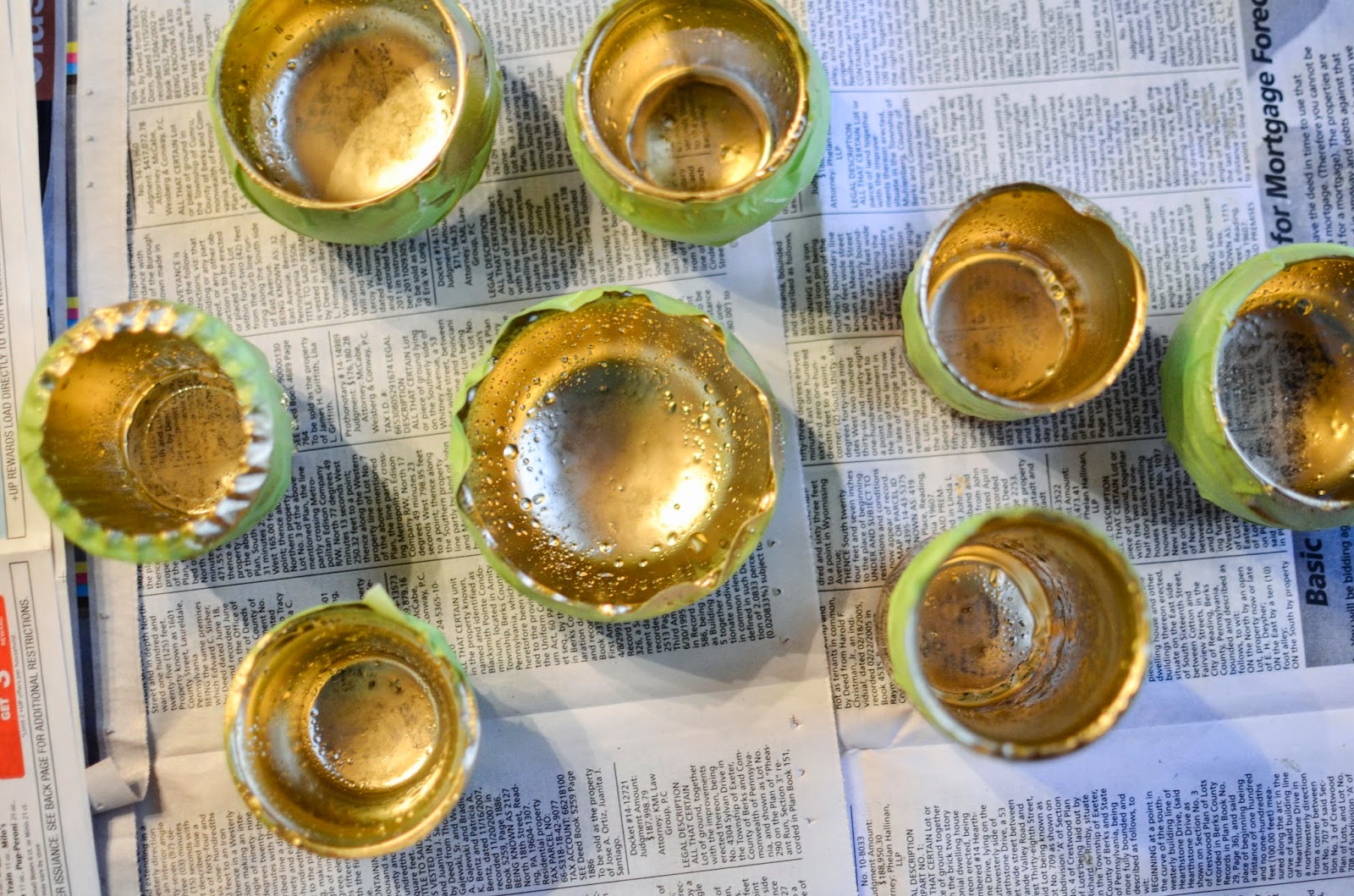 3 //
spray a light layer of water on the inside of your glassware. you want the water to bead up. then, spray a light layer of paint around the inside of the glassware. the paint won't stick to the glass where the water beads are. let your votives set for a few minutes. they don't need to be completely dry, just tacky.
4 //
take a paper towel or napkin, roll it up, and soak up the excess water and paint that has pooled at the bottom of the votive holder. try not to touch the walls of your glassware.
5 //
then, repeat steps 3 and 4 two more times. spray water lightly, then paint lightly. (you can adjust the number of coats you apply to fit the look you want. i found that two coats just wasn't enough, but that three gave me the look i wanted. play around with it and find what works for you!)
6 //
when your last coat is mostly dry and doesn't smear to the touch, take a paper towel or napkin and run it around the interior of your glassware, loosening the paint that hardened over the water bubbles. this will give your glassware that "mercury glass" look, and will allow light to shine through the holes in the paint.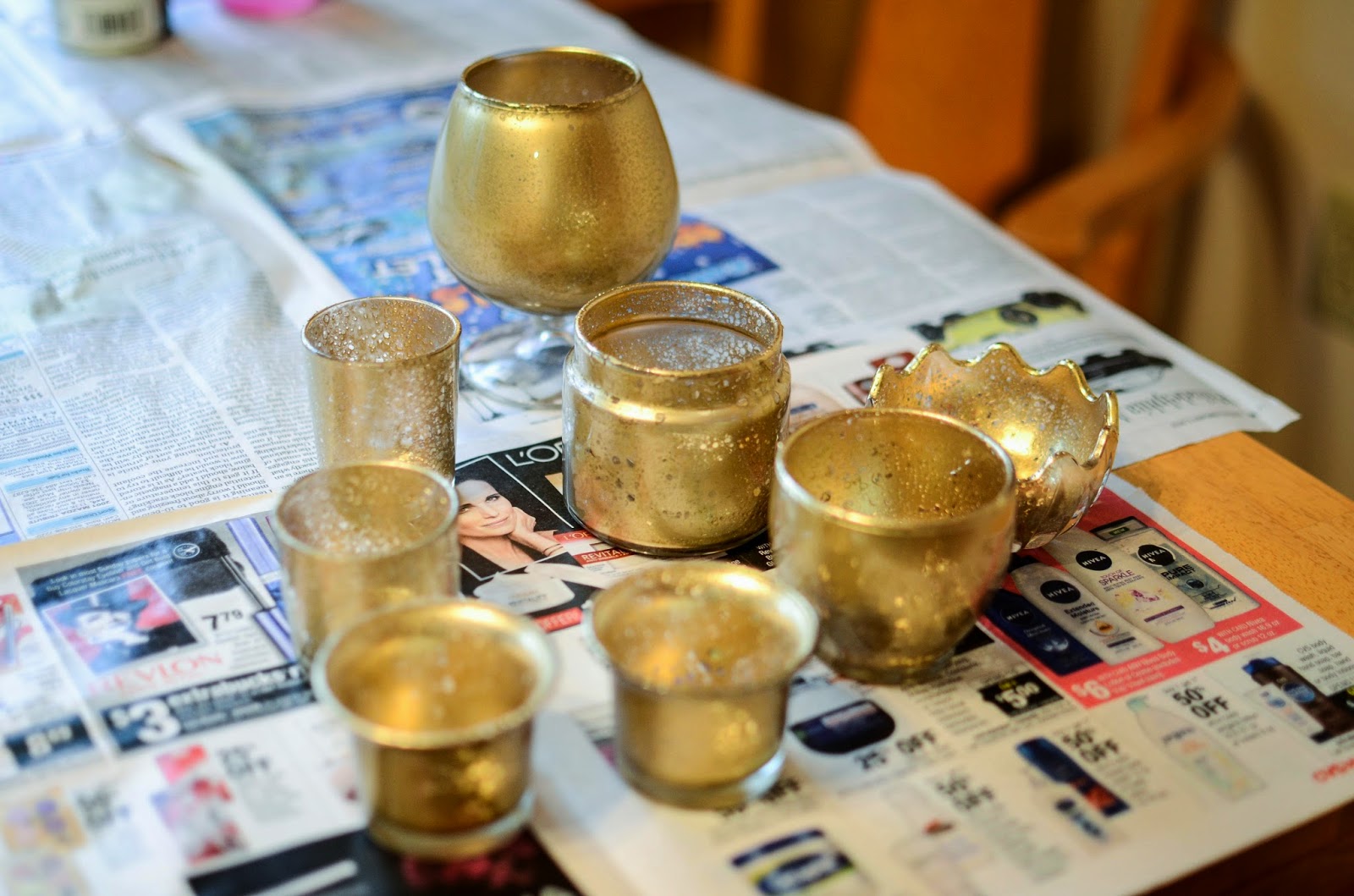 7 //
remove the tape from the outside of your votives, and once they're completely dry, put a votive inside and light them up! be sure to use votives that have the metal holder around them. if wax gets on the inside of your glassware, it will likely take the paint off of your votive holders. if you choose to use this method on a larger piece to use it as a vase, be sure to put another jar inside of your mercury glass vase, as water will also damage the paint.
that's all there is to it! i love the way mercury glass makes candles flicker and glow and the gold casts a really nice warm glow in a room, and even when they're not lit, these bring great color and texture to a decor scheme. i'm so excited to use these in our centerpieces!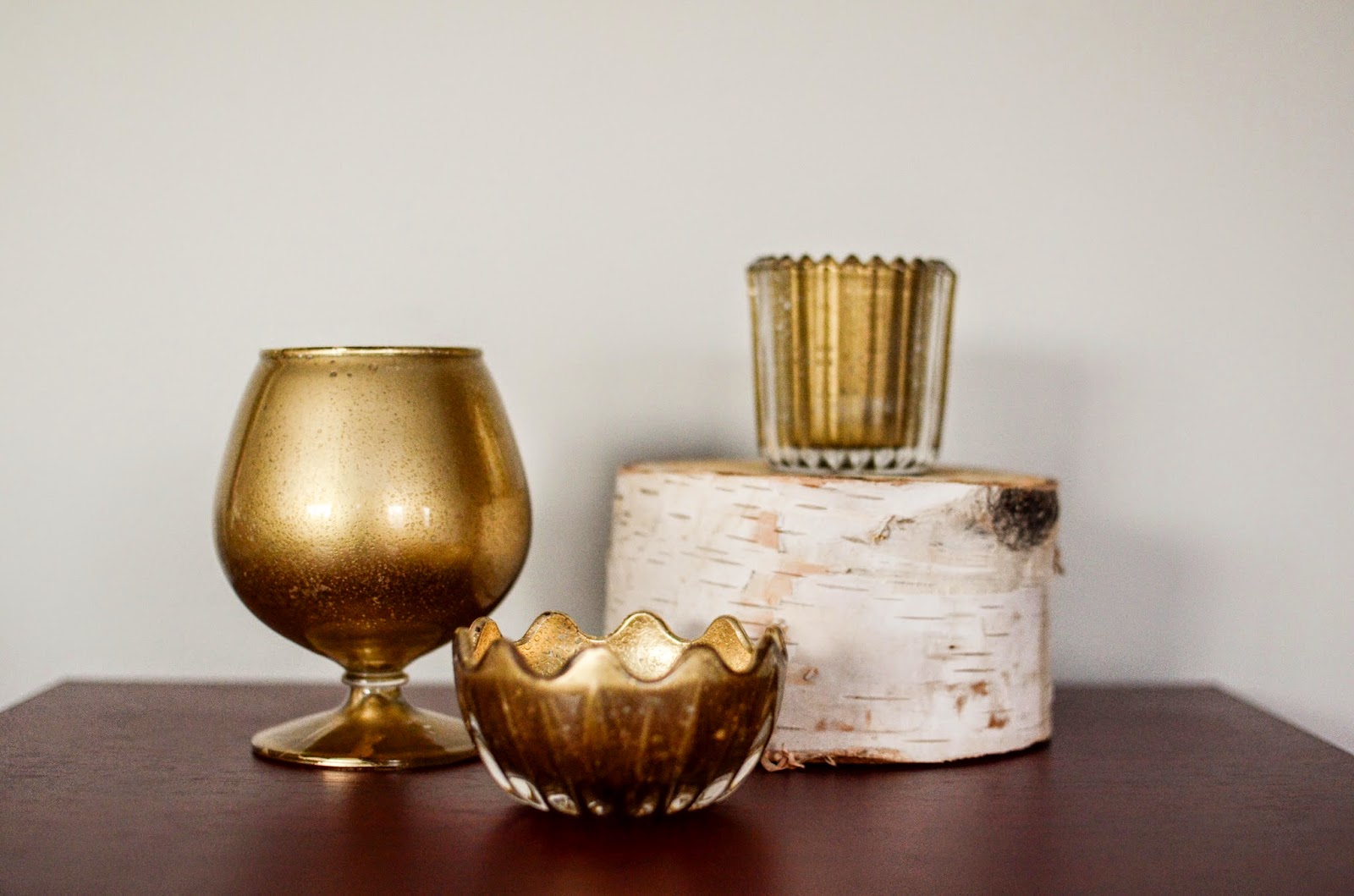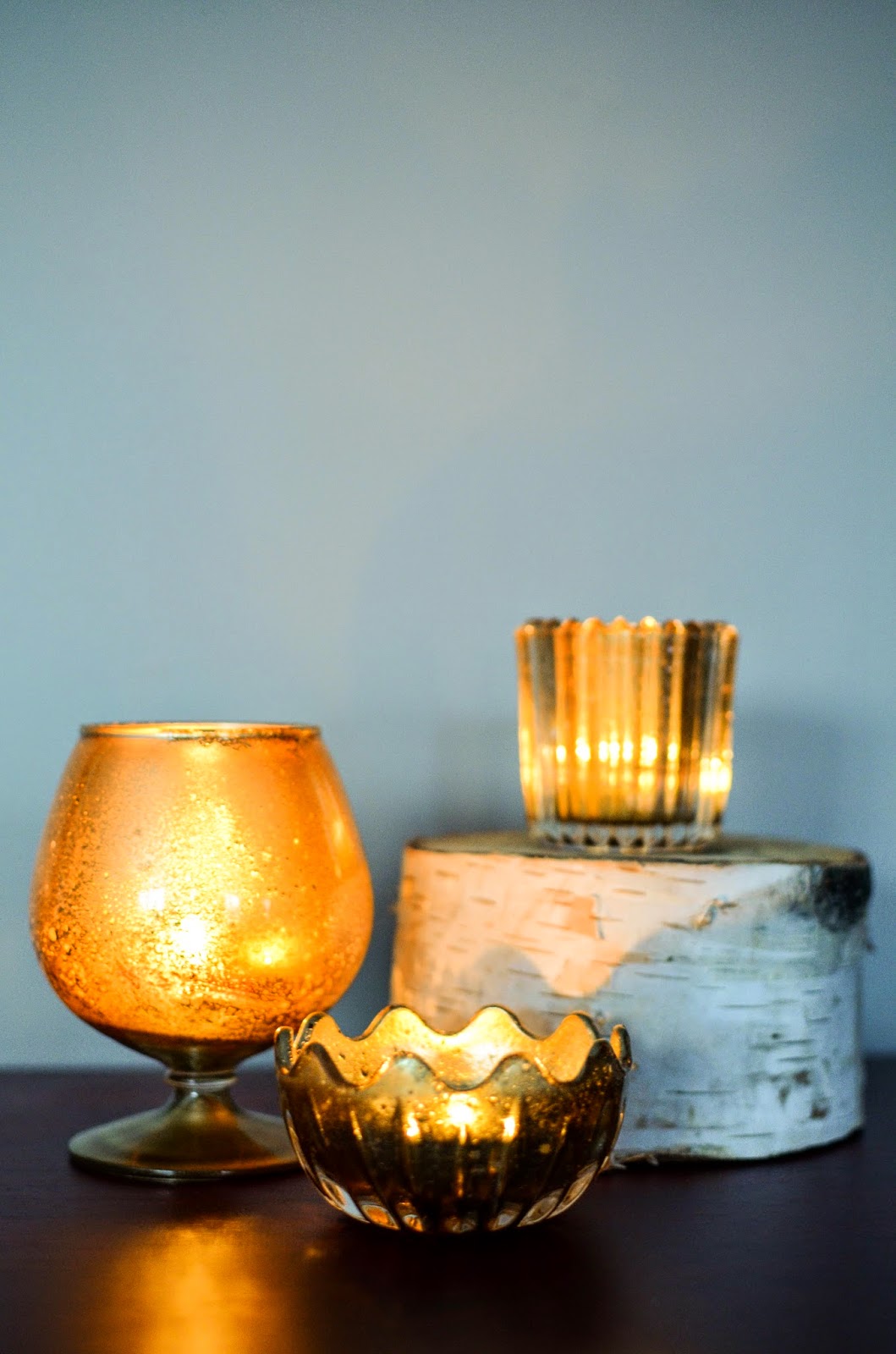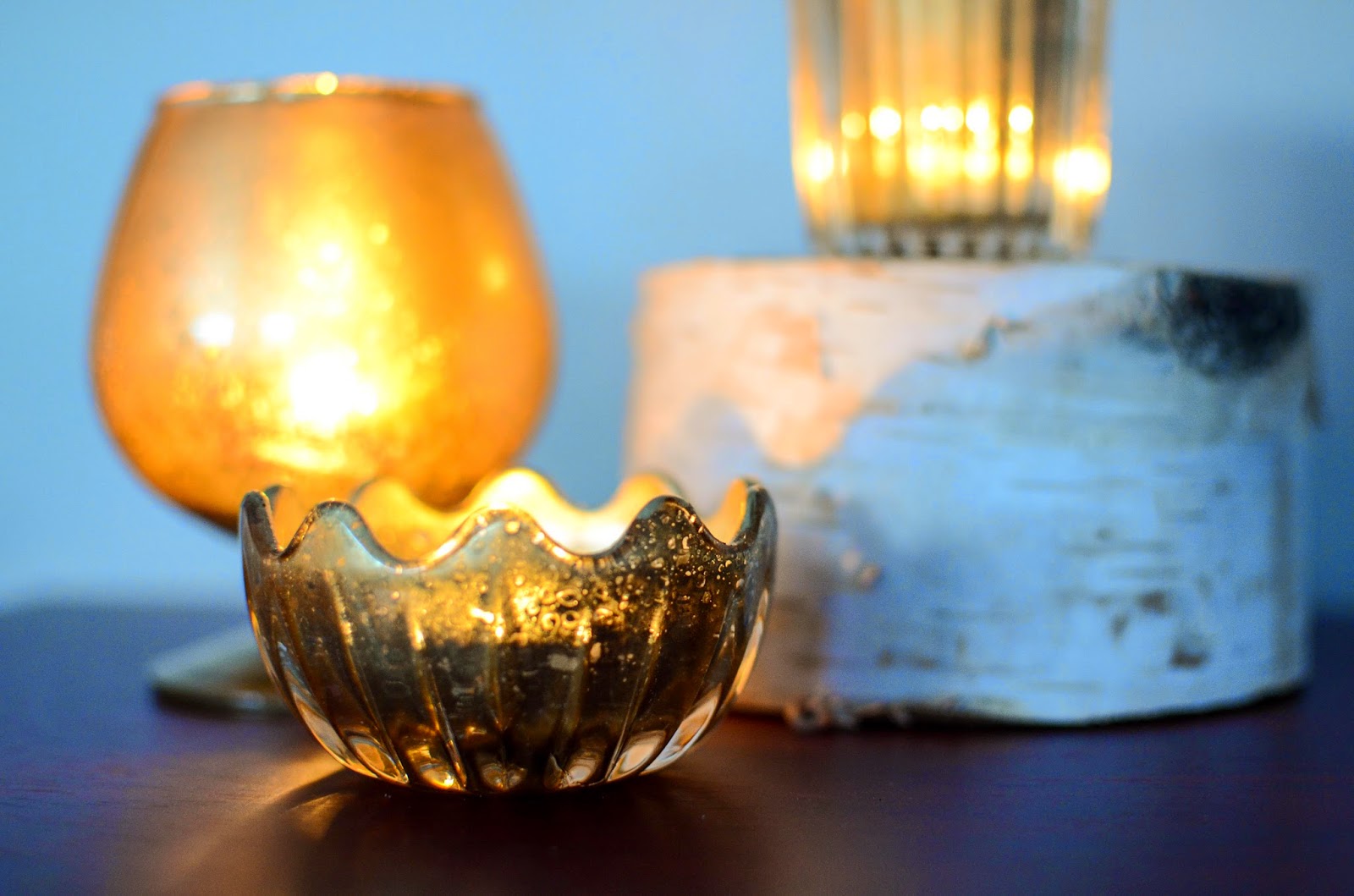 and if you'd like to pin this diy (which i would love you forever for!), feel free to pin the full picture tutorial here:

do you love mercury glass? do you think you'd ever try to make your own?