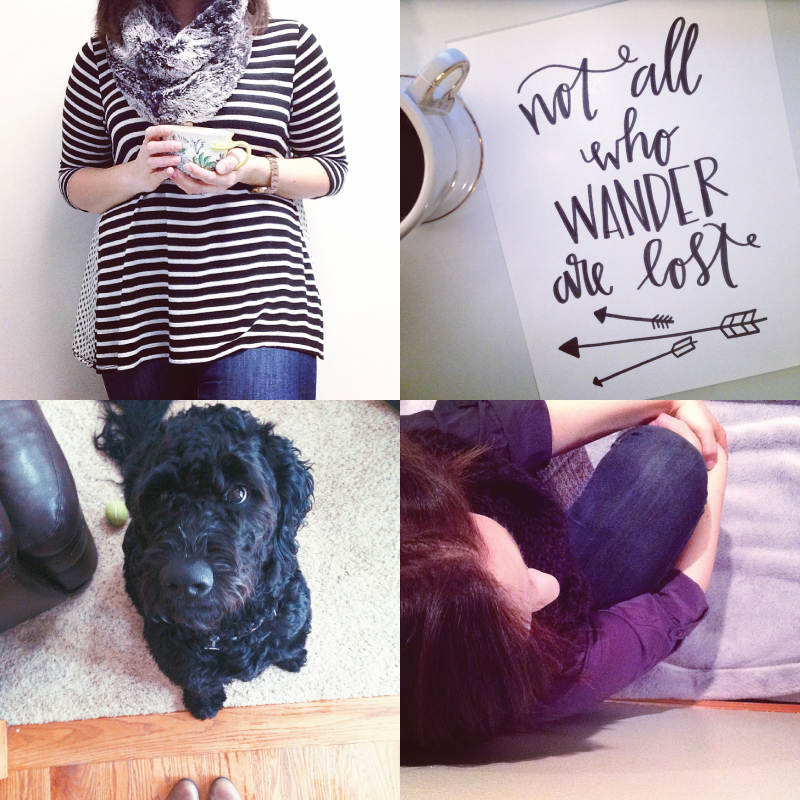 we made it to the weekend yet again! (can i get an amen?!) this week was a weird one...aj went back to boston on tuesday night and so that meant trying to get back into my groove midweek. i love when he's home, but my work rhythms are totally thrown off. i focus on spending as much time as i can with him and then it always takes a few days to get back into my routine. (but of course, i'd always rather have him here!)
here's what you might have missed this week on heavens to betsy:
happenings:
+ i've been living in this blousey, comfy shirt from anthropologie. i picked it up in nyc right after christmas and it quickly became one of my faves! gotta love flowy
shirts
!
+ if you haven't checked out the new line of prints in my etsy shop, i'd be honored if you did! this not all who wander are lost print is just one of the new designs.
+ this pup is just so much fun to have around. he has so much personality and it cracks me up! we almost didn't get another dog after our last one passed away two summers ago, but i think we're all super happy that ollie joined our family!
+ i don't know about you, but i'm in the process of some early spring cleaning! i want to seriously thin out my closet/possessions this season, and being stuck inside because of the cold and snow has proven to be motivation.
in case you missed it:
+ i wrote about my thoughts on fifty shades of grey yesterday. i'm avoiding the franchise, and here's why.
+ i finished my whole30 last weekend, and answered a few frequently asked questions about the experience on
the blog this week!
+ lent started on wednesday, and while i'm still figuring out how i want to
observe
it, i wrote a few thoughts on what lent
really
means.
+ my preschool students love disney, and love playing on
the
ipad
, and i got a chance to try out disney's new imagicademy arts app, and they loved it!
+ i started the week with a
grateful heart post
.
don't miss these:
+ i love ashley's style,
and
this green midi skirt looks so great on her!
+ beks' post about
why your daughter won't wait until she's married and why you should stop telling her to
was sooo good!
+ laura's post about her
capsule wardrobe
has me inspired!
+ em's post about
how travel changes you
was great!
+ these
stuffed apples with liberte yogurt
look yummy!