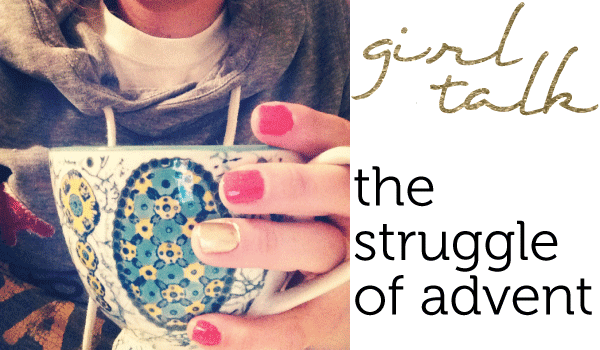 I had stayed late at church to work on decorating our stage for Christmas Eve. In our Worship Center, away from windows and focused on the task at hand, I didn't see the snow and ice beginning to lay on the roads and grass until I walked out at 3:30pm.
My thoughts immediately went to my impending drive home, my mom worried about me, a car that doesn't have a great track record in the snow, and a climb up an icy mountain. The drive that normally takes under twenty minutes ended up taking forty, with speeds topping out at twenty-five miles per hour, three tries before finally making it up the hill, and white-knuckled fingers gripping the wheel.
I wasn't necessarily nervous, (except for the moment where I slid through an intersection under a yellow light that was on the brink of becoming red), but I was certainly more alert and attentive to my driving, and the struggle, that it was to get home on Sunday.
Reflecting on that drive, and the coming holidays, I can't help but wonder….isn't that the way advent is? We're all a little more attentive to the One we celebrate, and for many, advent is a struggle towards coming home.
There are some people, and maybe you're one of them, who feel the sharpness of pain or hurt or trouble as the season looms.
Even in that first Christmas, at the start of the story, there is struggle.
Mary didn't accept the news that she would bear the Son of God without first feeling troubled. Joseph struggled with the knowledge that his fianc矇 was pregnant, and not by him, before the angel appeared to him. Zechariah struggled to understand how his aged wife could be with child.
Trouble. Struggle. Confusion. They were there in the beginning, and they often rear their ugly heads to us now.
But the beautiful thing about advent is that the story, while riddled with struggle, doesn't
end
with it. It ends with the birth of a Savior, and with Christ's birth, a promise of redemption for humankind.
One of my favorite verses in the Bible comes from the book of Matthew, and simply states "the people living in living in darkness have seen a great light" (Matthew 4:16). I love the imagery of that verse…I always imagine a sun rising on the horizon, it's light slowly brightening and spreading inch by inch over the dark earth below.
And that's what Christmas does…it brings hope, it brings light. It might seem like you're living in the land of darkness, but hold out for the light. It's coming, the sun is rising. Turn your face to the horizon. And come home.
Whether you're facing this holiday without someone dear to you, coming home to a fractured relationship, or maybe just not feeling like yourself this holiday season, I encourage you to take heart. The Christmas season may not always be a joyful one. Heaven knows even the mother of Christ had her moments of struggle.
So dig deep into this advent season and discover joy through coming home to a Heavenly Father greater than anything this world could throw at you.