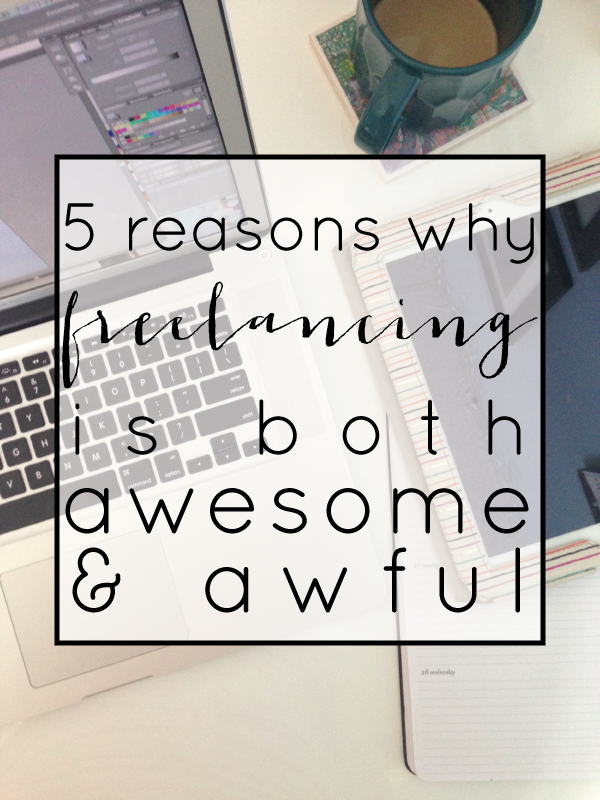 i never planned on being a freelancer. (and frankly, i'm not sure i can really call myself one since it's not the primary source of my income…)
but the reality is that i
do quite a bit of freelance work on the side. through photography, graphic design, even blogging. the extra income is always welcome, and i love having these creative outlets to work through! honestly, if i was booking enough, i think i could love being a full-time photographer and designer. but for now, it continues to be a side job that i feel really lucky to be able to do.
if you do any amount of freelance work, then you know that there are moments when you're like... "yeah! this is awesome! i'm living my dream and doing what i want to do!" and then there are also plenty of moments when you're more… "this is awful…i can't book anything and no one wants to pay what i'm asking and why did i ever think freelancing was a good idea anyhow??"
so here are the five highs and lows of my freelancing experience:
1. income!
// awesome: if you're like me and freelancing isn't your only source of income, then it's awesome to make a little extra money by using your creative talents! awful: it's not necessarily consistent. i go through seasons of being really busy and it feels like the money is rolling in, and then other seasons when it just isn't.
2. pricing
// awesome: freelancing allows you to set your own pricing for things. you get to determine how long a project will take and what you're willing to do the job for. awful: pricing can be super tricky. personally, i always feel bad charging close friends or family my normal prices for a photoshoot or design services. and it never feels great when someone either tries to get you to charge less because they don't want to pay what you're asking, or when someone tells you they can't book you because they found "a better deal" with someone else. but hey, that's the biz. (check out
this article
by jon acuff on charging people for your services)
3. self-promotion
// awesome:
you
get to say what you do and how you do it…you have control over how your services are branded and represented! awful: i hate having to promote myself or my services. social media definitely makes it a little bit easier, but yeah, i still hate talking about myself or what i can do for people.
4. business is booming! ….or not
// awesome: you get to accept or turn down jobs that work for you or don't. if you're just too busy, you can stop accepting jobs. awful: it's really hard to control that flow of business! and it can be really discouraging when business is not booming or you put a sale out there and
no one
bites.
5. time management
// awesome: you have complete control over your schedule. you can work when you want to and aren't tied down to office hours and stuff like that. i find that if i love what i'm doing, then i am constantly thinking about it or wanting to work on it. awful: if you're not good at managing your time or being self-motivated, then being your own boss is not an easy task.

so tell me…do you do any freelance work? what are some ways you keep business going? what do you find awesome or awful about it?