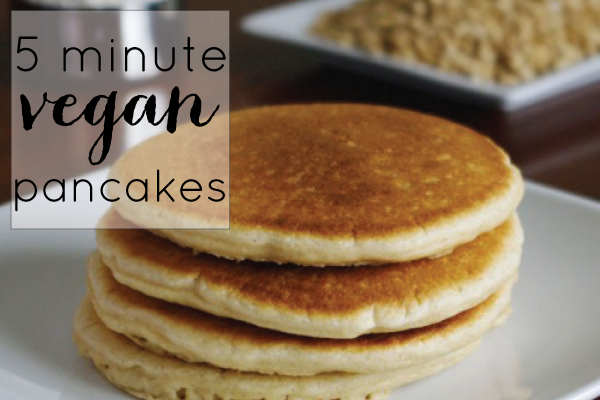 the other night, i got this craving for pancakes for dinner. breakfast is probably my favorite meal of the day and i particularly love having breakfast for dinner! since my parents adopted a vegan, sugar-free diet about a year ago, our pantry typically no longer includes things like instant pancake mix. (it did, to my luck, still contain syrup though!)
because pancakes are clearly a lazy-girl's dinner, there was no way that i was going to get in the car and go
buy
pancake mix. so, i went on the hunt for a recipe for pancakes that i could concoct with the ingredients we had in our cabinets! i was excited to find a 5-minute vegan pancake recipe, and adapted it a little to suit my needs and tastes. though not quite as fluffy and pretty as traditional pancakes, these were just as, if not even more, yummy! we liked them so much that we actually made them for breakfast the next morning as well!
here's what you'll need:
1 c flour (i used oat, but you can use any kind you prefer)
2 tbsp baking powder
1/8 tsp salt
1 cup almond milk (or soy)
2 tbsp oil (i used avocado oil, but you can use vegetable or grapeseed, or even a light olive oil, though olive oil does have a stronger flavor)
dash of cinnamon (i
always
put cinnamon in my pancakes!)
*the
original recipe
calls for 1 tbsp sugar, but because my parents don't consume added sugar, i put in a tiny drizzle of organic agave syrup. i think you could cut out a sweetener all together and not miss it.
here's what you need to do:
1. combine your dry ingredients (flour, baking powder, salt, cinnamon, sugar if you're using it) and mix together
2. add the milk and oil to your mixture (note that this batter may seem thinner than normal pancake batter)
3. grease a frying pan and begin heating over medium on the stovetop (don't forget to spray your pan! this recipe will need a well-sprayed pan)
4. pour desired amount of pancake batter into pan. cook on medium until the center of the pancake bubbles
5. carefully flip your pancake when the center bubbles and edges have stiffened
6. repeat until all batter is gone…enjoy!
here's why i'm not a food blogger: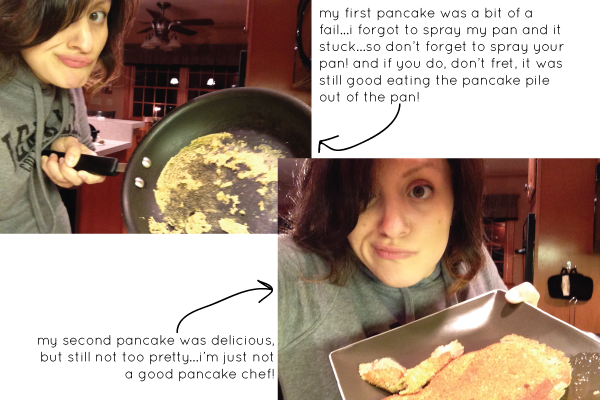 (a real food blogger would have had the foresight to say "hey, i'm gonna blog this recipe and so i will take awesome step-by-step photos" instead of making dumb faces and showing you pancake failures. but please let me stress that they were still delicious and that i'm just bad at pancakes. my dad had much better success the next morning.)