hey friends! today, i have cassie over here blogging for me! she's one of my dearest friends from college, and her cute little blog is a regular read for me. show her some love! -b
--------------------------------------
I'm Cassie from
Life in Technicolor
, and I'm honored to be chiming in over here in Betsy's space.
When Bets asked me to do a guest post, I volunteered either a recipe, a DIY or a fun life anecdote - whichever she felt she needed more of. She asked if I'd been cooking anything particularly yummy these days, to which I replied, "oh yes I have!" One thing you should know about me is that I don't bake. I'm a tad insecure about it because it makes me feel less feminine. All over blogland you see millions of posts with beautiful, fattening creations from the kitchens of domestic women, and I am defiantly not among them. I hate baking.
So have there been delicious things whipped up under my roof, Bets? Yes - but I really am more of the Baker's Wife ;) Some delectable treats have been floating around the house lately with
the help of
sole credit going to my husband, and it usually goes a little something like this:
"Will, I'm going to bake you a surprise today!" she exclaims hopefully.
"Oh yeah? I can't wait!" her husband replies, in slight disbelief.
"I really should have gotten those pumpkin chocolate chip cookies in the oven a long time ago... (surprise ruined) ... Can you help me?" she whines, admitting defeat.
And then since I hate baking, I start weaseling myself out of the whole equation. I basically stage the ingredients, maybe whisk some dry goods together and I'm outta there. So I'll give him the credit for the delicious pumpkin chocolate chip cookies and the blueberry lemon coffee cake muffins. Thank you dear.
But what I can do folks is cook. He loves leaving the cooking to me and I love leaving the baking to him. I find that cooking allows so much more flexibility than baking, with a much smaller margin for error. That's really what I'm after :) So I love experimental cooking and I also love vegetables.
This week, I made some honey dijon vinaigrette salad dressing (delish, with none of the questionable store-bought dressing ingredients) and adapted
this recipe
from Stone Soup. Check it out!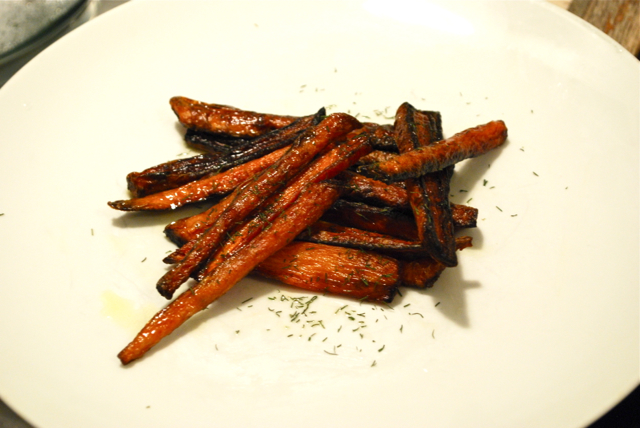 fresh carrots, sliced either in half or in quarters
honey vinaigrette dressing (or any dressing of your choice for flavor)
super simple - here's what you do:
1. heat the oil over high heat until it's very very hot
2. cut your carrots however you'd like and give them a wash
3. plop them in a frying pan and put a cover on. that's very important because the oil will splatter like crazy.
4. toss so they're fully covered in oil & leave 'em for 5 minutes or so.
5. then carefully (if it's not splattering oil everywhere) use tongs to turn them to brown up the other sides for 5 minutes.
6. when they're done, remove from heat, drizzle dressing on top and sprinkle some dill.
Ta da! A yummy side dish that tastes like it came from a gourmet restaurant.
And here's how I made my vinaigrette!

3/4 cup extra virgin olive oil
1/4 cup white wine vinegar
Whisk ingredients together and then blend for about 10 seconds in the blender.
Let sit for 30 minutes for flavors to meld, then serve.
If any of these appeal to you, swing by
my blog
for some
more natural-inspired-veggie-based dishes! Enjoy!