Ok, all I can say about today's post is holy cow. Abby (the blogger behind Little City Adventures) is sharing this recipe for Peaches 'n Cream Bread and it looks pretty much ah-mazing! Abby is one of the sweetest bloggers I know...she's so genuine lucky for me, lives just a hop, skip, and a jump away! Welcome Abby to the blog and be sure to make her Peaches 'n Cream Bread soon!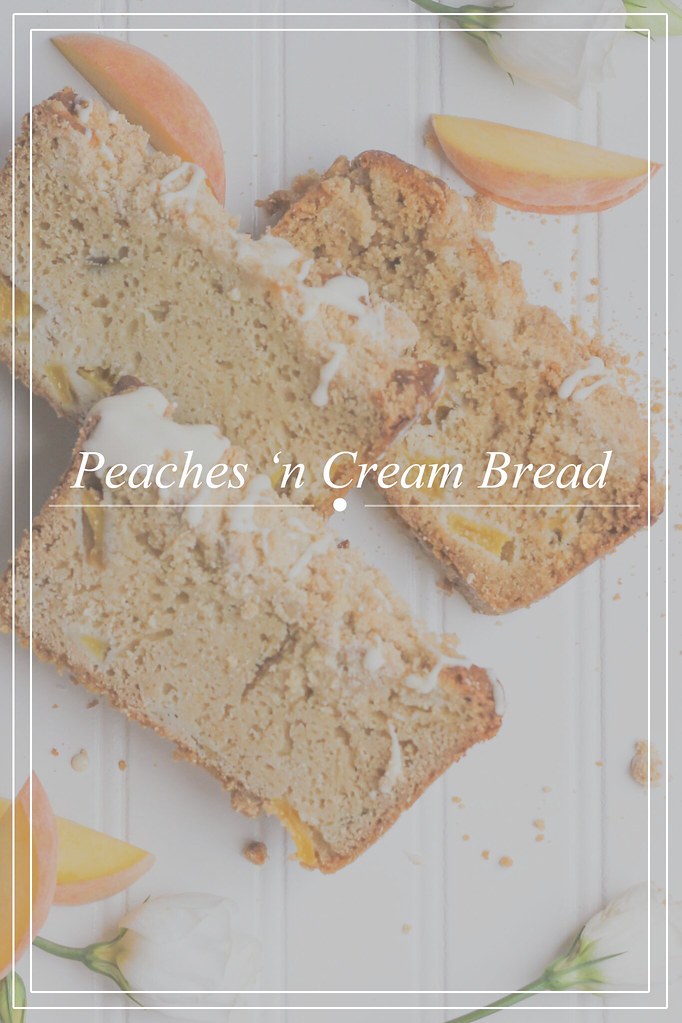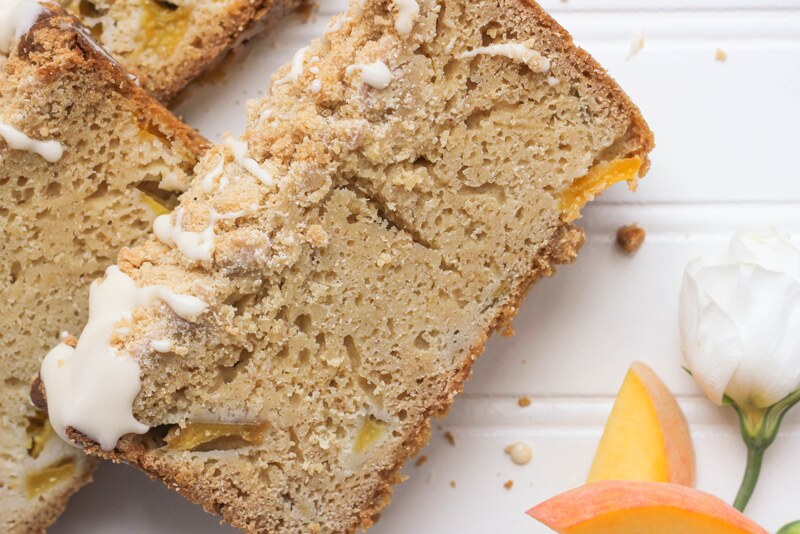 I am so excited to be sharing a recipe on Heavens To Betsy while my dear friend is busy gettin' hitched! I for one can't wait to see her wedding photos, the little "previews" she's posted on Instagram have been adorable! Makes me wish my husband and I could through ourselves
another wedding
just so I could steal some of Betsy's ideas!
I run a little lifestyle and food blog called
Little City Adventures
and I'm always looking for ways to incorporate fresh produce from
Market
into baked goods (like in
this strawberry, basil, and feta galette
). I find some beautiful peaches on a recent market trip and I decided to chop 'em up and try them in some bread. And cream is a common combo you see with peaches so I decided to try out Peaches 'n Cream Bread (obviously, ha!). I went into this having never made anything quite like this before so I was just experimenting first time around...but it turned out delicious on the first try! It's seriously so good you guys.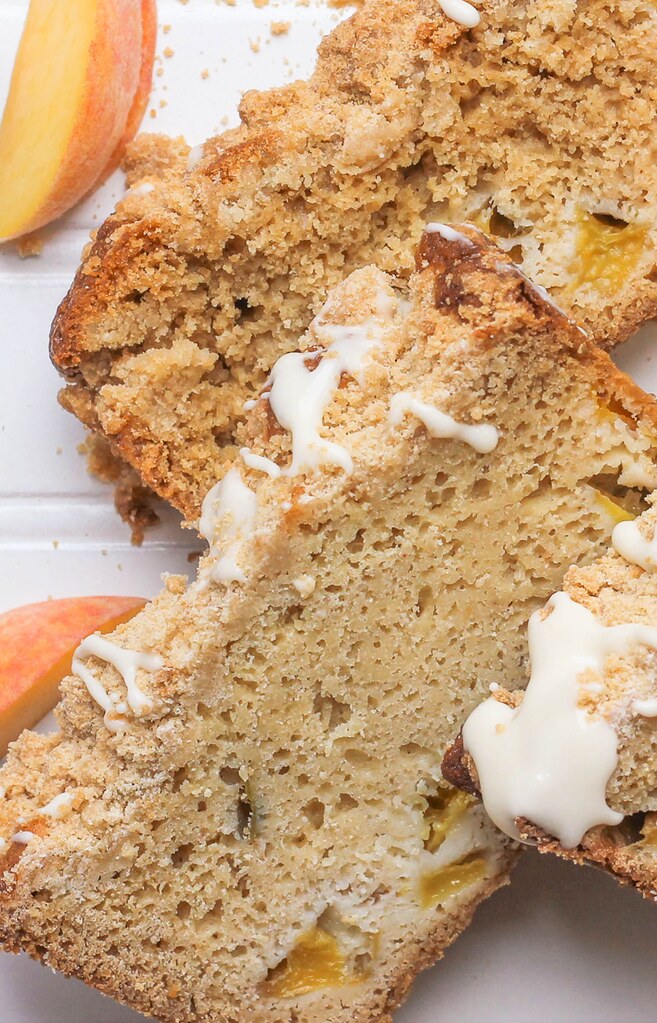 This is THE most moist bread that I have ever eaten. You will definitely need to keep this in the fridge because of the heavy creamy, which is used for the "cream" part, and pretty much the only healthy thing about this is the peaches. But it's worth all of the calories because it's sweet, but not too sweet, and moist while not being mushy.
I recommend making it no more than one 24 hours before serving. It lasts longer than 24 hours but I did notice that it tastes significantly better in that first time window.
You also have the option of simply drizzling the icing on top
or
icing the top of the bread, almost like you would a cake. I opted for drizzling since there was already so much cream in the bread so I used the extra icing to turn these
Lemon Citrus Shortbread Cookies
into sandwich cookies. But I won't judge if you just eat the extra icing with a spoon.
Yields: 1 9x5" loaf Prep Time: 20 minutes Bake Time: 1 hour Total Time: 1 hour 20 minutes
Ingredients
bread
2 cups all-purpose flour
2 1/2 tsp baking powder
1 tsp baking soda
1/2 tsp cinnamon
1/2 tsp salt
1/2 cup coconut oil, melted
1/2 cup granulated sugar
1/3 cup brown sugar, packed
2 eggs
1/2 cup milk
1/2 tsp vanilla
2 cups peaches (about 4), peeled and diced
cream for bread
1 cup heavy cream
1/4 cup cream cheese
1/4 cup granulated sugar
1/2 tsp vanilla
1 egg yolk
crumb topping
3 Tbsp butter, melted
1/4 cup brown sugar, packed
1 tsp cinnamon
2/3 cup all-purpose flour
icing
1 cup confectioner's sugar
2-4 Tbsp heavy cream
1/2 tsp vanilla
Directions
1. Preheat oven to 350° and grease a 9x5" loaf pan with cooking spray.
2. In a large mixing bowl, creamy together butter and sugars until light and fluffy.
3. Add in eggs, milk, and vanilla, mixing in between each addition. Set aside.
4. In another bowl, mix together dry ingredients until combined. Add dry ingredients to wet, being careful not to over mix.
5. Using a spatula, gently fold in peaches. Pour 1/2 the batter into prepared pan. Set aside the pan and the remaining batter while you prepare the cream.
6. In the bowl of an electric mixer fitted with the whisk attachment, whisk together cream heavy cream, cream cheese, and sugar. Add in vanilla and egg yolk and whisk for several minutes until you are just about at the consistency of whipped cream.
7. Drop spoonfuls of the cream mixture on top of the batter in the pan. Using a knife, swirl the cream into the bread batter. Spread the remaining batter on top.
8. Next, prepare the crumb topping. Place all of the crumb topping into a medium bowl and use your hands to work it into a coarse crumb texture. Sprinkle the crumb mixture on top of the bread batter.
9. Place the pan into the oven for 1 hour, rotating pan halfway through baking. Check again after 40-45 minutes and if the top is getting too brown, cover with aluminum foil for the last ten minutes. Remove from the oven and let bread cool in the pan until the pan is cool to the touch. Then, dump the brush out onto a wire cooling rack, and flip back over so that the crumb topping is on top. Let cool completely.
10.. Meanwhile, prepare the icing. In the bowl of an electric mixer fitted with the whisk attachment, mix all of the icing ingredients until the icing is thick enough to just slowly drip off a spoon. Either drizzle the icing over the bread or cover it in icing.
If you liked this recipe, you may also like:
Vegan Apple Cinnamon Streusel Bread
|
Coconut Oil Banana Bread
|
Lemon Lavender Muffins
For more from Abby, be sure to follow her on social media:
Instagram
|
Facebook
|
Twitter
|
Pinterest