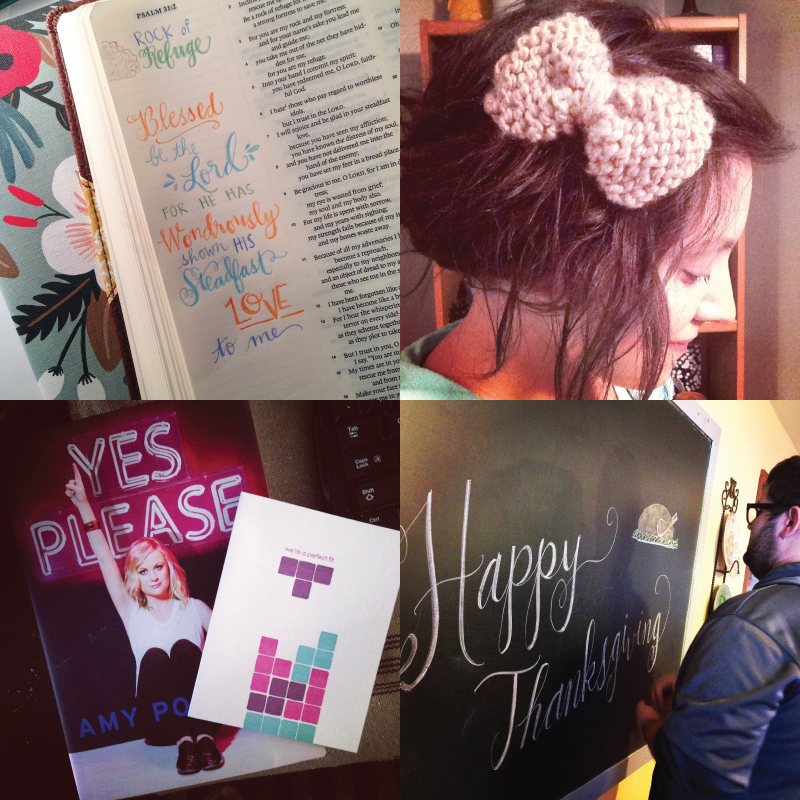 this week has been one of my favorites...i
love
thanksgiving so much! and it officially marks the start of the christmas season.
happenings:
+ happy thanksgiving! i hope you had a great holiday!
+ i made my first two sales on htb handmade! i'd be honored if you kept me in mind for christmas shopping (and it's now stocked with those adorable hair bows!)
+ i've been loving my journaling bible. i've been doing the she reads truth give thanks study and
have
been really enjoying spending intentional time in the word and hand lettering through my bible!
+ aj came home for the week on tuesday and he brought me
yes, please
. so excited! we love parks & rec and amy
poehler and we are always looking for creative ways to make being long distance a little easier...so we're planning on reading this book together over the next few weeks
in case you missed it:
+ check out my christmas
wishlist
and enter to win $200 in paypal cash!
+ to all of my blog friends, i love you!
+ do you like to wear dresses? check out this
+ thanksgiving always precedes the miracle!
+ and as usual, started this week off with a grateful heart!
don't miss these:
+ what are your ten secret dreams?
+ i'm in love with this styled wedding shoot featuring megan's watercolor calligraphy!
+ these tips for managing your black friday shopping can definitely apply to the rest of the crazy-busy-christmas-shopping season!
+ take into account these considerations for updating your wardrobe.
+ i love natalie's tattoo and loved hearing more about the background behind it!
happy weekending!