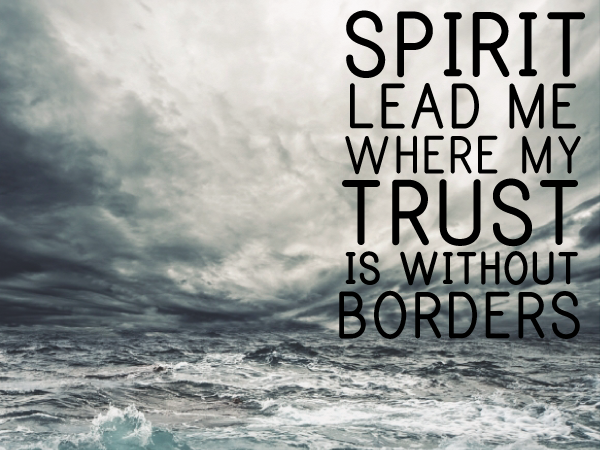 One of the perks of dating a worship leader is that I tend to be pretty in-tune with new worship music. And a few weeks ago, Hillsong United released their newest album, Zion. The fourth track on the album is entitled "Oceans (Where Feet May Fail)" and boy, it's amazing. It's the type of song that makes me want to do a better job of loving Jesus and I've listened to it on repeat for quite a few car rides this week.
There is just so much lyrical gold in this song, but here are a few of my favorite lines:
I will call upon Your name
And keep my eyes above the waves
When oceans rise, my soul will rest in Your embrace
For I am Yours, and You are mine
....
Spirit lead me where my trust is without borders
Let me walk upon the waters
Wherever You would call me
Take me deeper than my feet would ever wander
And my faith will be made stronger
In the presence of my Savior
AJ just led this song at our youth service this week and as he and I were talking about it afterward, he said something that got me thinking. The song is based off of the story of Peter walking on water, which can be found in Matthew 14. You probably know the story...Jesus walks on water and calls out to Peter to join him, so Peter gets out of the boat and starts walking until he gets scared, and he starts to sink. But here's the little detail that I think packs a big punch. In verse 30, it says "But when he saw the wind, he was afraid..." Here's the thing. If I'm Peter, I think the least of my worries would be the wind. I mean, I'm used to being on a boat, a sailboat, no less. Wind is a part of my everyday. But that's what makes this so important...it was the little thing, the thing that he faced day in and day out, that ended up leading to him sinking.
It just so happens that I'm also reading The Circle Maker by Mark Batterson right now. He writes all about having big dreams that lead to big prayers, and his philosophy is that the bigger our prayer is, the bigger the glory to God is when He answers it. And here's the connection with Oceans. I think that big dreams and big prayers also require big trust. It's so easy to pray the little everyday prayers, and often, those are stepping stones on the way to the big dream. Batterson's claim is that we need to start defining the dreams that God has given us and circling them in prayer, believing God to fulfill His promises. And I think there's a fear that goes along with praying circles around your biggest dreams. Because not only is it a leap of faith to hope for the fulfillment of those dreams, but what happens when they come true? It's easy to dream the dreams, but it's a lot scarier to actually have them fulfilled. And praying big prayers around promises that God has given you means that they will be fulfilled, in His steadfast provision.
And that, my friends is why I love this song. Because it holds the promise that God has made, that He hasn't abandoned us yet and He won't start now. And it reminds of the hope we have in Christ, that if we abandon our lives to Him and follow wherever He calls, we will find rest in His presence and He will constantly challenge and stretch and mold us to greater faith and trust.
And of course, I couldn't talk about this song without sharing it with you guys. It's long, yes, but SO worth listening to the whole thing.