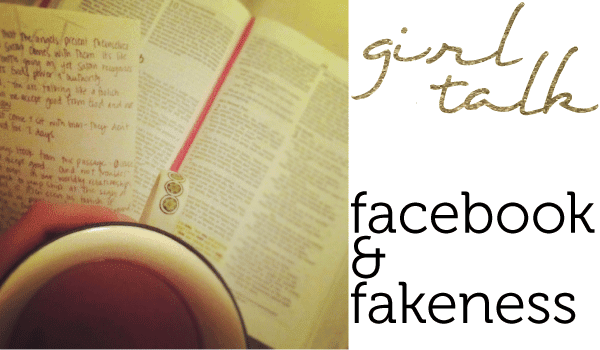 Let's face it. No matter how "real" you think you are, we've all got a little fake in us.
I remember when I was in high school and girls would call one another fake. They'd say "She's soooo fake, she acts so nice to your face and then stabs you in the back every chance she gets!" Fake wasn't just a bad thing then, it was downright detestable. Something everyone was a little bit of, and yet something no one wanted to ever be called. In some cases, it was the nail in the coffin of a friendship.
When I was in high school, Myspace ruled. You had to be in college to be on Facebook, so it was pretty awesome and elite and all that. Twitter wasn't even on the average person's radar. Instagram...ummm, what? You were like, way ahead of the game if your phone had internet. (Crazy to think of what's changed in just 7 years, huh?) For the most part, if you were going to be fake, you had to do it face-to-face. Or behind someone's back. Or both.
Now, not long after the days of xanga (please, someone tell me you had a xanga too...), our world revolves around social media. And it reeks of fake.
Think about it: have you ever retaken a photo until you got a shot that showed you in the perfect way? have you ever revised a tweet because it needed to be just witty enough but not trying too hard? have you ever crafted a blog post so that your readers will think your life is just peachy?
Yes. Yes. and Yes. I'm so guilty of all of this. And I'm willing to bet that you are too. It's probably not intentional, in fact, you might not even realize it, but if you scroll through your Facebook feed, how much of who you really are shows?
I'm not championing being totally transparent on Facebook. It's not the place to bear all of your innermost thoughts and struggles, and frankly, I think it's fine to want to present yourself in a good light through social media, but I worry about what it does to our real-life relationships.
I can't tell you how many times I've had to stop before saying something to someone and think "did we talk about this...or did I just read it on her blog or Facebook feed?" How awful! Social media has us in the habit of feeding our relationships through the web, instead of face-to-face. And what a shame, because those one-on-one interactions are so much more real, so much more fulfilling, and so much less
fake
than our Facebook lives.
I think this whole social media thing carries this weird paradox. On one hand, it's much less authentic than real life, and in other ways, it allows people the freedom to say what they want, when they want, to whomever they want. Have you ever seen the "To Be Honest" trend pop up in your news feed? (Confession: I'm always tempted to like those posts just to see how honest those people are.) Facebook allows you to scream at the world and be affirmed in it. But no matter how honest you are in those posts, it's still not
really
real.
I think we live in a world that moves so quickly and allows for so much fake, and sometimes, it robs us of becoming who we're meant to be.
So here's my challenge, at the end of this little girl talk:
Be real.
Be authentic.
Be intentional.
Dig deep and invest in others in the flesh, not just online.
Walk away from the computer, put down the phone, and talk.
Listen.
Look critically at your presence on social media.
If you have the space to do it, talk about some mistakes, struggles, things you'd do differently from time to time.
Look at them as opportunities for growth, and allow others to grow from them too.
I love girl talk, so you know
where to find me
if you need me. Let's have coffee.