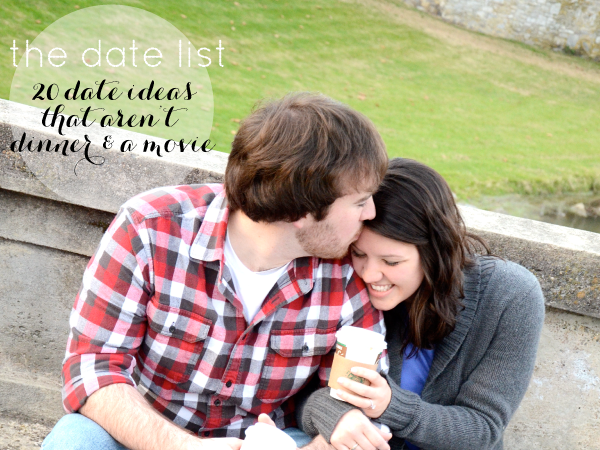 dates can be expensive, and valentine's day is definitely no exception. aj and i are kind of running into that problem this year…we both have a little less money than we'd like and that makes dating tough some times.
actually, to be quite honest, we've never gone out on valentine's day at all. two years ago, we weren't even dating yet. i cooked him dinner and we spent our first night as boyfriend and girlfriend sharing youtube clips with one another. last year, we were both sick, and that made for a night spent on the couch watching tv. this year, he's away at school and we're both busy and figuring out this long-distance thing, and so valentine's day will probably be non-traditional once again.
whether you're planning on going out or staying in, v-day doesn't mean just doing dinner and a movie (though there's nothing wrong with that plan either!). but it's fun to shake things up any time of the year, so here are a few date ideas that aren't the traditional dinner and a movie…
1. have a cook-off, cook together, or create a fancy dinner at home
2. go stargazing (if it's cold outside where you are, bundle up and take some hot chocolate with you!)
3. go out for breakfast (at any point in the day)
4. go to an arcade and challenge each other at skee-ball (talk about a cheap date!)
5. do a scavenger hunt (
like this one that aj & i did at walmart
)
6. go for a drive or a walk…take random turns and explore together
7. do a craft together…paint mugs or create something for your home
8. teach one another something
9. read a book together (this summer, aj & read jim gaffigan's
dad is fat
out loud…it was super fun!)
10. start a fire (inside or outside), and curl up and just chat or roast marshmallows
11. go to barnes & noble, grab a cup of coffee, and flip through some magazines
12. visit a museum (check for free admission days!)
13. play a board game or cards
14. go to a concert (there are some pretty cheap options out there)
15. go out for dessert
16. pick a new tv show that neither of you have seen before and watch it together
17. go shopping…pick out crazy outfits for one another to try on and model them for each other
18. go to an open mic night at a local coffee shop
19. have a photoshoot done…ask a friend or use that trusty self-timer!
20. be a tourist in your own city
so what would you add to this date list?