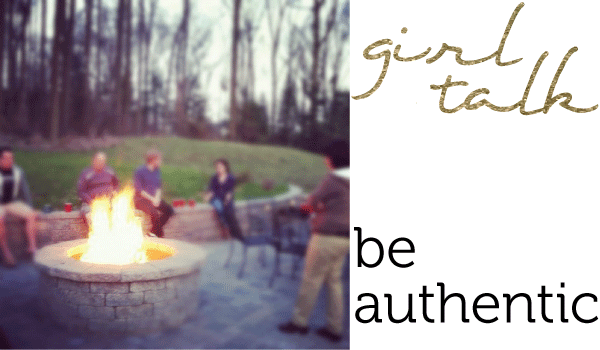 My friend Lacy is probably one of the most real, authentic, genuine people I know. We went to college together and I had a friend crush from her from afar for a few semesters. She was the bubbly redhead with the amazing voice who I always thought I'd like to get to know better. It wasn't until we were both accepted into The Elijah Project, a faith and vocation crash course of sorts, that we really got to know one another. After that, we lived together for our junior year and my senior semester, and even had nearly identical schedules that last semester of school.
The thing that I love about Lacy, though, isn't just her smile or sense of humor, it's the way she welcomes you into conversation and without ever having to say it, invites you to bear your soul if you so choose. She has that unique ability to make you feel like you're the most important person in her world when she's talking to you.
I had the pleasure of visiting Lacy in her little apartment that she shares with her husband Austin, in the bottom floor of an underclassman dorm where she mentors 80-some underclassmen on our alma mater's campus. And in the brief hour or so that we spent together, it was like no time at all had passed.
Lacy's example of authenticity, of being intentional and taking the time to really listen to others, of finding genuine ways to show the love to Christ to not only her nearest and dearest, but everyone she comes across, and of being able to truly and deeply engage in both conversations and relationships is one that I've always held in high regard.
I'm sure she'd blush at this post (and Lace, if you're reading, know that every word is so true!!), but I desire to be a little more like Lacy. A little more thoughtful, a little more intentional, and a whole lot more authentic.
This morning, a friend at church commented on how I was walking through our crowded atrium wearing a serene smile. I laughed it off, saying it was my "it's Sunday morning and I'm on staff at a church and must look constantly friendly" smile. And immediately, I hated what I had said. The last thing I want to be is someone who wears a smile and even jokes about it being an obligation!
We live in a society that makes authenticity really hard. Everything is so instant, so
right now
, that it can take some serious effort to stop and really see people. I'm not necessarily talking about just the realm of social media, though I've
blogged about that in the past
, but of a deeper connection with others. I honestly am not sure when I last had a conversation with someone and didn't look at my phone at least once!
I desire to dig deep and create authentic and real relationships with people. And if we have that desire as humans, how much more do you think God desires that with us? God created us to be in relationship with Him, but so often our quiet times, our prayers, our worship, even, is rushed. We're constantly distracted by other things and other thoughts, and if it takes effort to focus when we're in conversation with real, physical people sitting in front of us, how much more effort does it take to focus on a very present, if slightly less observable, God?
Authenticity is hard. There's just no two ways about it. Really investing in other people can be exhausting and emotional at times. But those relationships that you truly dig deep into, those friends, are the best ones to have.
So, because I like lists, and like to be practical, here are a few things I think are baby steps on the road to authenticity....
1. Learn to be grateful. And joyful. If you've ever met someone who is truly an authentic person, you've probably also realized that they also wear gratitude like it's their favorite accessory.
2. Slow down. Take time to have a conversation, even if it means being a few minutes late. Write a letter and send it through the mail because people feel special when they get a hand-written letter.
3. Clear the distractions. In your quiet time, throw on some worship music and find a spot free of distraction. If you're having coffee with a friend, be intentional about turning off your phone or leaving it in your car. Get rid of the things that tempt you to disengage.
Do you have more to add to this list? Let's chat!