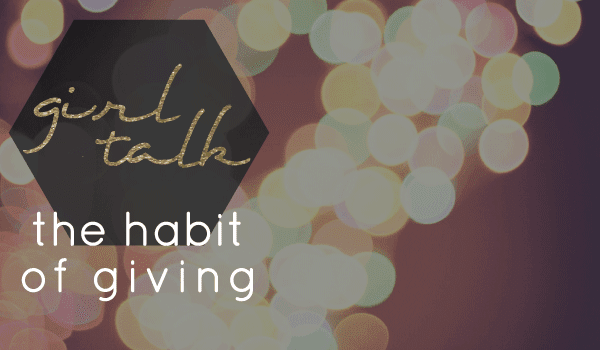 last week, i sat in a meeting with some of our pastors at church and we planned out some of our financial updates for the year. the subject of tithing came up and we started talking about how different generations view giving to the church.
our lead pastor put it like this: tithing is like paying your bill at a restaurant…you wouldn't dine and dash, so you shouldn't go to church and not tithe. and if tithing is your bill, then extra giving (to a special project or fund) is like leaving a tip…it's above and beyond your bill.
easy to say, sometimes harder to follow through on, right?
i remember when I first started tithing, shoving a crumpled one-dollar bill into the offering envelope at 10% of my $10 weekly allowance. it seemed silly at the time, giving an offering of $1 each sunday, but it mattered. for me, that small offering created a sense that tithing was a priority.
now, in my twenties, with college loan debt, bills to pay, gas to buy, hopes of travel and saving for a future, and of course, getting slightly larger paychecks than that $10 allowance, tithing is a lithe more complex. that 10% isn't just a dollar anymore, and i'm gonna be honest…sometimes its tough to see that chunk leave my paycheck as soon as it comes in.
malachi 3:10 says "b
ring the whole tithe into the storehouse... test me in this... and see if i will not throw open the floodgates of heaven and pour out so much blessing that you will not have room enough for it."
sometimes giving at this stage of life is more about faith in what god has promised and relying on his providence than it is about having the extra income lying around. it's about living in those promises and trusting god to "throw open the floodgates of heaven".
i know people who have had experiences where they've needed a certain amount of money and that exact amount happened to show up in their mailbox just when they needed it. some might call those sorts of things coincidences but i firmly believe they're god's provision. and it's stories like those that bring scripture to life for me.
i find that making giving a habit makes it easier to give in times of plenty
and
in times of want. god promises to take care of us. he asks that we be faithful to him, and that includes being faithful in our giving. and for a god who promises "so much blessing that you will not have room enough for it", who am i to argue?