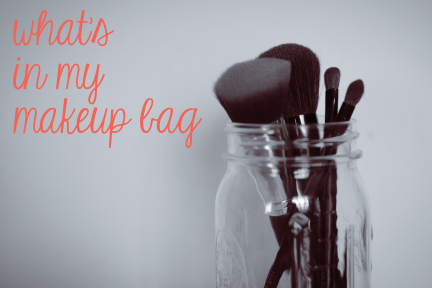 I haven't always worn (or even liked) makeup.
I didn't start wearing mascara until my last year of high school and my first real makeup purchase was a BareMinerals starter kit during my first year of college.
I've gone through stages of not wearing anything and wearing a really minimal amount.
But in the past year or so, I've developed a makeup routine that I've come to really love. It only takes me about 10 minutes, and it leaves me with a natural finish, which is really what I always wanted. I never wanted to really look like I was wearing a lot of makeup. Sometime last winter, I finally learned how to do my eye makeup, and that sort of changed makeup for me. It finally became fun and something I don't feel so timid when experimenting with!
So, here's what's in my makeup bag and how I use it (not that I'm an expert):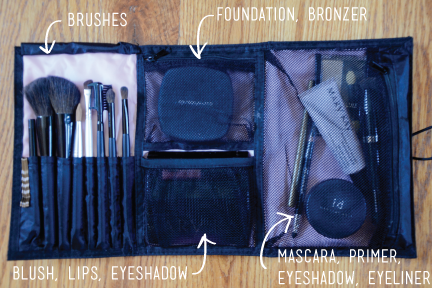 The sister of one of my good friends just recently became a Mary Kay consultant, so I've acquired a bit of Mary Kay products. Let me just say...I love them.
This is the brush set & bag. It rolls up nicely and holds everything I need! And it keeps me insanely organized, which is always a plus.
1. BareMinerals compact foundation in Medium Beige | This is my foundation. It's similar to their loose powder mineral foundation, but it's packed into a compact and goes on with a bit more coverage
2. BareMinerals bronzer in The High Dive | This is a good all-over face color, it's just like the foundation compact.
3. Mary Kay Ultimate Mascara | I've neer met a mascara that does as good of a job at separating and defining lashes as this one.
4. Maybelline eyeshadow palette in gold tones | I've recently begun a love affair with gold tones, and my eyeshadow is no exception. This has just the right amount of shimmer. It's a staple.
5. Mary Kay Primer | This is like silk for your skin. It's spf15 and is the perfect base to make foundation application smooth.
6. Mary Kay compact | This holds three eyeshadows (golden vanilla, truffle, and lavender fog), a blush (sunny spice), and a lip gloss (cafe au lait).
7. BareMinerals Mineral Veil | This is a great finisher for any look. It's light and provides oil control and a airbrush finish.
8. various eyeliners (brown, black, and gold) | I don't wear eyeliner all that much. I can never do it on my top lid in a way that I like and looks subtle. But I really like Ulta's brand of eyeliner. They go on really smoothly.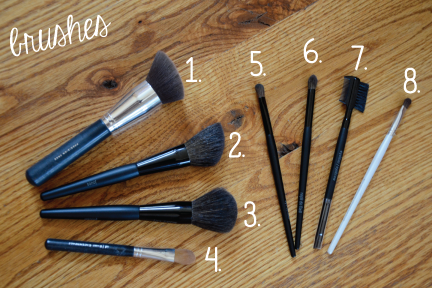 1. BareMinerals Precision Face brush | These tightly-packed bristles provide great coverage with the BareMinerals foundation compact.
2. Mary Kay Cheek brush | I use this for blush application
3. Mary Kay Powder brush | This is my go-to for bronzer and mineral veil
4. BareMinerals Concealer brush | This is great for this trouble spots and blemishes
5. Mary Kay Eye Definer brush | This sweeps eyeshadow on your lids perfectly
6. Mary May Crease brush | For defining your eyes and brushing on darker shadows in the corners and crease
7. Mary Kay Eyeliner/Eyebrow brush | This is two-sided, with a eyeliner brush on one side and a brow brush on the other
8. e.l.f. Crease brush | This is angled, and works well for applying the darkest shadows in the outer corners of the eye
So that's it...my collection has grown a lot, and I have my routine down to under 10 minutes or so in the morning. If I've learned anything in the past year or so, though, it's that the right tools make all the difference.