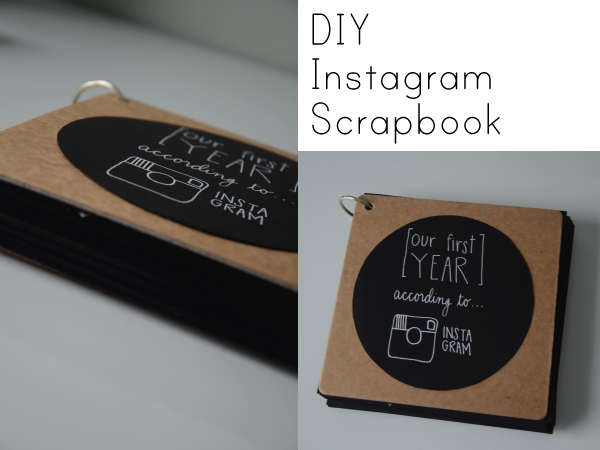 Yesterday was Valentine's Day (duh), but it also marked one year of dating for AJ and I! I can't believe it's been one year that we've been together. Definitely the best year of my life. I'm so blessed to get to call him mine and to have found the love of my life!
As you might know, student teaching doesn't pay. Which means I'm on a crazy tight budget. Like, a pay-for-gas-and-food-and-that's-all kind of budget. And he's in college, and commutes an hour every day, so that means we're both kind of frugal this time of year. But, we kind of went all-out on our birthday and Christmas gifts to one another, so that set the bar pretty high. I knew I wanted to give him
something
for Valentine's/One Year day, but I also knew it needed to be cheap. So I decided to play the sentimental card, and I made him a little book of
all
most of our instagram photos from the past year!
Here's how to do it: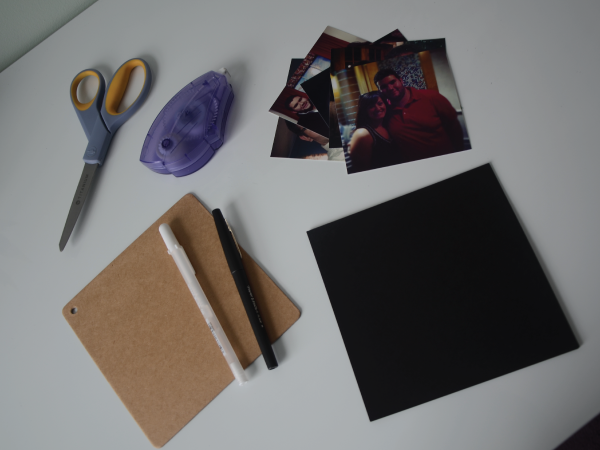 What you'll need:
Pens (I used a felt-tipped black pen and a white gel pen)
Photos (you can get your instagram shots printed with an app like PostalPix or just resize photos in a program like Adobe Illustrator or Photoshop and then print them on semi-gloss card stock...either way, a 4x4 size is good)
Scissors
Glue/Scrapbook adhesive tabs (I used a roll like the purple one from Scotch...so much easier than glue)
Chipboard pack (found this for $1 at Michaels!)
Colored Cardstock (AJ loves Black and White, so I went for a pack of 6x6 black card stock...having it already cut into squares made my life soooo much easier)
Not pictured:
Hole Punch
Washi Tape
Mod Podge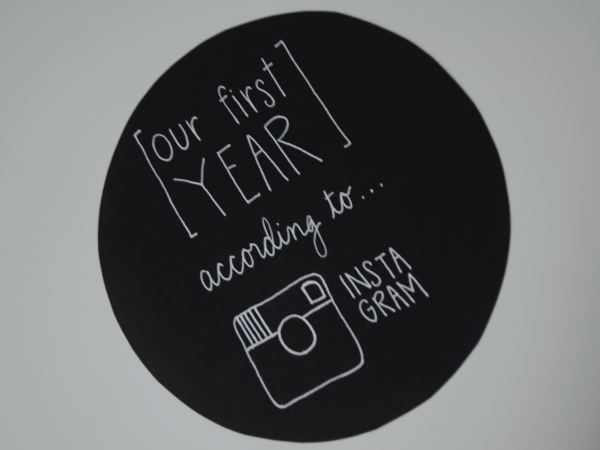 I made my cover by cutting a circle out of black card stock and writing "Our First Year According to Instagram" on it, then adhering this to the front chipboard cover with Mod Podge.
Then, I put my photos in order and went through them one by one and labeled on the back what month they were from (this made assembling my book a ton easier). After I was done, I started at the beginning and created a "title" page for the month with a few memories from that month and then put one photo on each page until I had used all of the photos from that month. I did this for each month for the whole year. Just be careful that you think through where you're going to be punching holes in each page so that you don't end up punching holes through your photos! You might even want to hole punch before you put your book together. I tried to change things up with each page by using different washi tape, choosing a different calligraphy/font style, different little adornments/doodles, and even mixing up where on the page I put the photo and how I aligned it.
Then, I put the whole book together, using the chipboards as my front and back covers and the little binder ring as the binding. I also ended up drilling a hole through the bottom of the left side of the chipboards and punching holes through each page so that my binding had two rings instead of just one and functioned more as a book than a flip book. This held it together much better.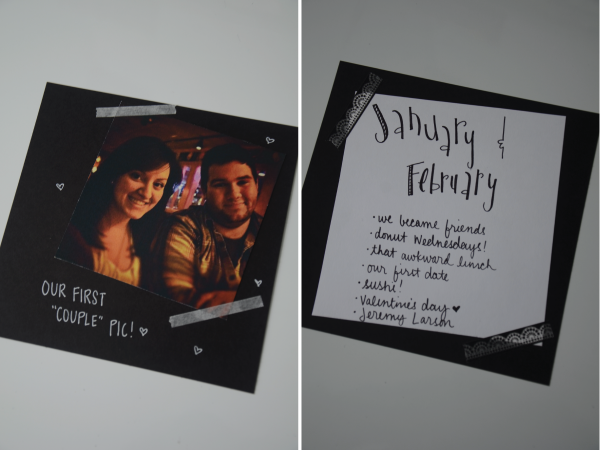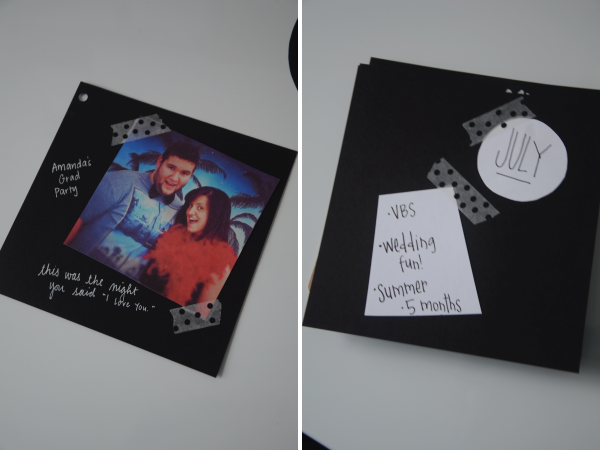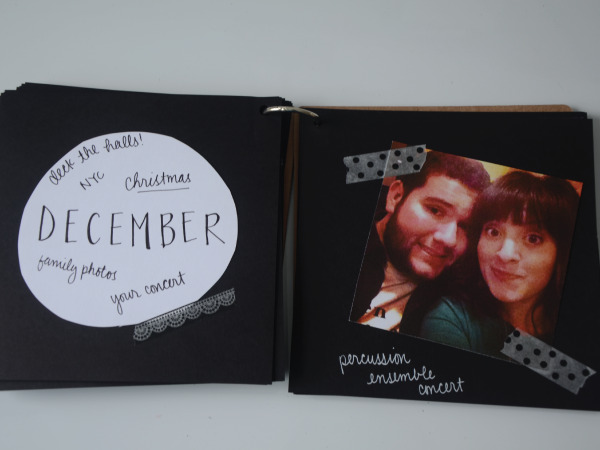 And there you go! A scrapbook album made from Instagram Photos.
I love having photos printed out. In this digital age, it's SO easy to just keep photos stored away on your phone and computer, but it really is nice to be able to hold them in your hands and look through them every one in a while! And this was such a heartfelt gift. I had a ton of fun making it, and I think AJ was pleased with it too.