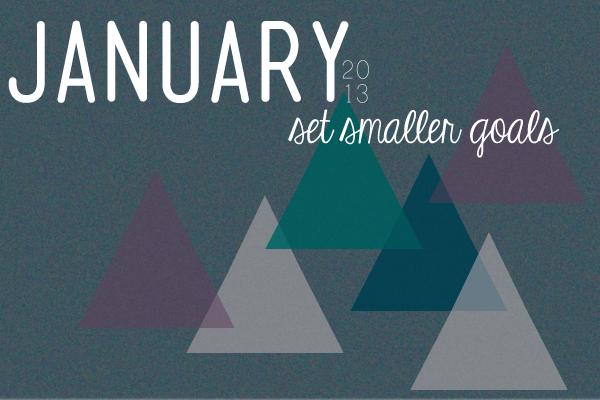 Happy New Year!
I hope the past few days have been great for you. Welcome to 2013!
So obviously, it's time for New Years resolutions. I've made resolutions in the past, and frankly, have been terribly about keeping them. I've done the "lose weight" and "save more money" and "manage my time better" resolutions, and maybe it's something about trying to set a goal for an entire year that's just, well, intimidating. But I'm always a little overwhelmed by it all.
As I was thinking about 2013, I got the feeling that this is going to be a big year. I'll be starting my student teaching in just two weeks and then will be busy with that all summer. After that, I'll (hopefully) find a job for the summer and then a teaching position for the fall. Things are changing, and I'm excited! Big changes like a new job make me inspired to change other things too.
So my goal for this year, for January, is to set smaller goals. To start off the year with small milestones makes big resolutions feel a little bit more manageable, dontcha think?
I'll be spending some time this month creating a list of goals for each month of the year, and starting to put them in to practice little by little, but focusing on each goal during different months throughout the year.