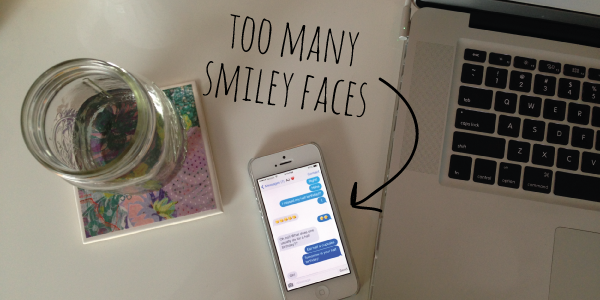 i was texting someone the other night, and when i looked back at our conversation, i realized that i ended over half of my texts with a smiley face.
what. on. earth.
as someone with a degree in education, i pride myself in having good text etiquette…i never use terms like "lol" and i always spell out "you", "for", "are", etc. even when someone broke into my house with my mom and i at home and i was hiding in my room texting anyone i knew for help (which, yes, was as terrifying as it sounds…i really should tell that story on here sometime), i typed in complete sentences, used proper punctuation, and spelled out each word.
but it seems, despite my quest for good texting grammar, i think i have become the girl who uses too many smiley faces.
maybe it's no big deal. or maybe it's like that person on your facebook feed who ends every sentence with 16 exclamation points.
i could jesus juke this post with some deep thought about how using too many smiley faces eventually makes them worthless or that i hide my real emotions behind them or some contrived thing like that, but let's be real, it's just smiley faces, so i'm going to leave it as what it is.
i'm the girl who uses smiley faces. a lot. and if you send me a text, you'll probably get one back, complete with a smiley face. please be a friend and tell me i'm not alone in this.