a few weeks ago, my friend mattie asked if i'd like to partner with her and review mary kay's new cc cream. after falling in love with bb cream last summer (check out my review of that
here
), i was super excited to check out this product!
side note: i really don't know the difference between bb and cc cream…i read somewhere that bb creams are a stepping stone between foundation and a tinted moisturizer, while cc creams (which i believe stands for "color correcting") are meant to address things like redness and sallowness. i'm gonna be real with you…i think they both addressed the same issues.
my normal makeup routine, while pretty natural, takes about 5-7 minutes in the morning. not a ton of time, i know, but it's nice to have an option that is even faster, and cc cream offers just that!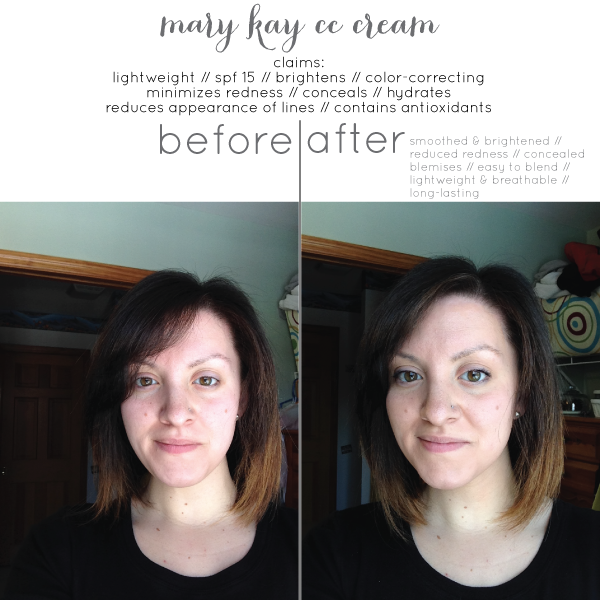 i really like the mk cc cream…it's light and doesn't leave my oil-prone skin feeling wet or dewey. it dries really fast, goes on smoothly, and blends really nicely. i like to finish it off with a dusting of bare minerals mineral veil, but i think you could easily wear it on it's own. it really does a nice job of smoothing out my complexion and reducing any redness or unevenness.
i posted a (way too long) video below, if you want to hear me talk more about this product.
if you don't already have a mary kay consultant, i highly recommend mattie. you can find her
here
.