This shop has been compensated by Collective Bias, Inc. and its advertiser. All opinions are mine alone. #AvengersUnite #CollectiveBias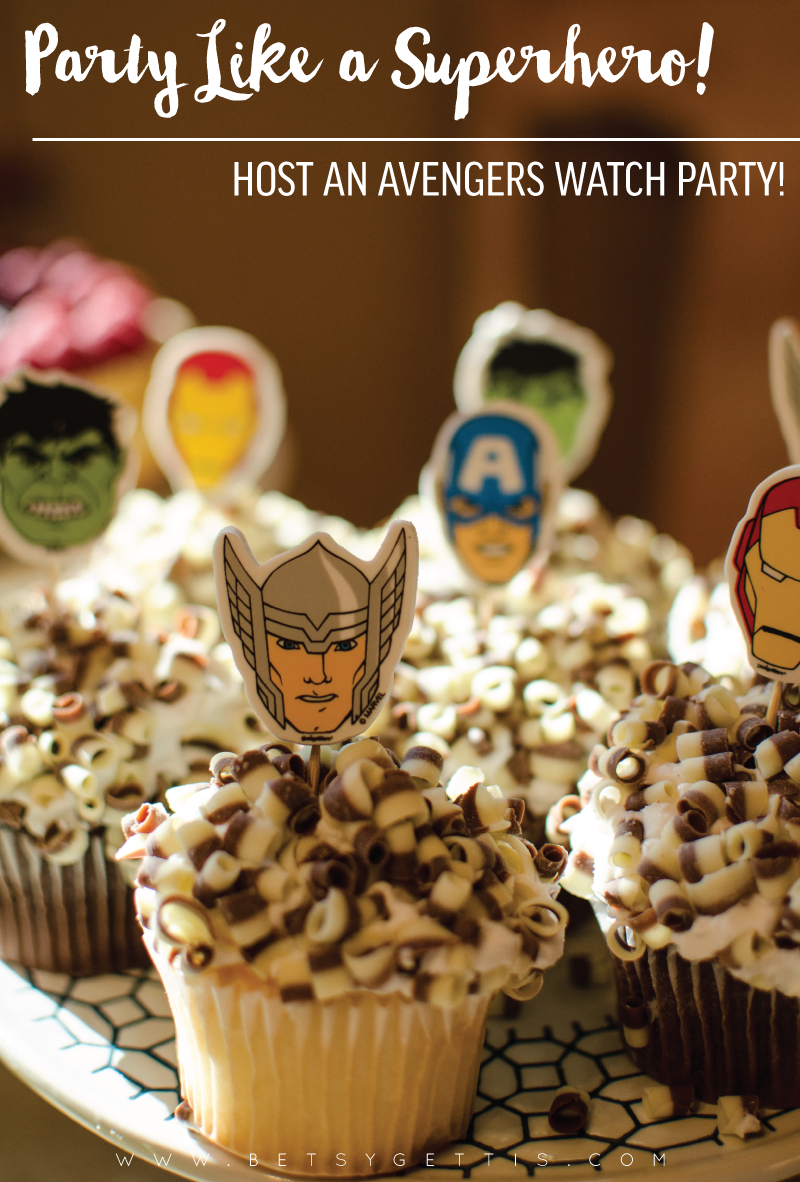 While I love chick flicks as much as the next girl, I've got to be honest with you...I love superhero movies. I love the action and adventure and how superheroes are these dynamic characters, and of course, I also love the little bit of romance that's always thrown in. Plus, you all know that I can geek out, and nothing's geekier (in the best way), than comic books turned into movies. Ladies, you know you're with me....girls can totally love superheroes too!

My favorite superhero franchise out there, without a doubt, is the MARVEL universe. I love The Avengers, and am so excited for the new movie,

MARVEL's

The Avengers: Age of Ultron

, to hit theaters next week!

In order to properly prepare for the new installment's release, I invited a bunch of friends over to watch MARVEL's

The Avengers

movie as well as a few of our other MARVEL favorites. Because of the way the MARVEL universe works and the schedule that they release new
The Avengers
movies, it can be really easy to forget what happened the last time you saw your favorite superhero in action in theaters. So we all got together to refresh our memories before we all head to the box office next week.
Since I was hosting this little shindig, I decided to go all-out and party like a superhero, with themed treats, games, and decor. So, I give you a completely
The Avengers-
themed party plan that you can replicate at home....and, for those of you who love puns, here are a few alternate titles for this post, courtesy of my
fiancé
:
1: A Loki (low key) Superhero Party Thor (for) You and Your Friends.
2: Throwing a MARVELous Superhero (Hulk) Smash!
3: Make an Ordinary Friday FANTASTIC FOUR All of Your Closest Non-radioactive Friends... Including Spider-Man.
+ A few of your favorite
The Avengers
movies (duh!)
+ Your best
The Avengers
apparel (break out that Captain America t-shirt!)
+ Lots of snacks: soda, ice cream, chips, popcorn, candy, cheesecake, cupcakes (no movie marathon is complete without snack food!)
+ Any food that you see with one of
The Avengers
on it: specifically look for Cheeze-Its, Doritos, Cherry Dr. Pepper, and Kellogg's Fruit Snacks!
+ Strawberries & Blueberries
+ Salad Supplies
+ Baby Carrots & Dip
+ A few prizes (I picked up some gift cards!)
+ Any of
The Avengers
action figures and toys, like an awesome Hulk hand (hey...you need to satisfy the kid within)
+ Plates, Cups, & Napkins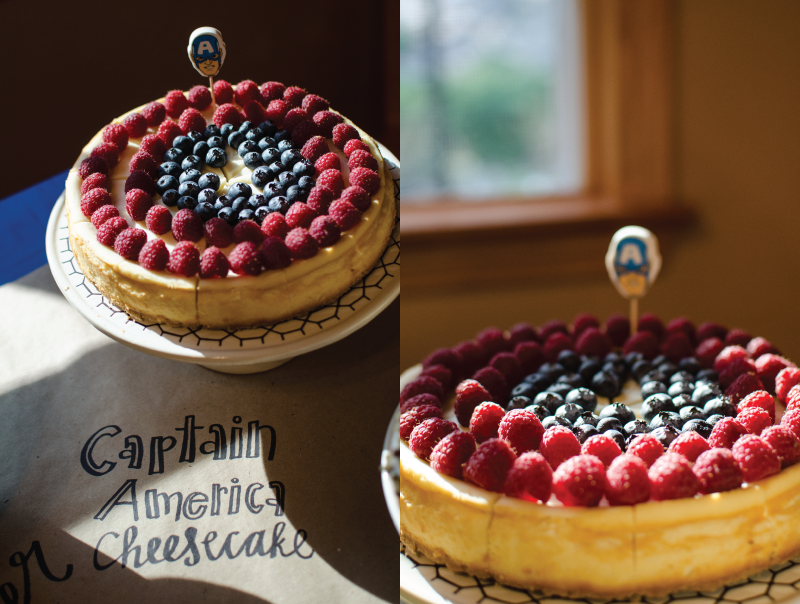 CAPTAIN AMERICA CHEESECAKE //
To make this easy cheesecake resembling Captain America's shield, I picked up a pre-made cheesecake from
Wal-Mart
and a few packs of raspberries and blueberries. I formed the outline of a star in the middle of the cake with the blueberries and then filled it in to create a circle around the star, and then set two rows of raspberries to make the circles on the Captain's shield. It was a hit, and no one had to know that I only spent about 10 minutes on it!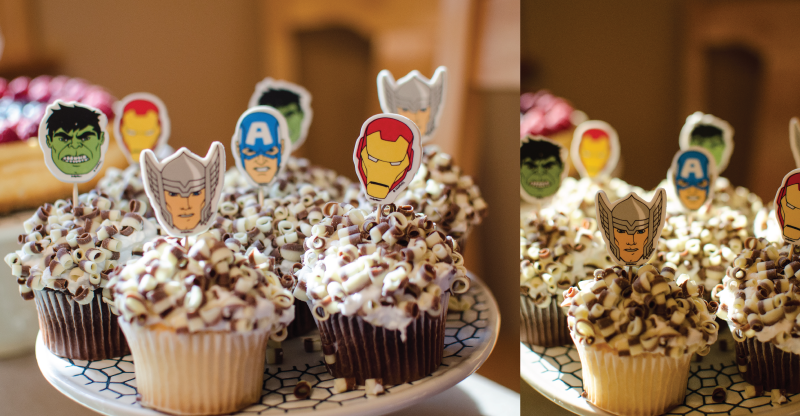 THE AVENGERS CUPCAKES //
Ok, so I really wish I could tell you that I made these. I totally intended to actually make homemade cupcakes, but my time was running short last week, and when I stumbled upon these beautiful desserts in Wal-Mart's bakery, it was a no-brainer. To turn these cupcakes into "
The Avengers
Cupcakes", I picked up a few packs of
The Avengers
erasers from the party aisle and put them on toothpicks, then stuck the toothpicks into the cupcakes! So easy, and it transformed these otherwise-plain desserts into ones perfect for my MARVEL's
The Avengers
watch party. (And they were a total hit, too!)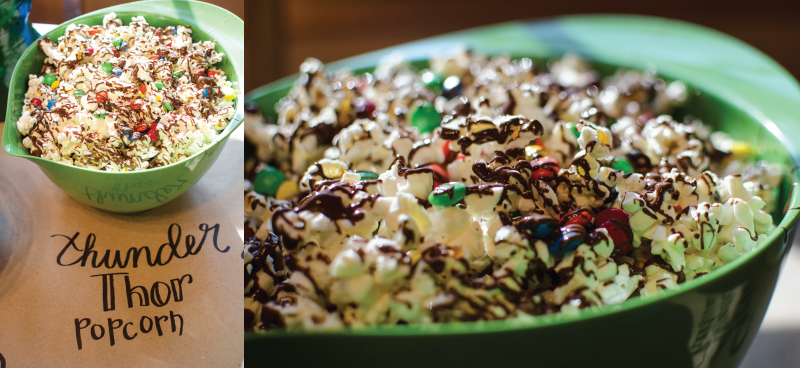 THUNDER THOR POPCORN //
Salty meets sweet. I popped two bags of all-natural, lightly salted microwave popcorn and then melted some milk-chocolate chips (use about 1/3 c. chocolate chips drizzled with olive or avocado oil, and melt in the microwave for about 45-seconds, stirring every 15-20 seconds, until smooth). I tossed the popcorn into a bowl and sprinkled M&Ms over the popcorn, then drizzled my melted chocolate over the mixture. Do this in a few layers, and you've got a salty-sweet treat perfect for snacking!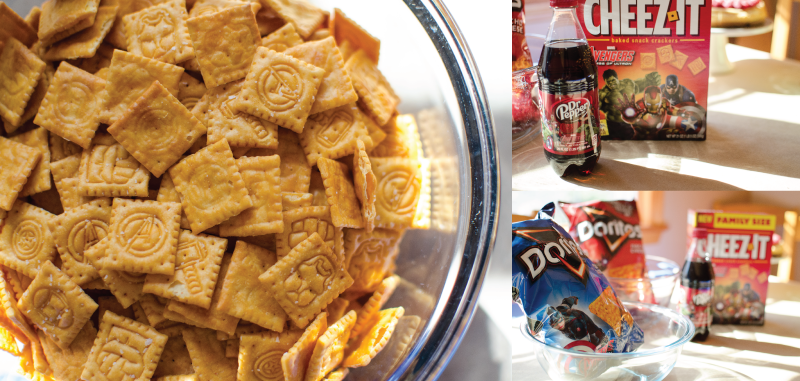 S.H.I.E.L.D. SNACKS //
No party is complete without every themed snack item that you can find! Keep your eyes peeled for Avengers-marked boxes of Cheez-its, Doritos, Dr. Pepper, and Kellogg's fruit snacks. I decided to label these snacky, finger food items (perfect for munching while movie-watching!) as "S.H.I.E.L.D. Snacks" to keep with the theme!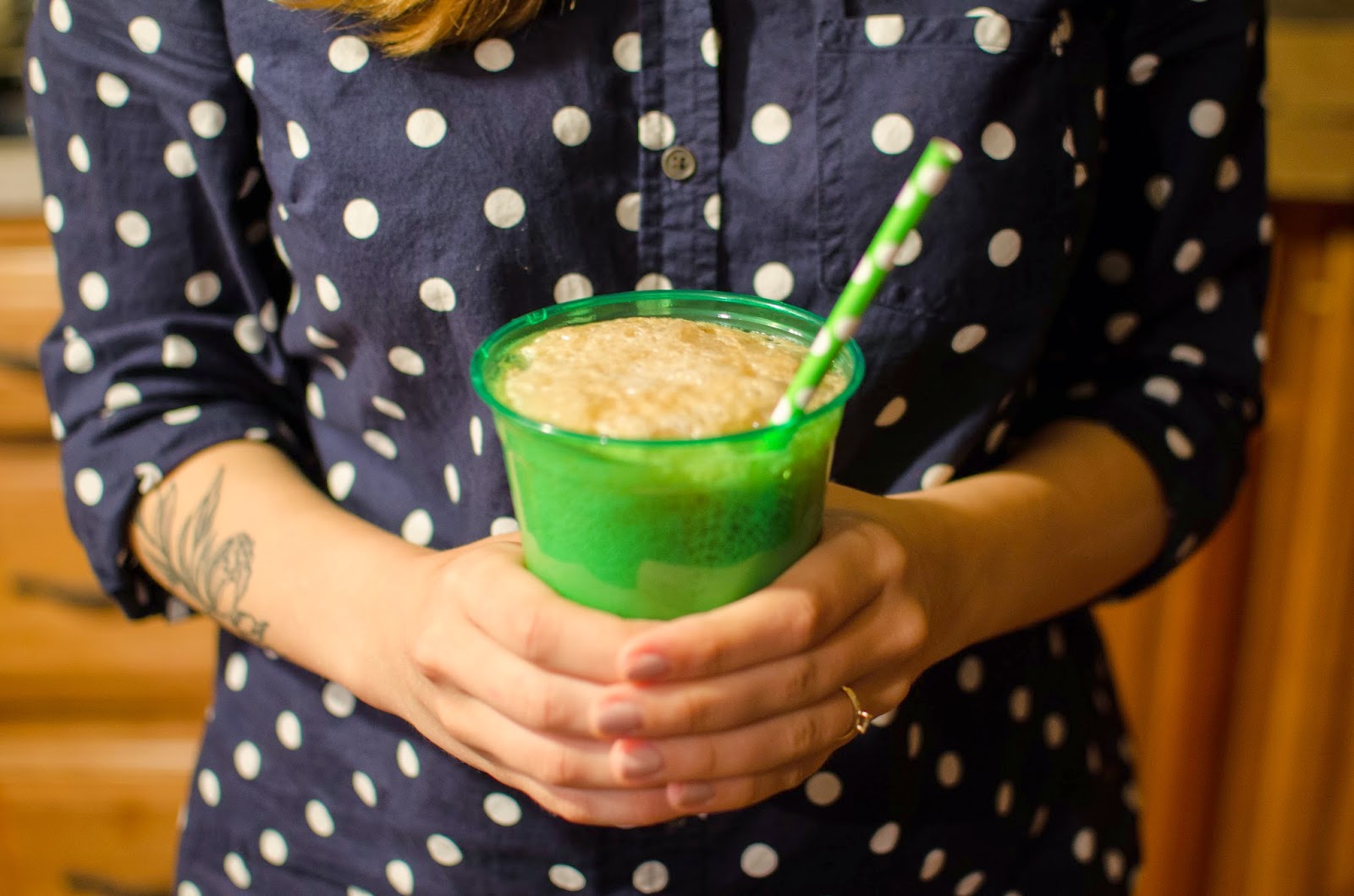 IRON MAN'S FIZZING FLOATS //
So you've heard of a root beer float, but have your guests ever had a Dr. Pepper float? My guess is no, which is why they'll be impressed with your Iron Man Fizzing Floats! All these take are a scoop of vanilla ice cream and some Dr. Pepper. But be careful....they really do fizz! You don't need to fill the cup up with soda, and I highly recommend putting them together near a sink...or you might end up with Dr. Pepper all over your kitchen floor like I did!
THE HULK'S MEAN GREEN SALAD & COULSON'S CARROTS AND DIP //
While snack foods are great, you do need to satisfy the health-conscious, so I whipped up a salad and picked up some baby carrots & dip. These are pretty much party staples, but they're favorites, so it was a good choice!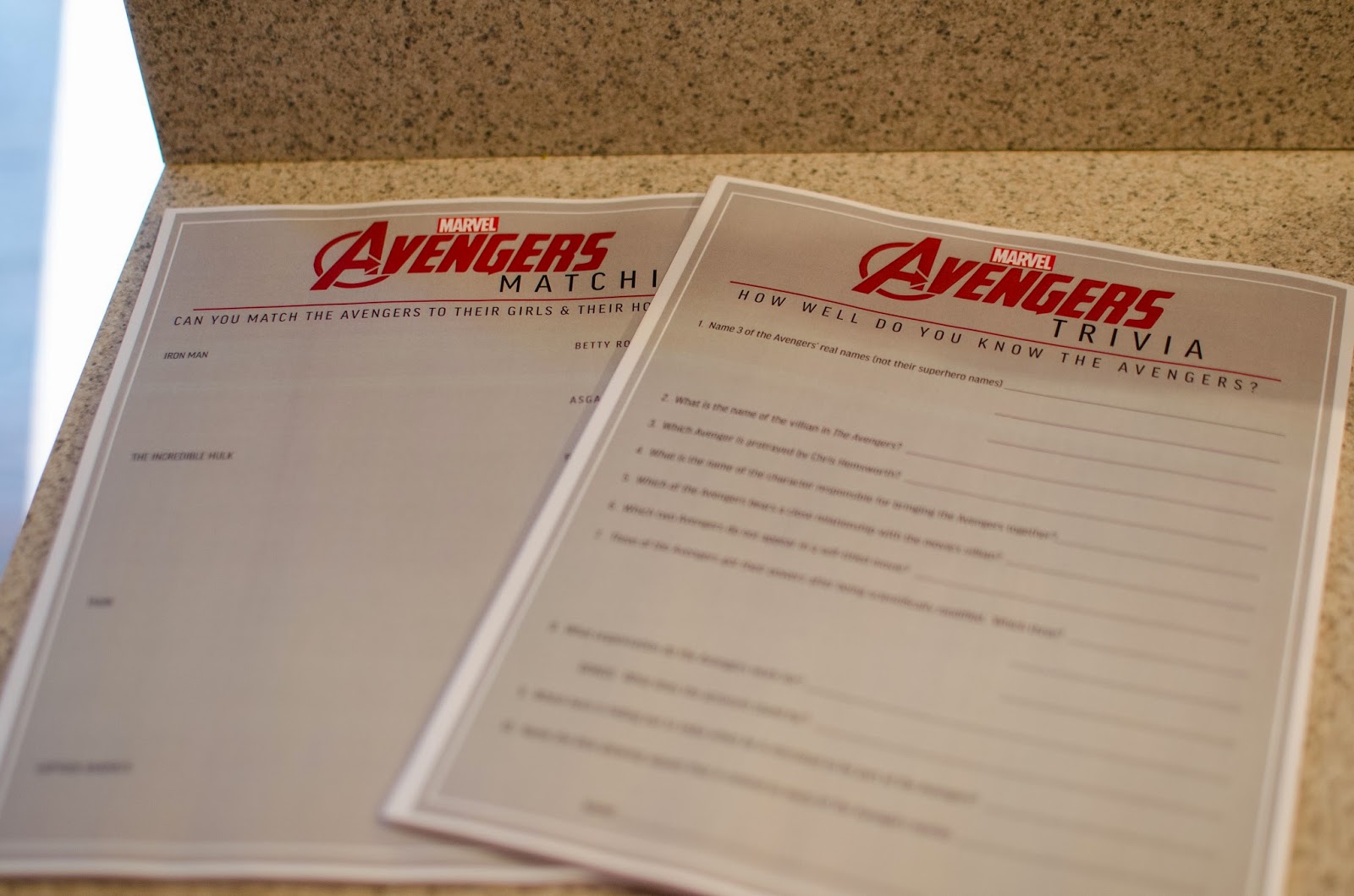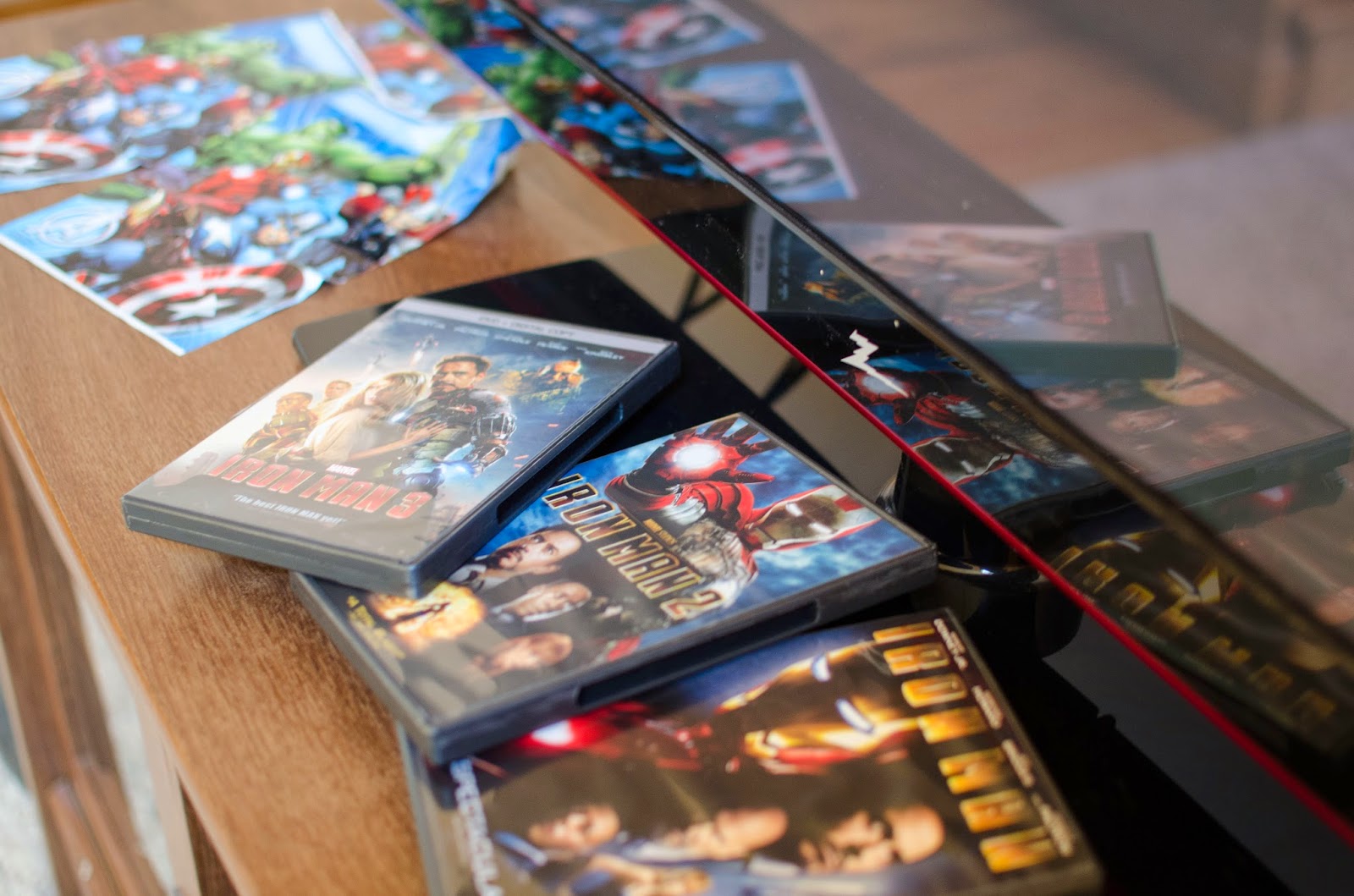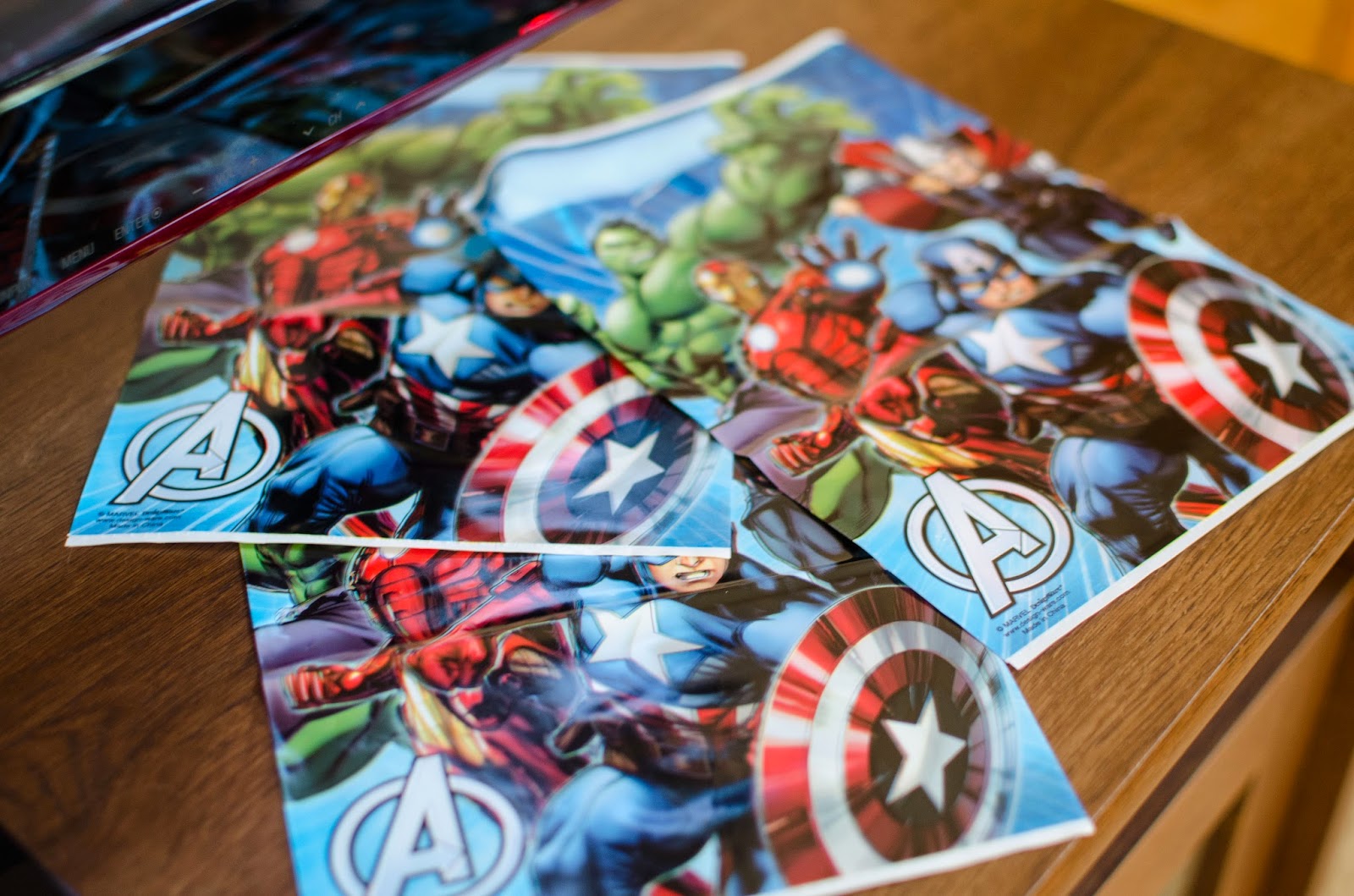 GAMES & PRIZES //
Since I invited mostly adults over (with the exception of four kids), I decided to create a few games that the adults could enjoy! I designed an
The Avengers
Trivia game (download the printable for free
here
) and an
The Avengers
Matching game (download the printable for free
here
), and then picked up some gift cards and a few of the MARVEL's
The Avengers
movies to hand out as prizes!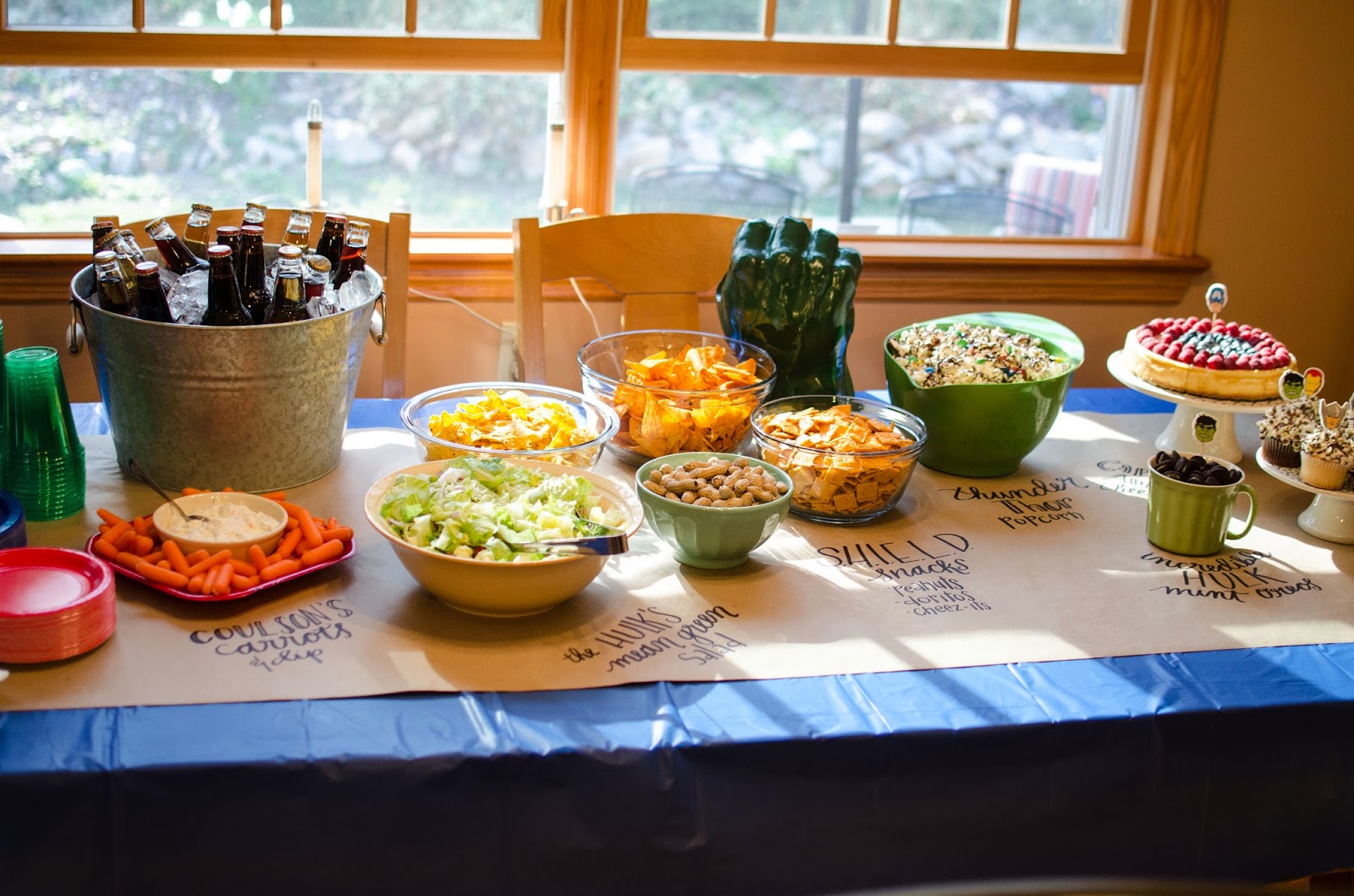 SET IT ALL UP //
I picked up a blue table-cloth for the table and tried to keep to a red, blue, and green theme, since most of
The Avengers
wear one or more of those colors. I rolled a piece of brown craft paper over the table and then laid out the food and used a Sharpie to label everything with my
The Avengers-
themed names like "Thunder Thor Popcorn", "Incredible Hulk Mint Oreos", "Captain America Cheesecake", "The Hulk's Mean Green Salad", "Coulson's Carrots & Dips", etc. I picked up this great tub for drinks and decided to go with bottled sodas, because they just make things more fun, right?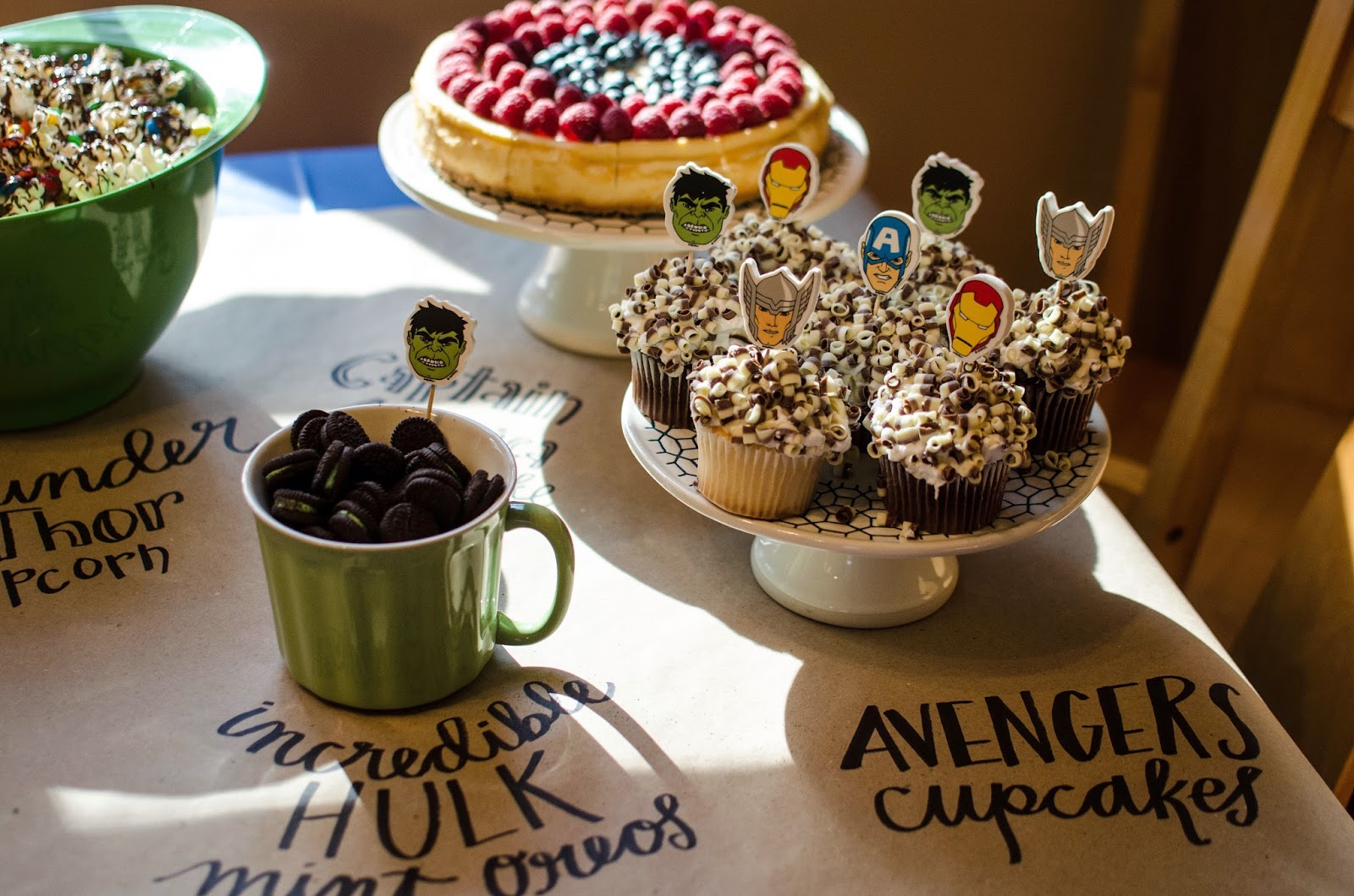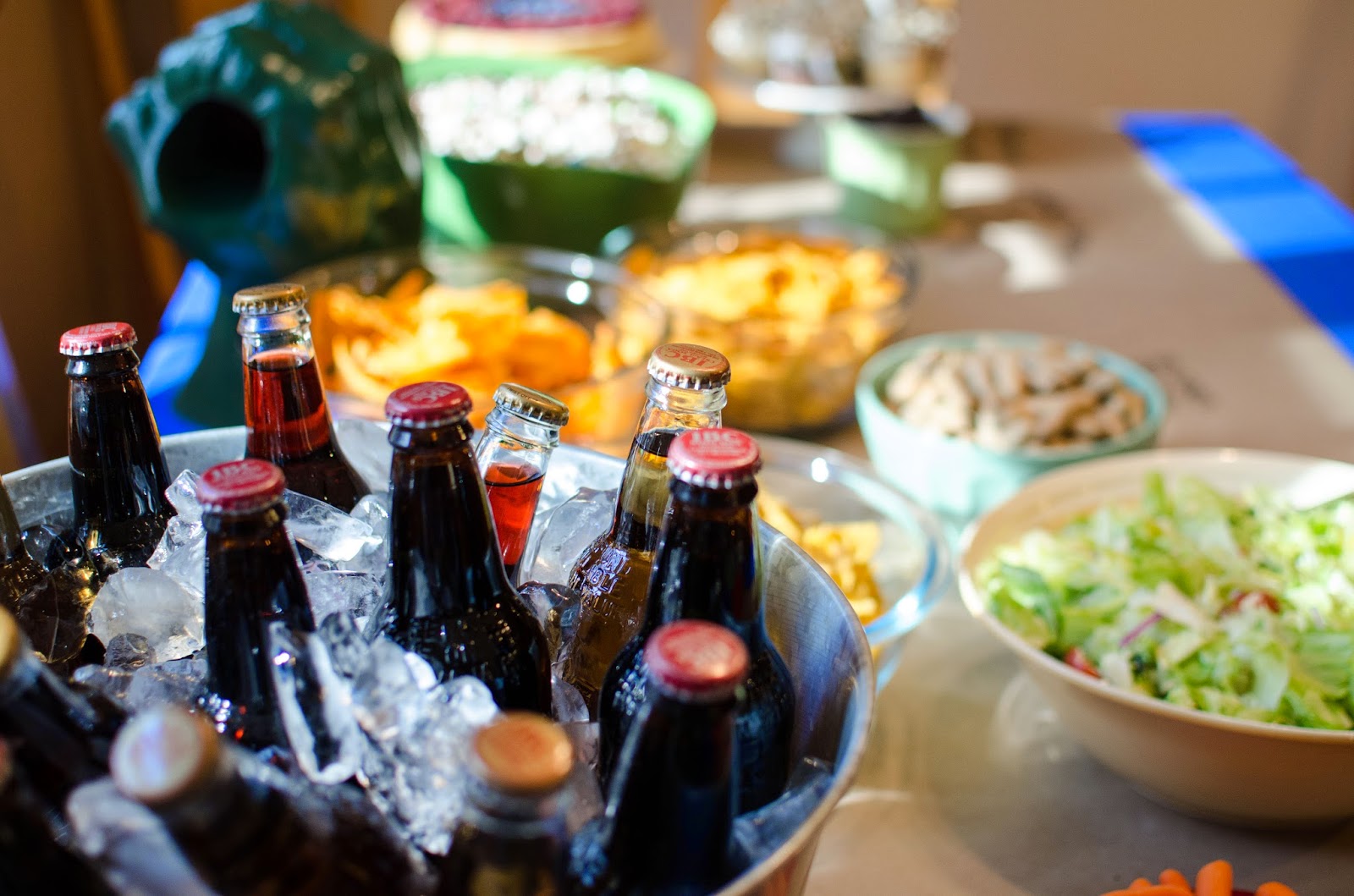 We enjoyed the beautiful weather by eating outside, and then I passed out
The Avengers
Trivia and Matching games to everyone to see who knew
The Avengers
the best!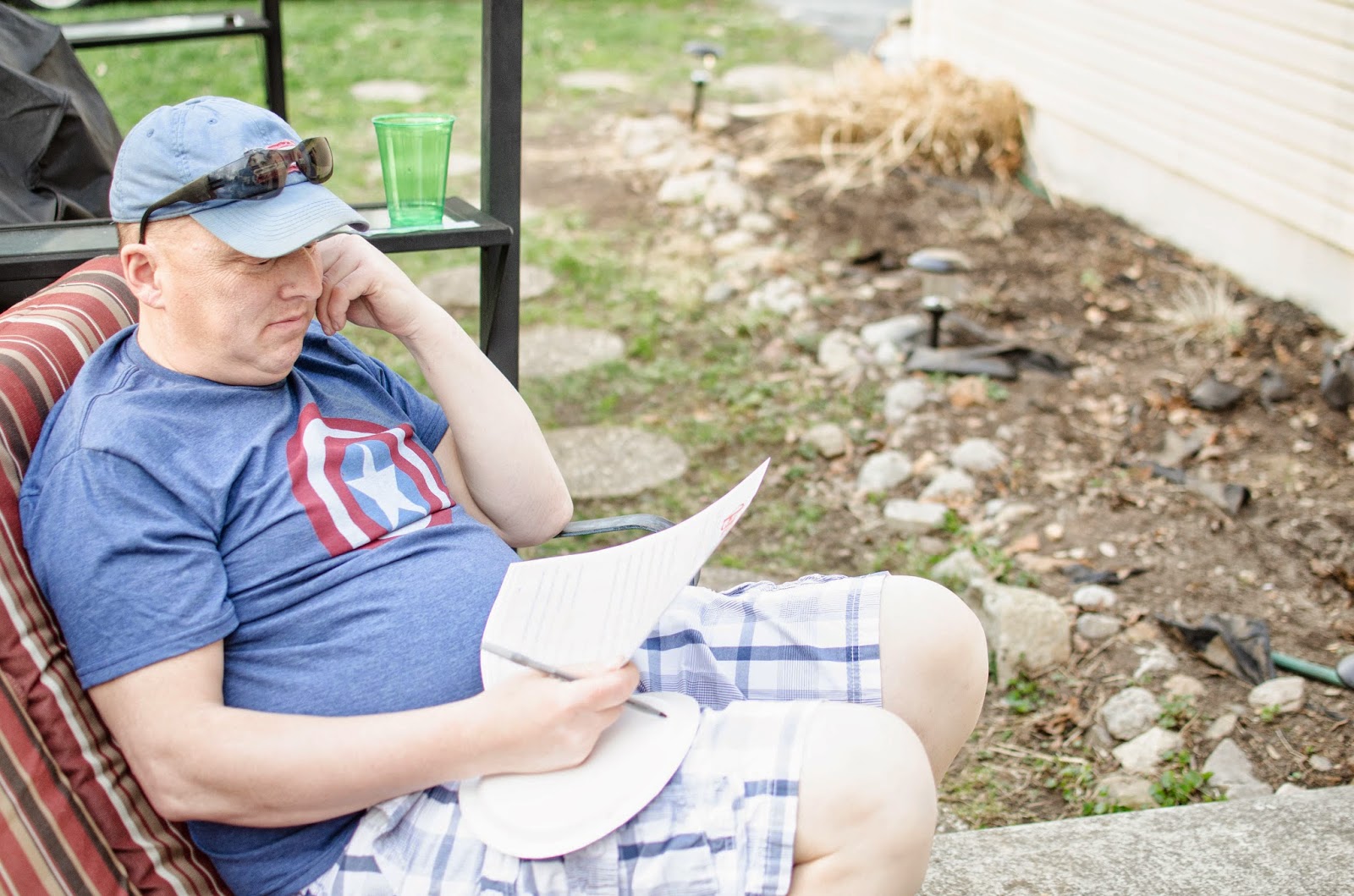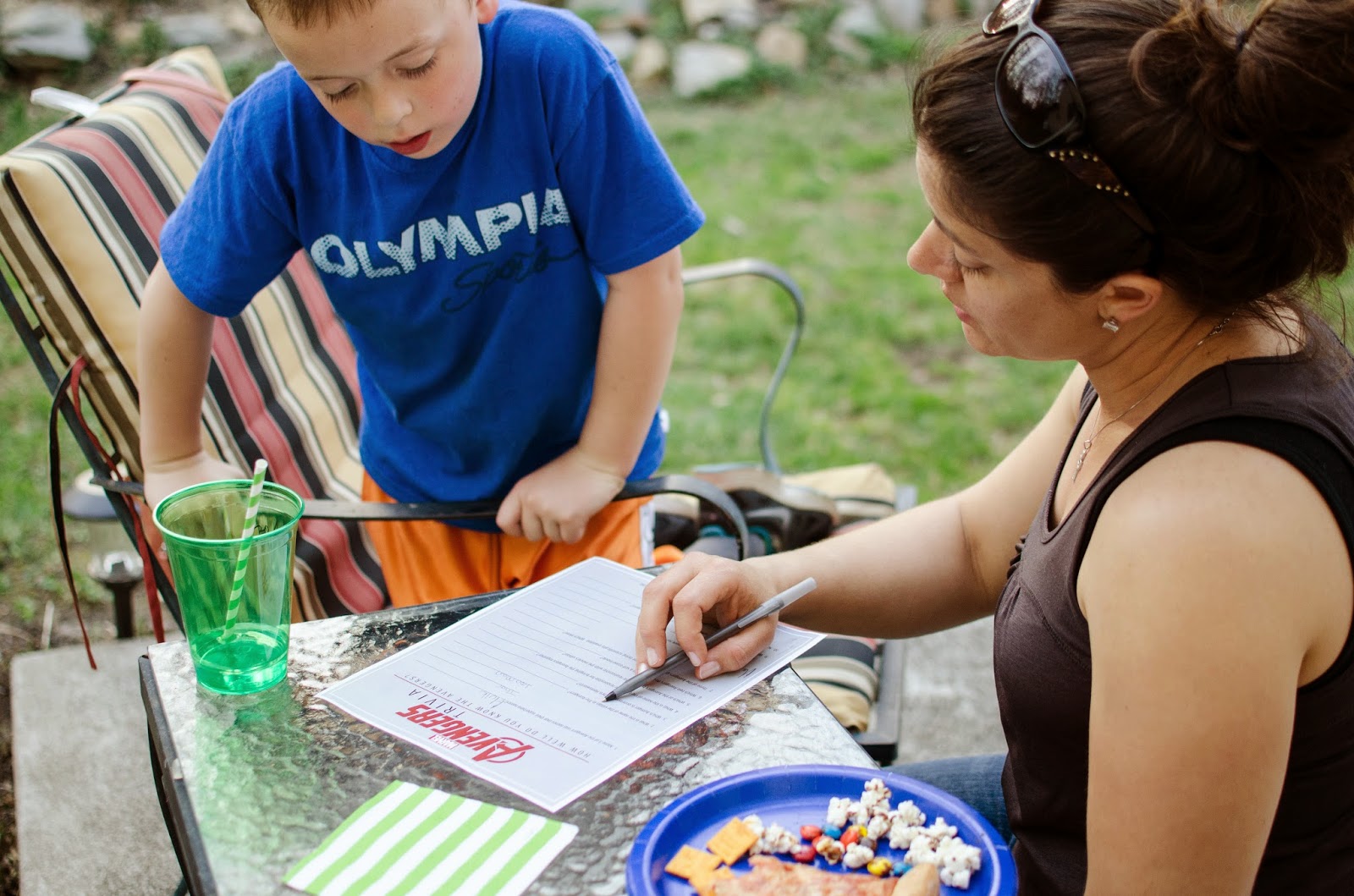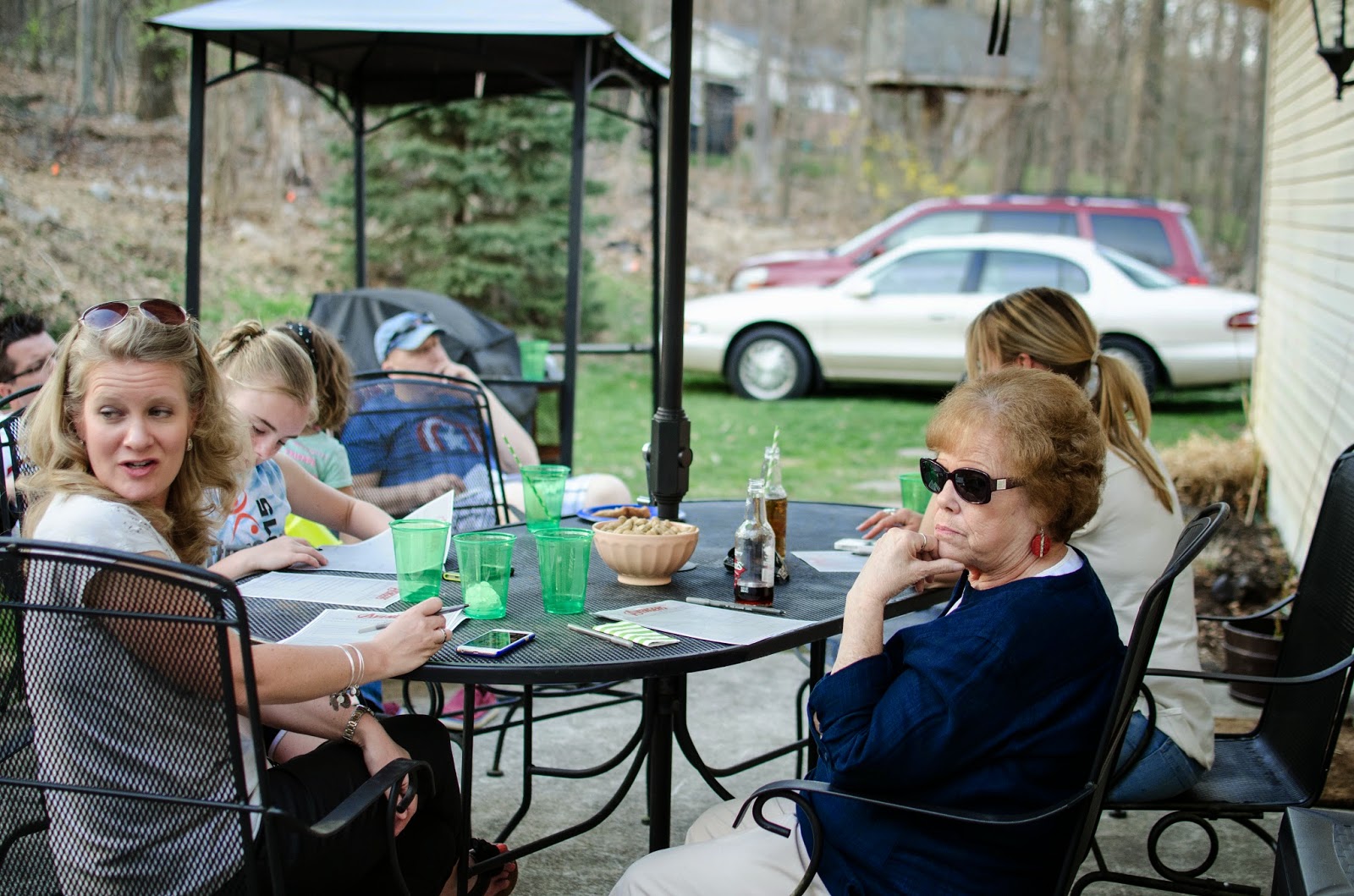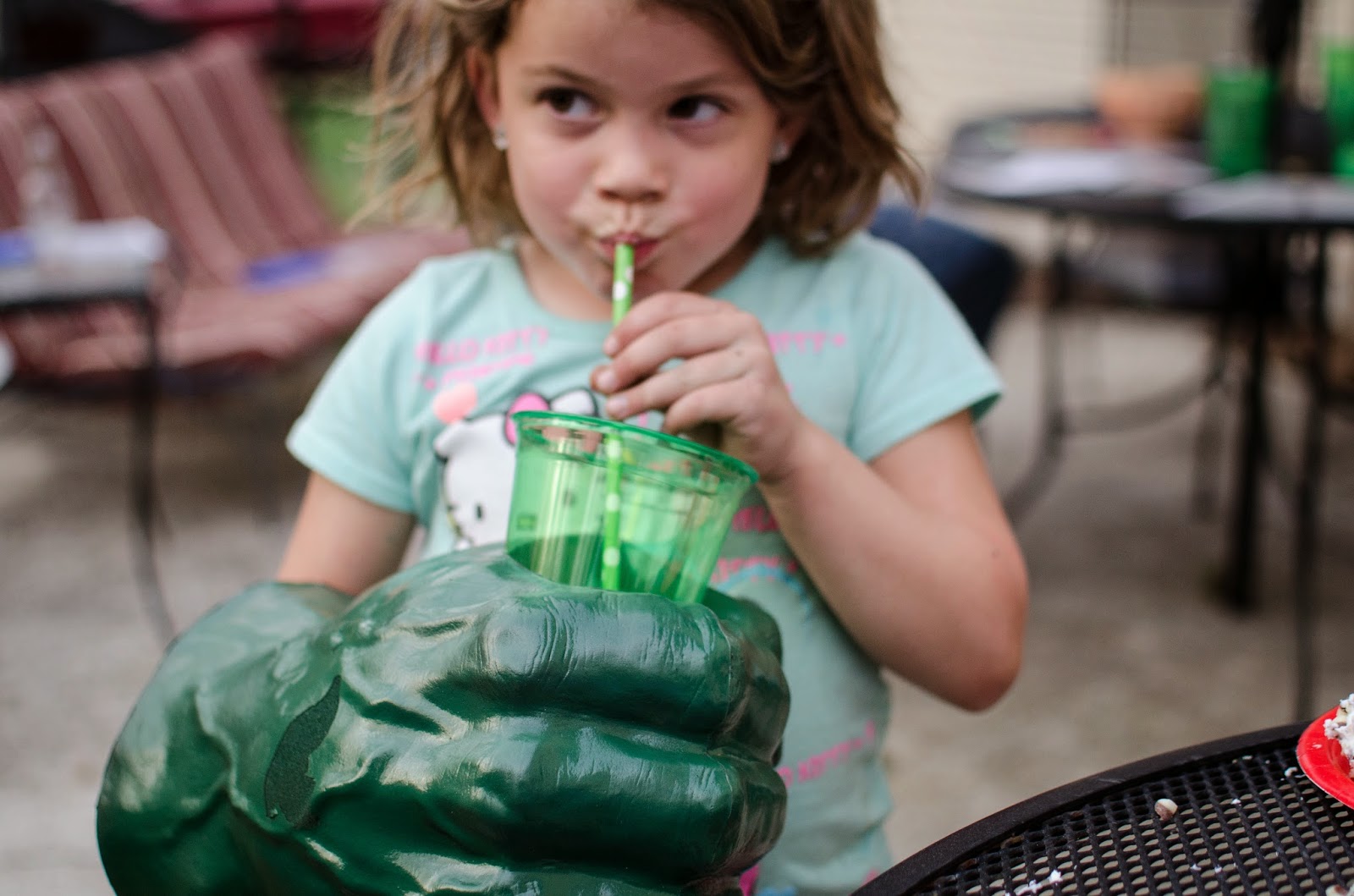 Once everyone had eaten and the sun started to go down, we headed inside to watch the movie! We went over the answers to the games and handed out the prizes, and then popped in the movie, passed out some Iron Man Fizzing Floats, and settled in to watch MARVEL's
The Avengers
!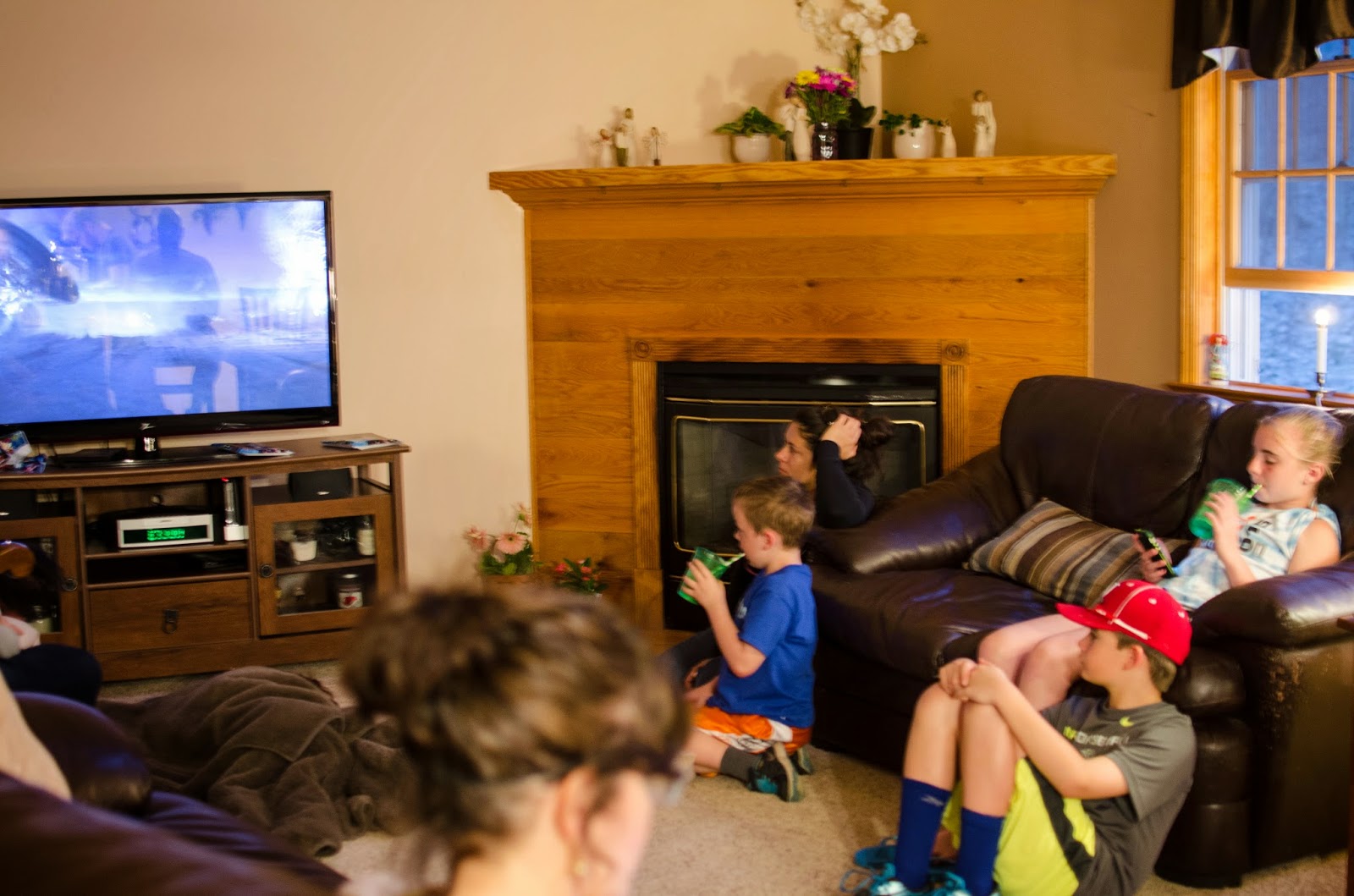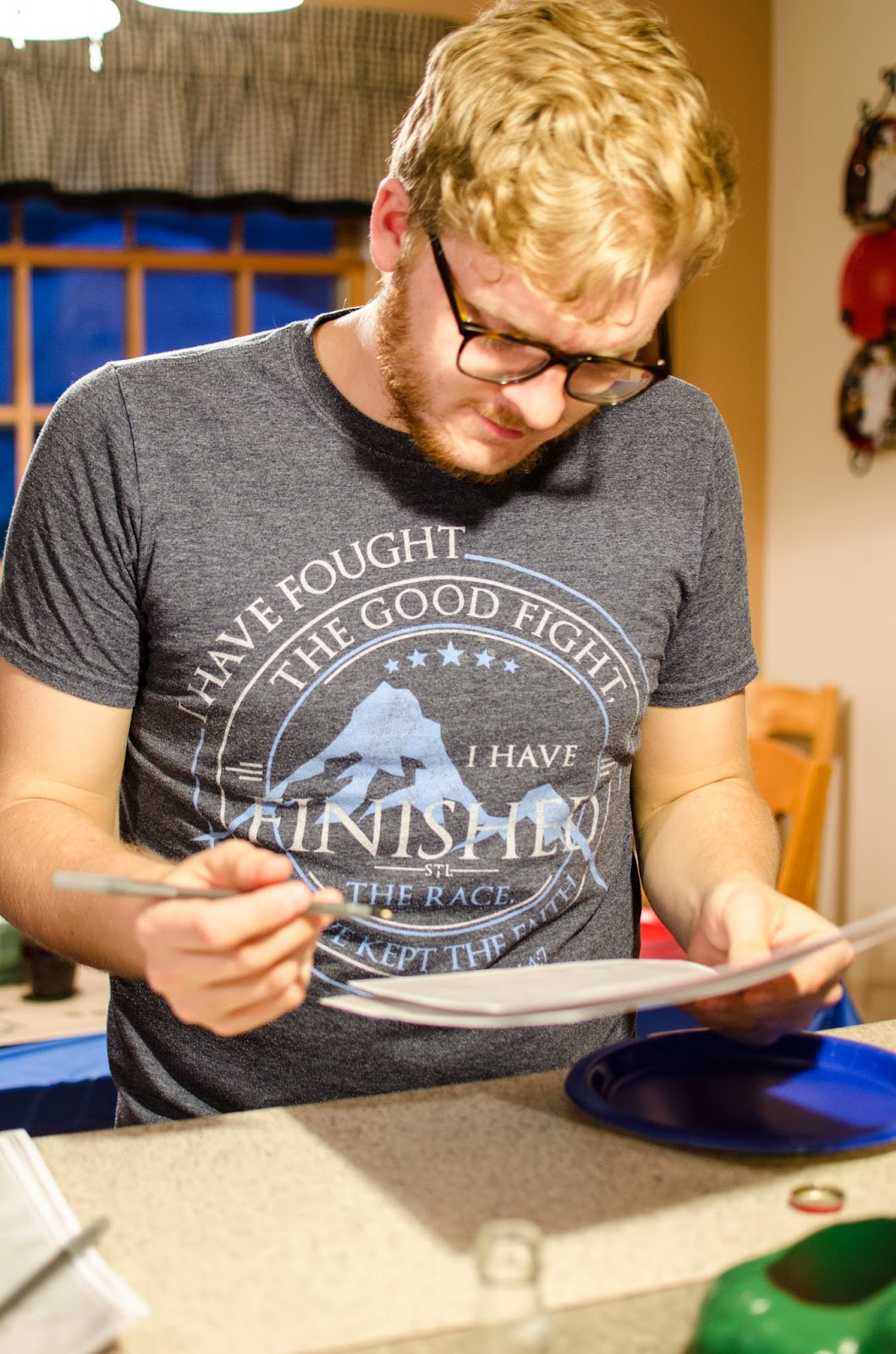 The party ended up being super fun and we had gorgeous weather, which meant we were able to get outside for the first time this year before watching the movie.
I can't wait to hit the movie theater on May 1st, when
MARVEL's
The Avengers: Age of Ultron
comes out! In

preparation, I'll be watching some of my favorite Avengers movies:
Iron Man
1, 2, & 3;
Captain America
1 & 2,
Thor
1 & 2,
The Incredible Hulk
, and
The Avengers
! And while you're preparing for the MARVEL'S
The Avengers: Age of Ultron
release, be sure to download
the
Superheroes Assemble app, which is available in
the
Apple App store & Google play, and can help you have even more of The Avengers fun!
The best part about this party was how easy it was to prepare for...I headed to my local Super Wal-Mart and I was able to pick up everything I
need, including some of the Avengers movies and specially-marked packages of snacks!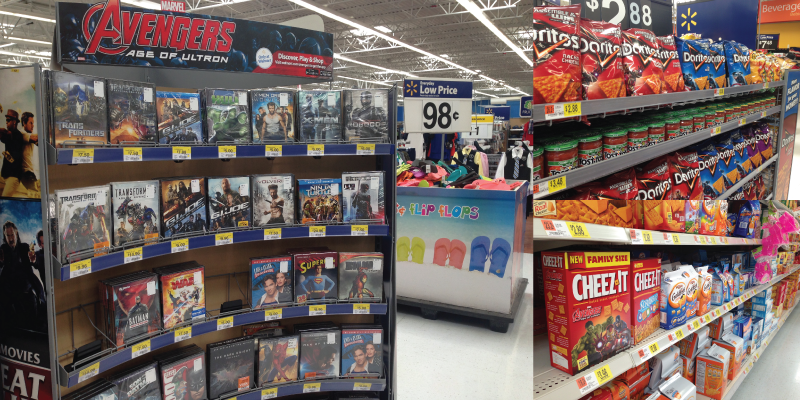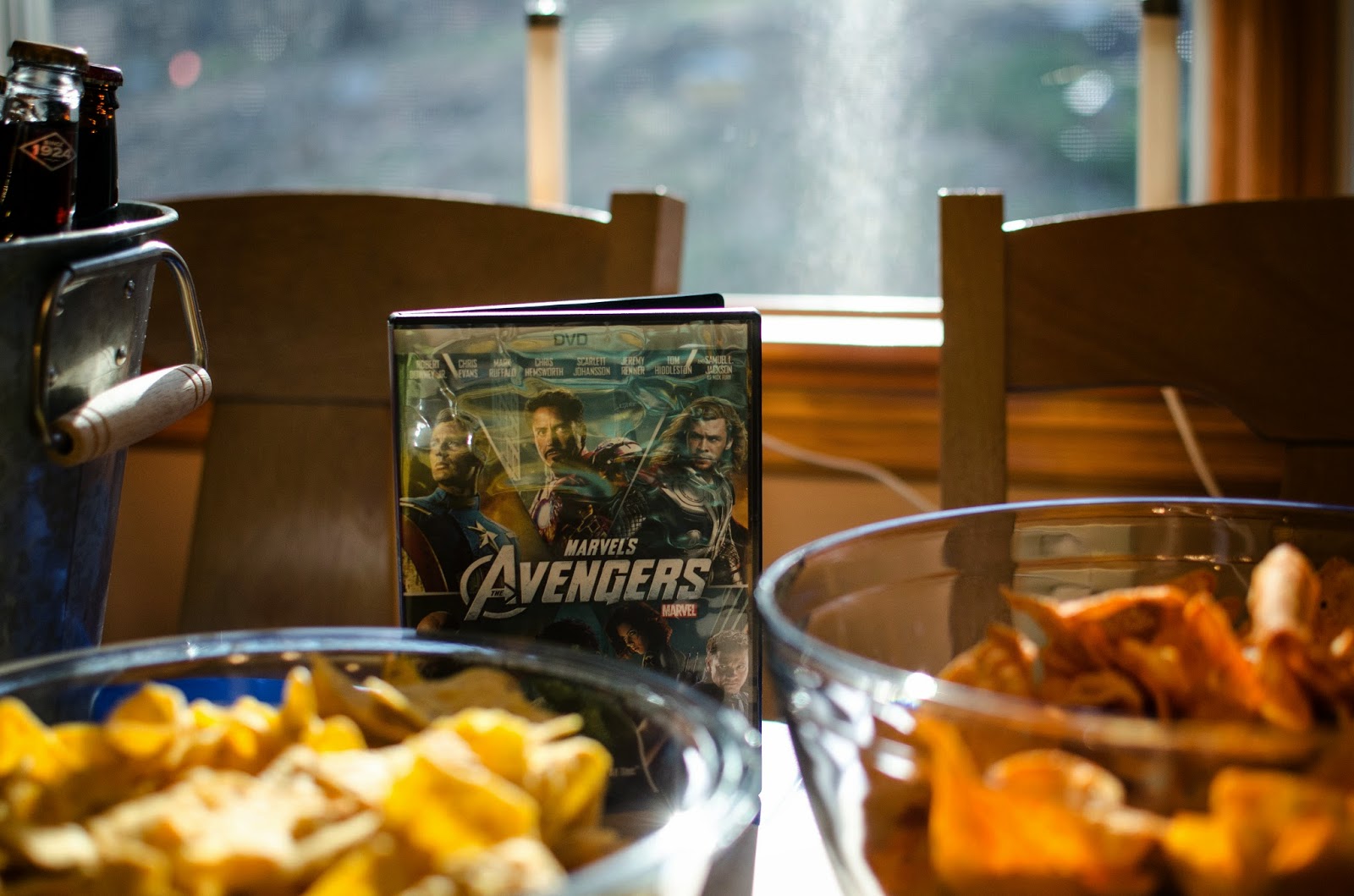 Be sure to head to
Wal-Mart
to pick up your favorite
The Avengers
party gear!
WHO IS YOUR FAVORITE AVENGER? WILL YOU BE HITTING THE THEATER ON MAY 1ST TO SEE AGE OF ULTRON?