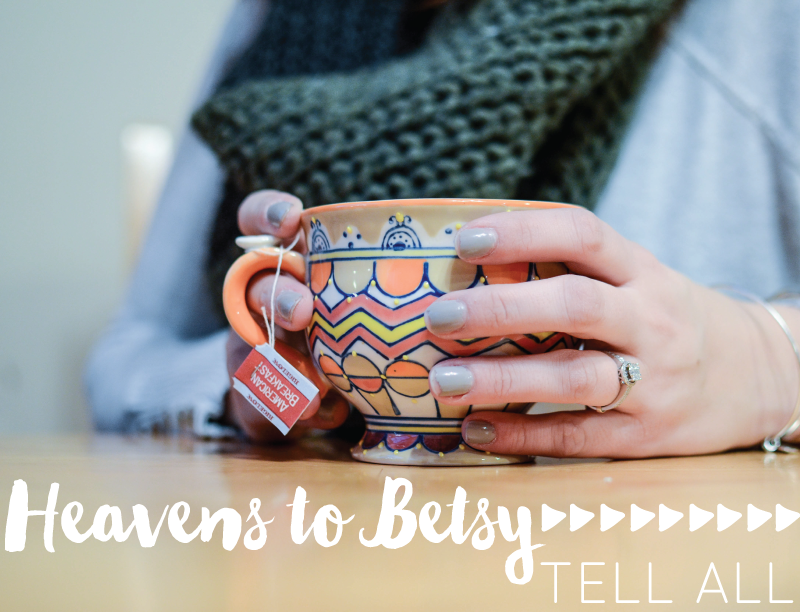 It's been a little while since the first installment in the Heavens to Betsy Tell All series (if you missed the first post, you can catch that here), so it seemed like it was time to answer some more of your questions! Back in March, I decided to start answering some of the most frequently-asked questions that I get from HTB readers, and after you all submitted even more, I broke them down into a few different categories (look for more Tell All posts about things like Blogging, Faith, and what's on my bookshelves in the near future!).
However, today's topic? All. Things. Wedding. With just four months to go until the big day, I'm starting to get into the nitty-gritty details of wedding planning, so I thought it
would
be a great opportunity to answer some of your questions about our
upcoming nuptials!
1 // When's your wedding?
I'll officially become Mrs. Andrew Fick on Friday, August 28, 2020! Four months!
2 //
What colors have you selected for your wedding?
We decided to go with a palette made of of metallics and neutrals....ivory, champagne/gold, and navy are our most prevalent colors, with some silver and sage thrown in. This is the color palette I used to design our invitations:


3 // Alright, what is the biggest thing you're feeling nervous about when it comes to your wedding and what is the biggest thing you're feeling most excited about?

Hmmm...biggest thing I'm feeling nervous about is the day-of schedule. I know it'll all be fine, but that's the thing I'm stressing about the most! Our venue is about 45-minutes away from home, and we can only decorate the morning of the wedding, so I'm nervous about getting everything done and still having plenty of time to get ready.

The biggest thing I'm feeling most excited about has to be just having all of our friends and family in the same place. We're planning our wedding to be pretty laid-back and just a good time for everyone to hang out and enjoy one another's company, and I pray that that is exactly what it is!


4 // What are you most looking forward to when it comes to being married to AJ? (And you can't say 'living in the same state' etc.)

Gosh....but I'm most looking forward to living in the same state! Haha...just kidding. I always say that I'm most looking forward to falling asleep beside and waking up next to my best friend, but I guess I'm also really looking forward to seeing where life takes us. We have some really loose plans/ideas to move to Nashville in the next year or two, and so I'm looking forward to that adventure and figuring all of that out together.


5 // What's your venue like?

We're getting married in the heart of Lancaster, PA at the

Stoltzfus Homestead & Gardens

, and it's basically perfection. We'll be tying the knot outside on the lawn, and then our reception will be in a restored 1800s barn! If you're in the Southeastern PA area and looking for a great, rustic venue, Stoltzfus is awesome!


6 // Do you have your dress?

Yep! It's been hanging in my closet since January 30th!

7 // What has been

the

most stressful part of wedding planning?

Don't hate me, but....nothing. Honestly, we've been

so

blessed by a relatively easy planning process! We had all of

the

big decisions made before AJ headed back to school on January 20th and basically all that we have left to do is the fun DIY stuff,

like

prepping decor, putting bouquets &

boutonnieres

together (we're doing silk florals), picking our menu, etc. Even our honeymoon is booked. I can't really take the credit for all of that...it was

seriously just a great stroke of luck. We moved quickly and were able to book everything we wanted really easily, but it's made the planning process pretty stress-free!

If you have a question that you'd love to see me answer in an upcoming HTB Tell All post, you can submit it

here

! All questions are welcome! And if there's something I didn't answer in this post, feel free to submit it via

the link or leave it in the comments!