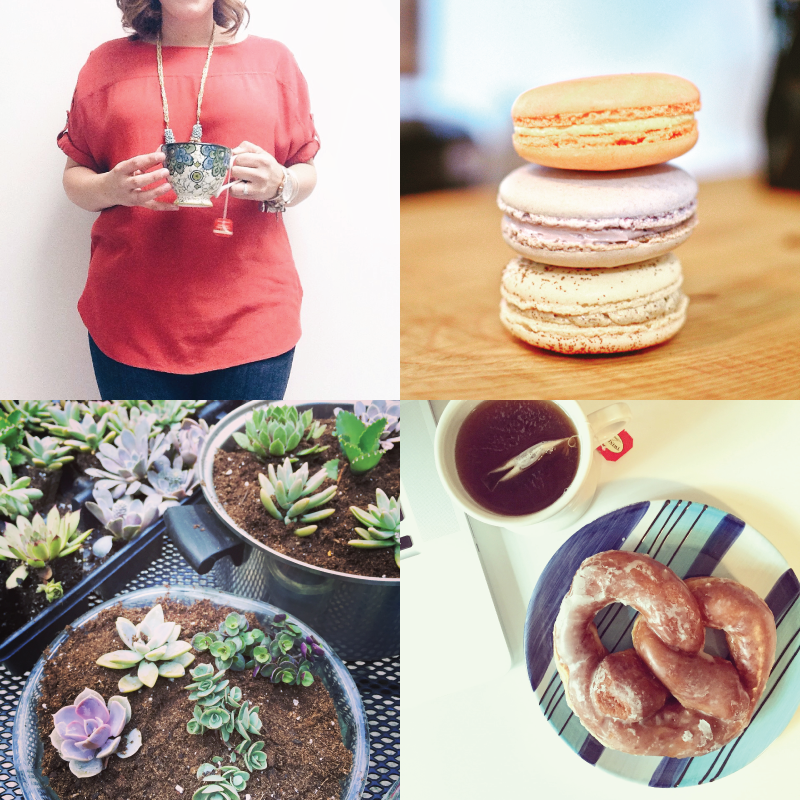 Hey friends! Hope you're doing well! Welcome to the weekend! My weekends actually start on Thursday now, since I work on Sundays at church, so if your weekend is just starting, I hope it's off to a great start!
Here's what you might have missed this week on Heavens to Betsy:
HAPPENINGS:
+ I've been rediscovering my love of tea lately. It goes in waves...for a while, I'll only drink coffee, and then I switch to tea for a bit. Apparently I'm on a tea kick these days!
+ I'm still dreaming about those macaroons that I had last week! So good!
+ My mom picked up 47 succulents for me for the wedding yesterday....crazy lady! They're so pretty and I'm so excited to weave them into our wedding decor!
+ Did you celebrate National Donut Day yesterday? I honored the day and the state of Pennsylvania with this pretzel-shaped glazed donut that was as big as my face!
IN CASE YOU MISSED IT:
+ I talked about
self care
yesterday on the blog! Do you take care of yourself?
+ I shared
our engagement photos
this week! I'm smitten with these photos!
+ What do you put in your carry-on?
Here are my tips
for packing the perfect carry-on bag!
+ Don't miss
these great grilling recipes
and a giveaway for $100 worth of Pampered Chef merchandise!
+ I wrote about the perfect summer afternoon on Monday! Mine includes a hammock, a book, and
this sweet treat
.
CHECK OUT THESE POSTS:
+ Madison and her husband just finished a cross-country move, and she has some
tips on how to do it
on her blog!
+ I LOVE this list on Hayley's blog of
five tips
for cutting back on social media!
+ Bex has a great
list of makeup that is carry-on friendly
! Def a must read for summer travel!
+ Check out Alys's
reading round-up
and see what she's reading these days!
+ Faith has a
great list of shows that are coming out this fall
on her blog!