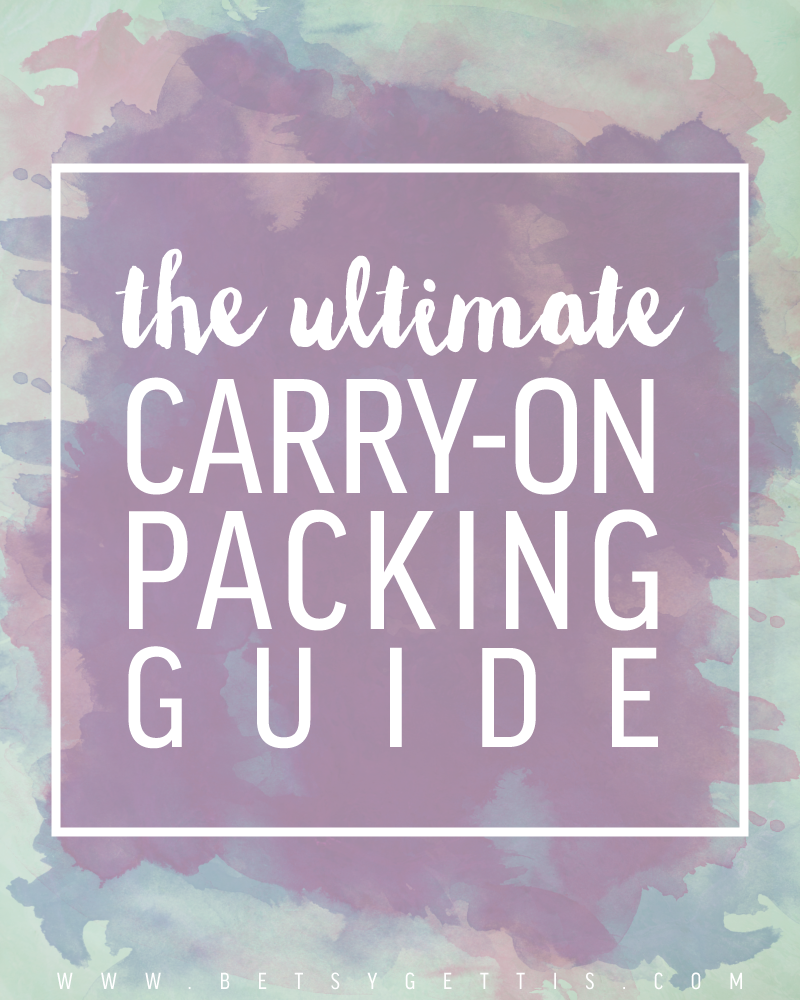 Growing up with a dad who worked for an airline meant that we flew a lot. Between fun vacations like a New Years spent in Minneapolis at Mall of America to flying back and forth to Boston through both mine & AJ's college years, I've flown through over 25 airports and been as far as South Africa (which, yes, means a 16-hour flight).
I love to travel, whether it's a quick trip to Boston or a bigger, international trip, I love getting to explore new places and I just adore the anticipation and excitement surrounding an upcoming trip! AJ and I will be heading to the Dominican Republic at the end of the summer for our honeymoon and it'll be his first time leaving the US, so I'm even more excited for him! Because I travel fairly frequently, I've gotten a great rhythm down for packing quickly and not taking more than I need in my carry-on. So many times I've lugged way too much stuff through the airport and never touched half of it!
So here's my guide to packing a great carry-on bag!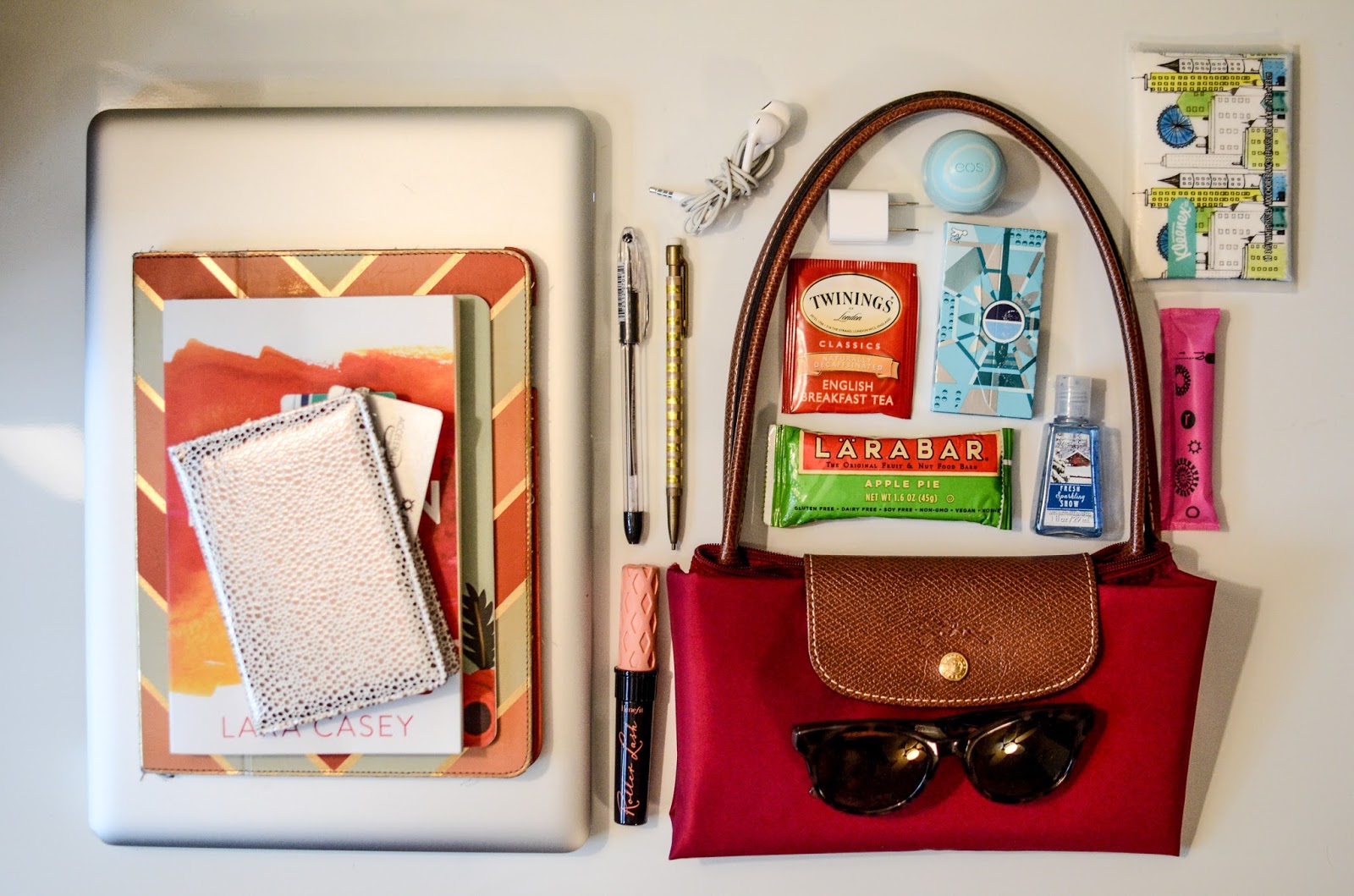 First off, you need...a bag. While this may seem like the most obvious statement, I'm of the opinion that the bag you choose for a carry-on matters. Some people prefer a backpack, but I like the ease of having something on my shoulder that I can access quickly. I love my Longchamp le Pliage tote for this! It's so lightweight and fully zips closed, which is great for protecting everything you have stuffed inside. Plus, it's classic. If you keep an eye out, you'll find that these bags are carried by college students and grandmothers alike! And, as you can see above, they fold up really nicely so that makes them perfect for travel or storing!
The first thing I gather when packing for a trip are my electronics. I almost never travel without my laptop (#bloglife), and unfortunately, that means carrying it on even if I never get it out of my bag. I do, however, also like to take along my iPad as well as a book. I like to have entertainment options when I'm on a flight! It's also important to not forget your headphones and chargers! You never know when you might get delayed and you'll need to recharge your devices.
Next, I pack up a few light toiletries...things like tissues, lip balm, hand sanitizer (I've never gotten stopped in security for one of those tiny little bottles), makeup, and some feminine products (listen ladies...travels can do weird things to your body, so even if you're not due for that lovely time of the month while you're traveling (especially if you're traveling internationally), always be prepared!). I also like to pack up a few other things like some light snacks (I love Larabars!) and gum (not only great for refreshing your breath, but chewing gum can help with pressure changes in your ears during flight!). I also make sure I have a pair of sunglasses with me as well! You should definitely also pack any medications that you need in your carry-on.
Finally, I gather all of my important documents. Things like your Passport, ID, credit cards, and cash are important to have. You may consider thinning out your wallet and leaving all of those extra cards that you carry around with you at home. I always leave things like gift cards and those rewards cards to my favorite local fro-yo spot at home while I'm traveling and know I won't need them!
For longer flights and international trips, I also pack a few extra things in my carry-on. It's really important to pack things that will keep you comfortable on a longer flight...those neck pillows that you see at every store in the airport are there for a reason! They will help you catch some Z's through those hours that you're up in the air. Throw in some earplugs and a sleep mask and you're good. I also like to pack an extra outfit and a pair of underwear or two, just in case my luggage doesn't make it at the same time as me!
Two good questions to ask yourself for deciding whether something should go in your carry-on or checked luggage are:
+ Could this be damaged if it went in my checked luggage? (ex. your computer or DSLR should definitely be carried on!)
+ Could I live without this for a day or two if my luggage didn't arrive on my plane? (ex. prescription medication that you need daily should definitely be in your carry-on)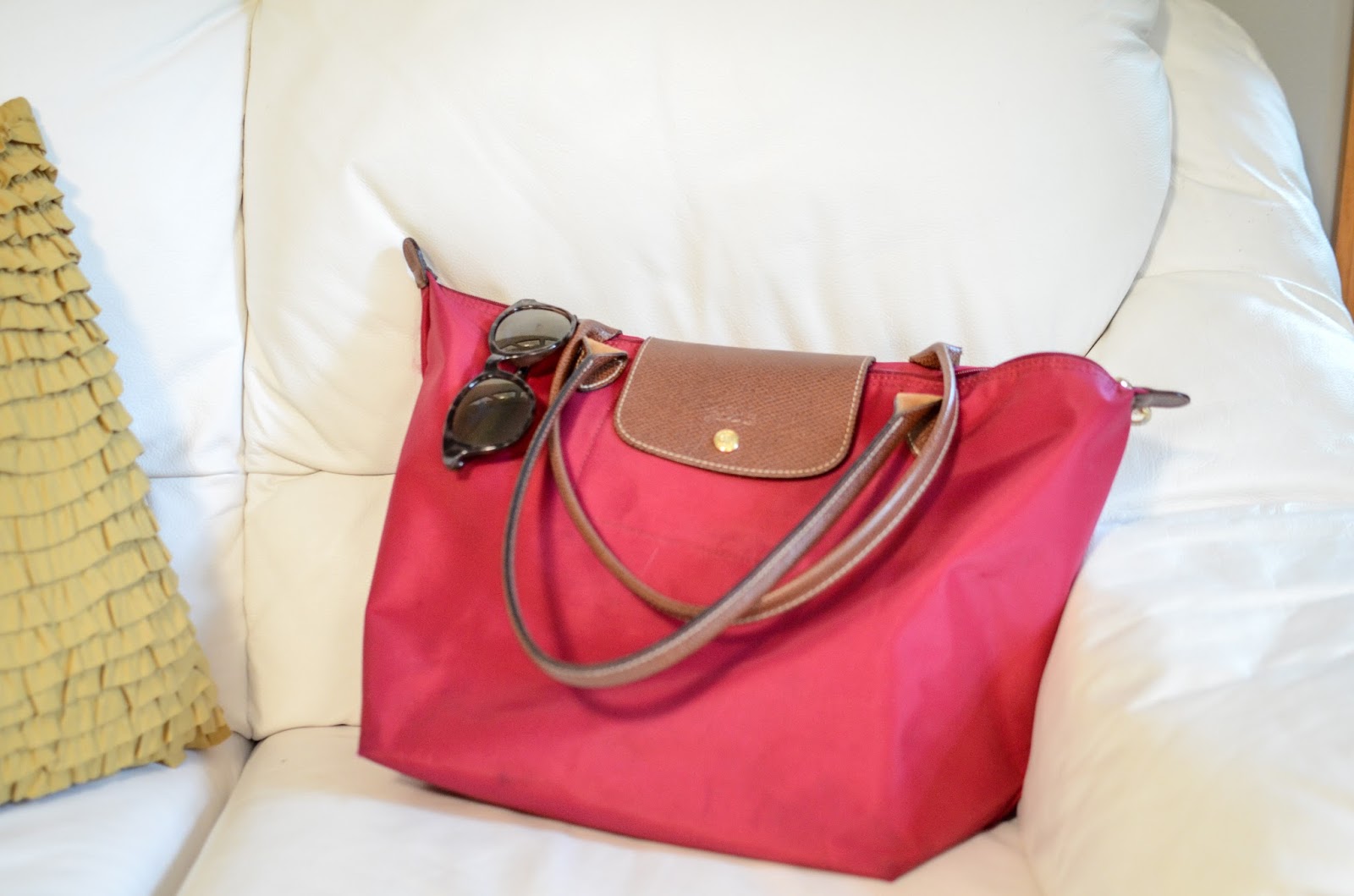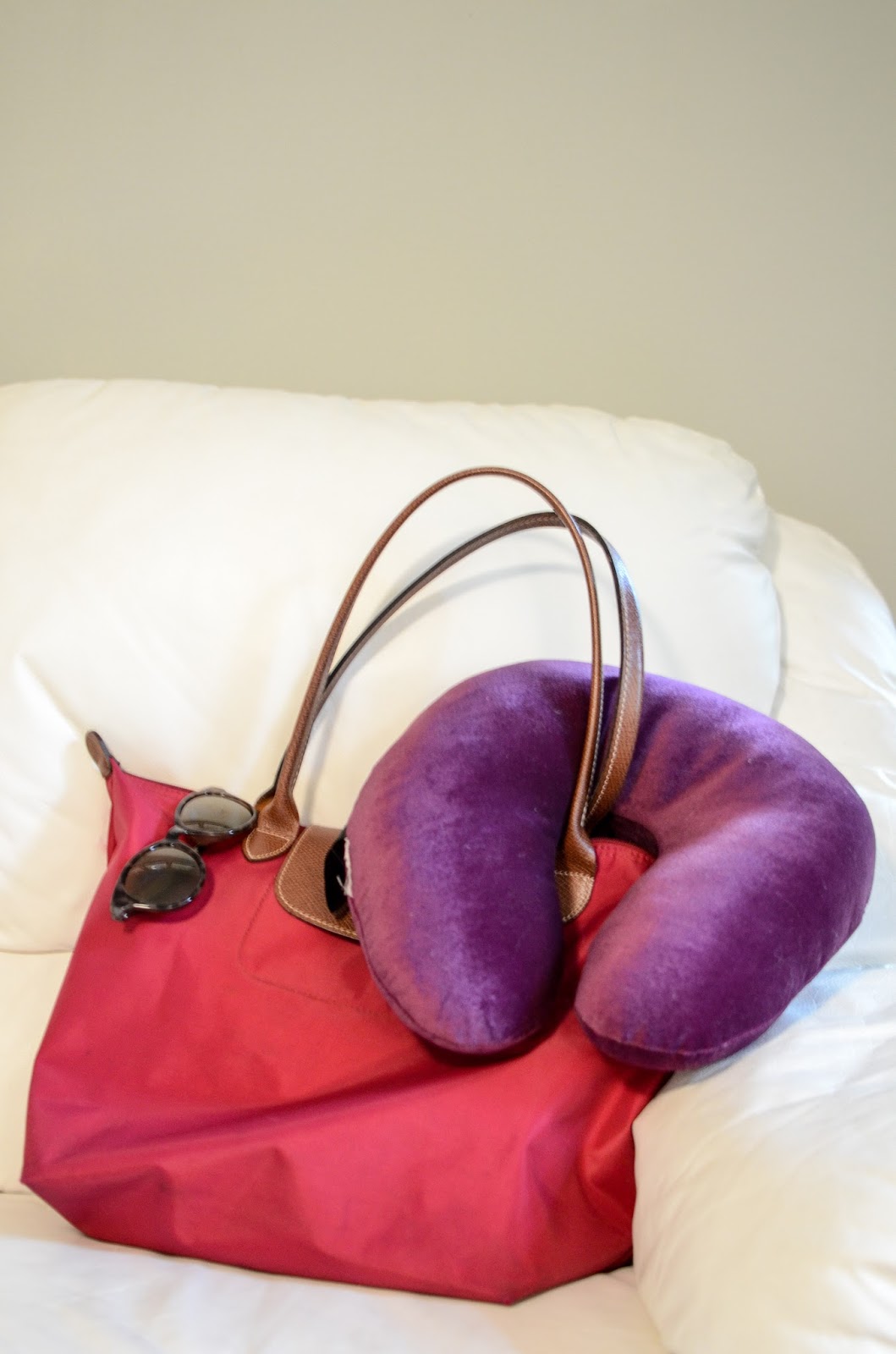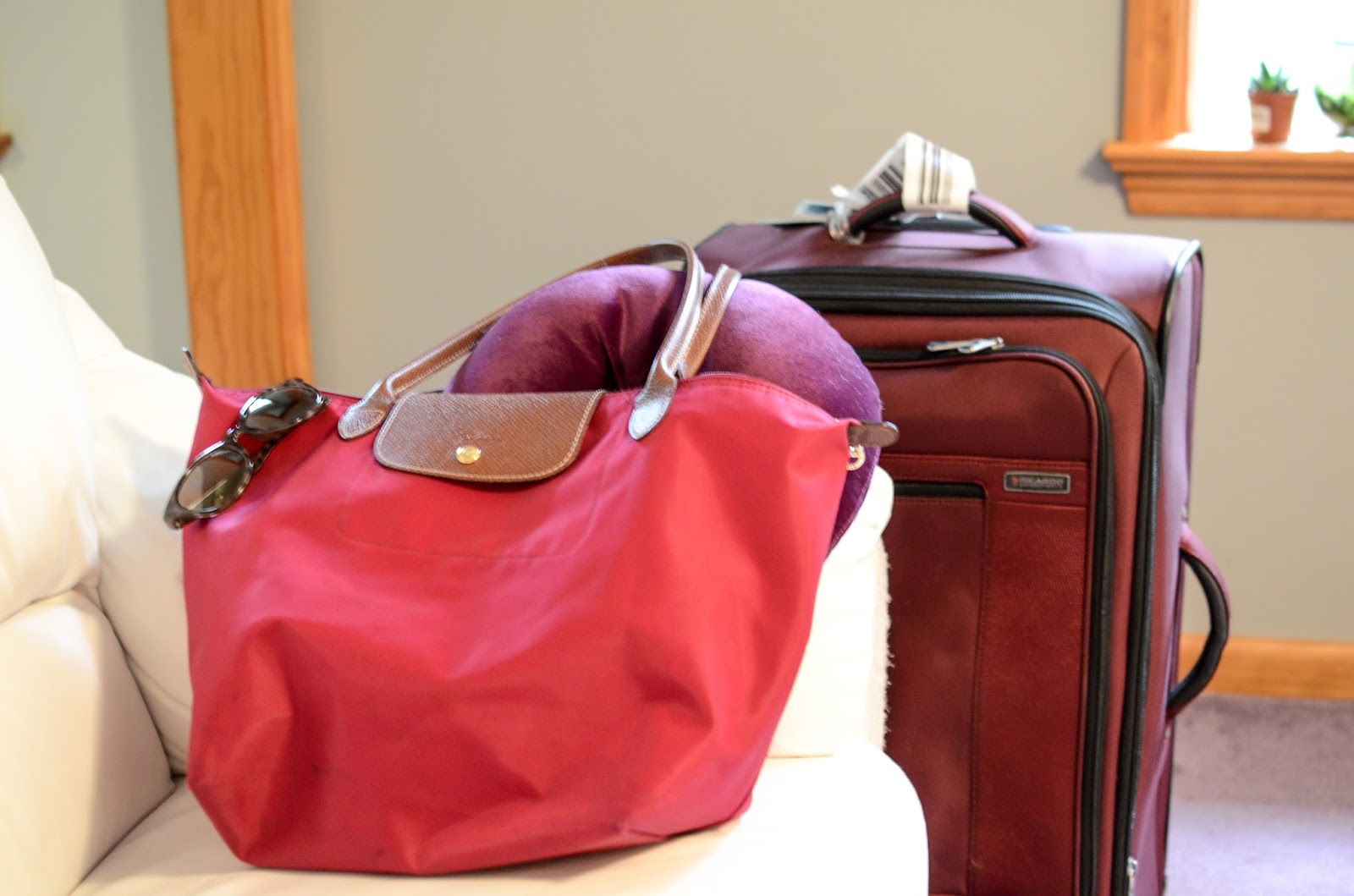 Like I said, I'm so excited for our honeymoon to the Dominican Republic at the end of this summer! When we first started planning our wedding, I wasn't even sure how we were going to afford a honeymoon...all things wedding are definitely expensive! But we've learned over the past few years that there are lots of ways to make travel affordable. While I wouldn't ever suggest abusing a credit card or putting yourself into debt over a trip, I do think that careful planning, saving, and use of credit cards to enjoy their perks can help you enjoy the travel that you dream about! One credit card that's particularly great for travel benefits is the
Discover It Miles
card.
The
Discover It Miles
card includes no annual fee, use of miles on any airline at any time with miles that never expire, and 1.5x miles for every dollar spent with your card, annual credit of up to $30 for in-flight Wi-Fi charges, no foreign transition fees, overnight shipping of a replacement card to any US street address upon request, and a $0 fraud liability guarantee where you are never responsible for unauthorized purchases on your Discover card. Plus, as a
Discover It Miles
card member, you can redeem miles at any amount for cash, or as a statement credit toward your travel purchases, and as an introductory offer,
Discover It Miles
card members will now receive double the amount of miles they've earned at the end of their first year!
AJ and I have been working hard to be able to save and not go into debt over our wedding, and I'm really proud to say that we won't be at all. However, we have made sure to reap the benefits of our credit card perks to help us as we pay for things! While I think it's important not to get yourself into credit card debt, I do think you can be smart about using your credit cards to enjoy the benefits and then pay off your balance every month. It takes planning and care that you don't overspend or spend money you can't pay off right away, but there are benefits to enjoy if you make smart financial decisions!
WHAT DESTINATIONS ARE ON YOUR TRAVEL BUCKET LIST?
I was selected for this opportunity as a member of Clever Girls and the content and opinions expressed here are all my own.