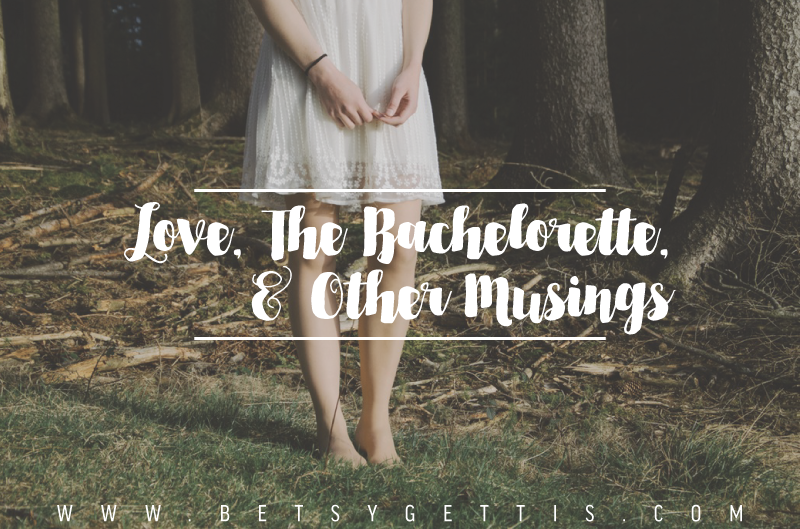 Let me start off this post by saying that I don't think I've ever written a post about
The Bachelor
or
The Bachelorette
before, and frankly, I doubt I ever will again. It's one of those shows that I catch from time to time (like, every other season), and I love watching it with my mom and giggling about how dramatic they make it all look. I don't "trust the process" that this show proclaims is the way the star will find the love of their life. Mostly, I find it to be just fun, entertaining, albeit occasionally trashy, TV.
But there's something about this season that just isn't sitting well with me and frankly, it makes my heart hurt a little bit.
If you've been watching this season of
The Bachelorette
, you probably know that it's been one of the most controversial and rule-breaking seasons to date (and yes, I know they say that about
every
season). Besides breaking away from the typical recap-dates-rose ceremony-preview formula and putting most of the rose ceremonies smack dab in the middle of the episode so that you don't know which way is up (guys, I'm seriously annoyed by this!), this season of
The Bachelorette
has featured a bachelorette who's fun-loving, carefree, and very sexual attitude has had her going to bed with suitors early on in the season and being pretty forthcoming on all of the juicy details.
But that's not what has me sad about this season. Frankly, I'm not naive. I know that waiting until marriage to have sex is not the cultural norm and I'm not going to pretend like I don't realize that sex happens behind the scenes on this series. While it's not the lifestyle choice that I've made, I also don't think that it's my place to judge someone else who has different beliefs than me.
What does have me reeling a little bit is how many times Kaitlyn has sat in the interview room and cried over "jeopardizing her relationship" with other guys because of how she's acted in the moment. She's cried over the damage she may have done by sleeping with one of the guys; she's sobbed about letting things go too far when she told a guy that he was "the one." And then, the real thing that is killing me is how many times she's said that she feels good when she's with a particular guy.
And there it is, friends....she "feels." She feels good or feels like a woman or feels desired. And if I was her, I'd probably feel the same way. Drop any girl into a fantasy world of extravagant dates and attractive guys who are all focused on her, and who wouldn't feel all of those things?
But the problem is this:
love is about so much more than how you feel
.
I'm no expert in love, and I'm certainly not going to pretend to know much about marriage, but I do know this: love,
real love
, withstands the waves of how you feel. Love is a choice. When you're committed to someone to the point of wanting to spend the rest of your life with them, you wake up each morning and make the decision to love that person whether you feel like it or not.
Because the truth is that there will be days when you don't feel like it. There will be days when you don't feel desired or good. There will be days when love hurts. And there may even be days when the world presents something to you that holds the promise of making you feel better than the way love is making you feel.
And if all you have is how you feel, if your love is built on feeling, then that's not going to sustain you. Obviously, the process of
The Bachelor
franchise isn't the most healthy way to date and meet a future spouse. So while
The Bachelorette
is all fun and games for those of us viewing from the comfort of our homes, the reality is that it's real people involved, which means real hearts and real hurt. Sure, it pretends to take love seriously, but never before have I seen a star talk all of the "finding the one" talk while simultaneously seeming to have little grasp on what it truly means to love someone.
The glitz and the glamour of
The Bachelorette
is attractive and romantic and it's easy to see how a girl could get wrapped up in all of it. And I can't deny that watching those extravagant helicopter rides to Irish cliffs and candlelit dinners in centuries-old monasteries often make my heart swoon! But no matter how movie-esque your life is, at the end of the day, love is still about
so much more than how you feel.
I wish there was more honestly in the media today...more couples who fight for their love; whose love is forged through a foundation of friendship and built on mutual faith in Jesus. More couples who stand together and decide to stay and fight when things get hard instead of taking out that pre-nup and filing the divorce papers. I wish that young girls who were sitting at home on Monday nights watching "real life" fairy-tales a la
The Bachelor
would see a couple fight through the hard moments and see how real love doesn't just send someone home when they feel like they're "not connecting this week" or that the "relationship isn't progressing fast enough."
I wish we saw more examples of how love is patient; how love is kind. How it does not envy or boast or dishonor others. How it's not proud or self-seeking. How it's not easily angered or keep record of wrongs and how love seeks the truth and delights in it.
I wish we saw more examples of how love always protects, trust, hopes, and perseveres.
Wouldn't the world be a different place if we really took 1 Corinthians 13:4-7 to heart?