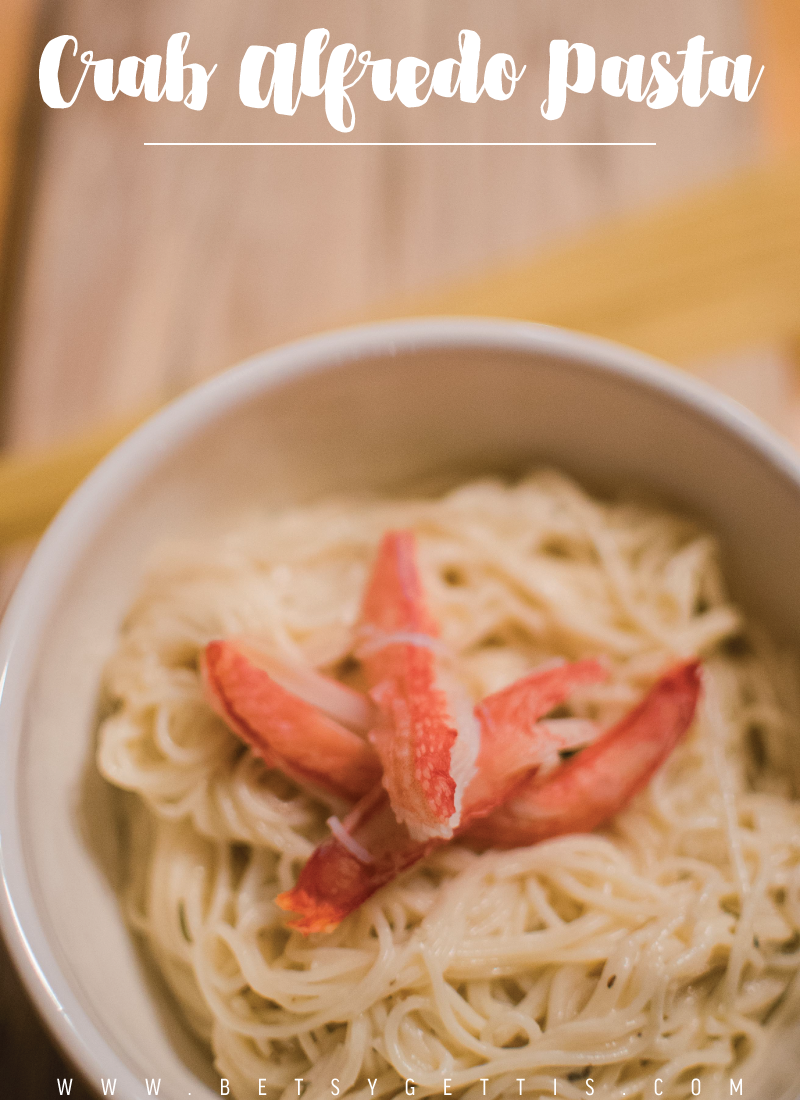 Growing up, one of my favorite things to do with my grandmother was make meatballs. She made the best homemade meatballs and whenever I'd be at her house after school and she'd be making them, I'd end up being the one to mix all of the ingredients together. Of course, I think she was happy to have me there to do it, as it always involved getting messy and sinking your hands into inevitably cold ground beef and raw eggs, feeling the sticky gooeyness of the ingredients mixing together. She was probably thrilled on the days where she didn't have to take that job!
Between my grandmother's meatballs and her homemade
sauce
, I learned some of the basics of an Italian kitchen. We ate pasta regularly and of course, can never have enough bread. My grandmother's meatball recipe is one of those age-old family secrets...we've passed it down from generation to generation, and I'm sure I'll pass it on to my own kids one day (when I don't feel like getting my hands cold and messy and instead, coax them into mixing the meatball recipe up the old fashioned way!).
What I think I love most about our family's kitchen, though, is that it's always been a place of gathering. Whether it's a day of baking for the holidays, making a family-favorite meal, or even just sitting around a box of pizza, the kitchen is always a place of good conversation and community. I've sat at my mom's kitchen island and chatted while she prepped dinner many times. I can't count how many times I hung out and baked cookies (or made meatballs!) in my grandmother's kitchen as a teenager and gushed about boys or complained about school. My aunt and I have made great memories in her kitchen as we've cooked and eaten together. Food brings people together, and the act of cooking it is a bonding experience.
As someone who comes from a beach-loving Italian family, the marriage of seafood and
pasta
is a dream come true. A cheesy combination of
Alfredo
, crab, and light Angel Hair? That's a match made in heave, if you ask me! One of AJ's favorite pasta dishes is a shrimp pesto pasta, and I personally love anything with shellfish, so pasta for dinner is a no-brainer.
We came up with this crab
alfredo
pasta concoction the other night and it was a big hit. It was super easy to make and can be adapted with your favorite
sauce
, shellfish, and pasta!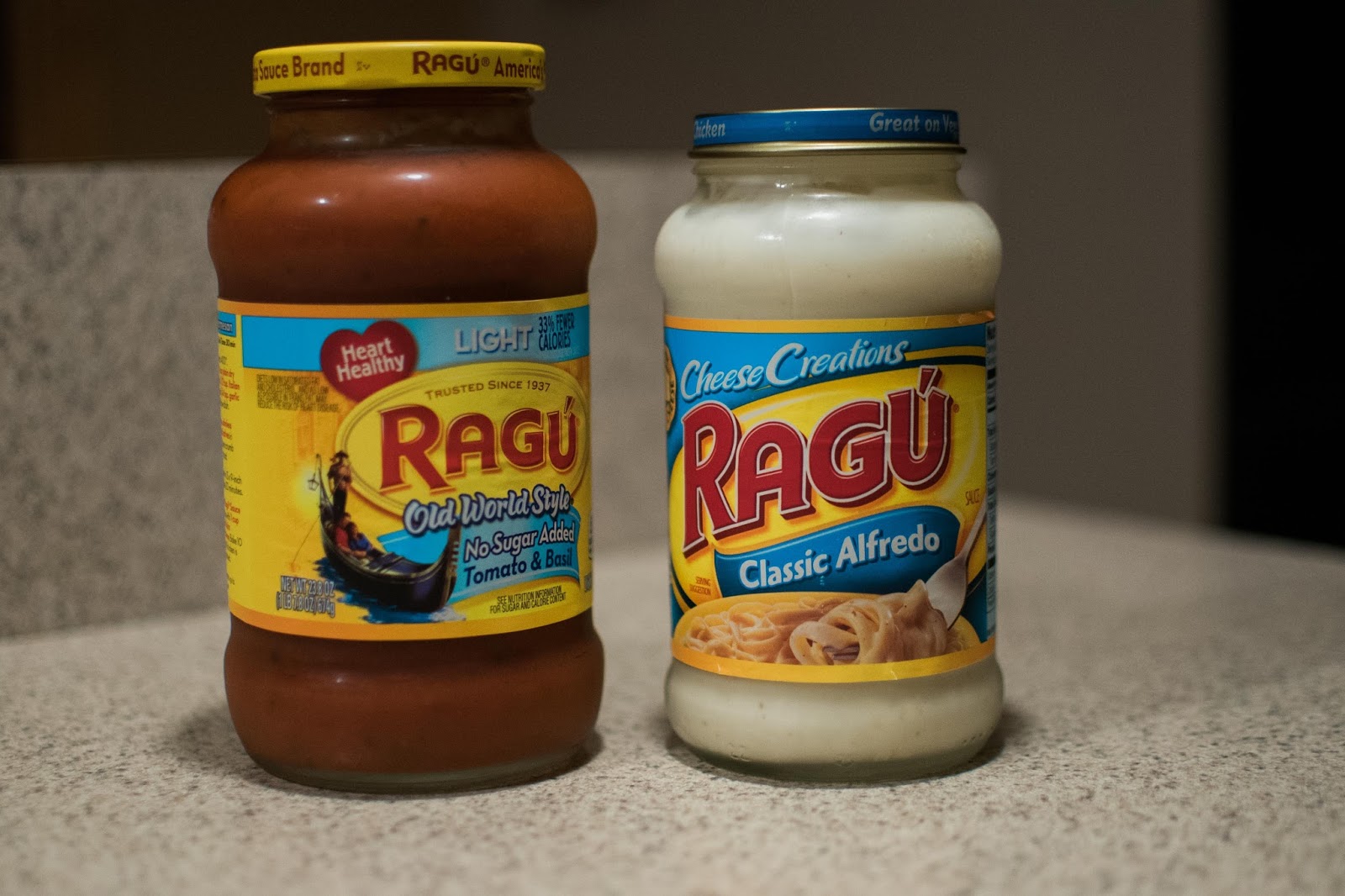 WHAT YOU NEED //
1 box of Angel Hair Pasta (we used 1/2 the box and had enough for 3-4 people)
A few clusters of frozen snow crab legs (we used two nice sized clusters)
2 tsp Italian seasoning
2 tsp salt
Water
1 tsp garlic
2 tbsp grated Parmesan cheese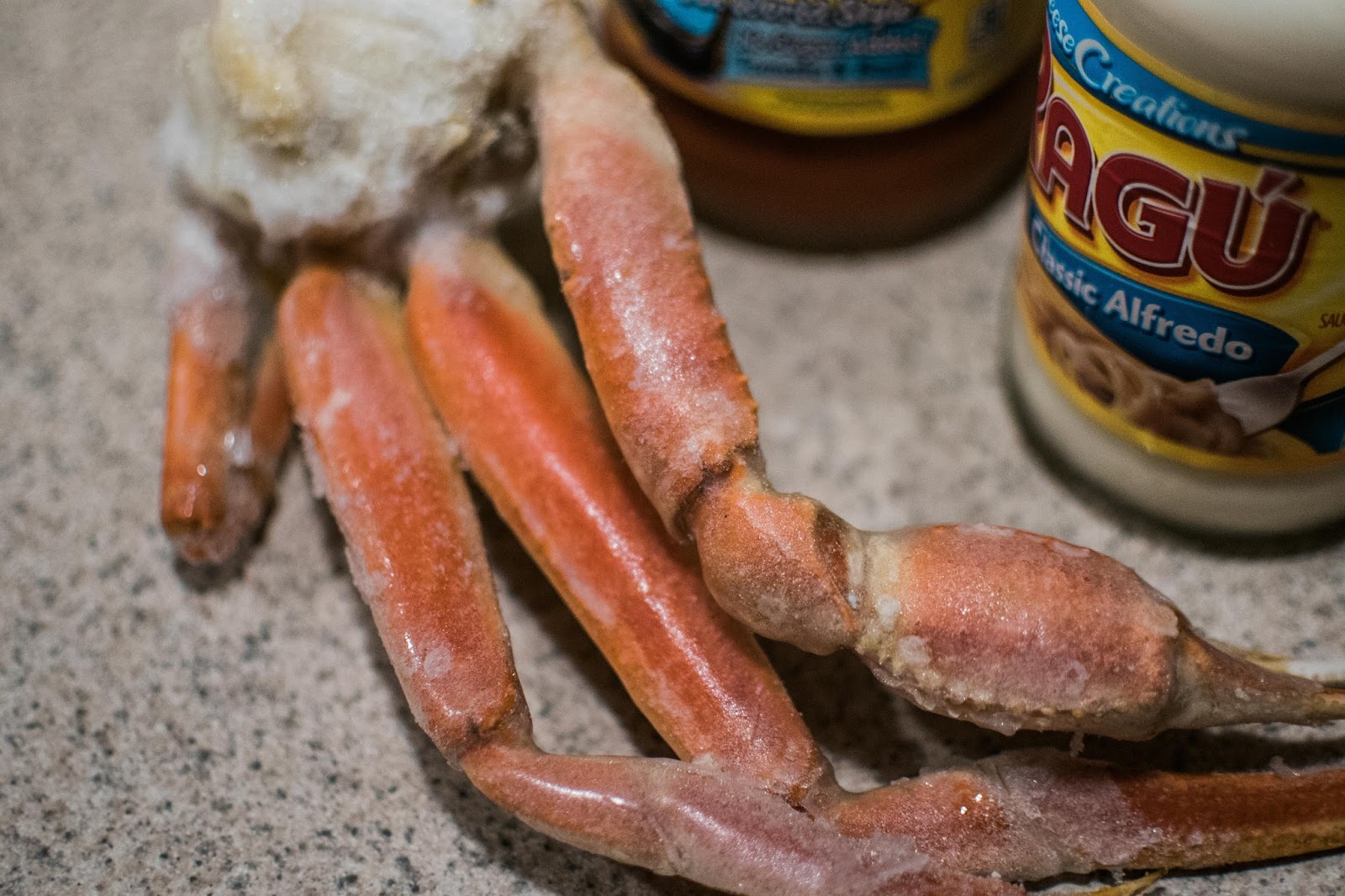 HOW TO //
Bring 3 quarts of water to a boil in one pot, and 3-4 cups of water to a boil in another large pot with a steamer basket.
When the 3 quarts of water are boiling, add in 1/2 of your box of Angel Hair (or other desired pasta - follow cooking directions on box), and boil for 4 minutes for tender pasta. Strain and set aside.
When the 3-4 cups of water comes to a boil, rinse your frozen crab leg clusters to remove any ice and then place in a steamer basket over the boiling pot. Cover and steam for 6-8 minutes. (Crab legs should be already cooked, you are just heating them through.) When the crab legs are warmed, remove the meat and set aside.
In a separate microwave-safe dish, heat 1/2-2/3rds of the jar of
Ragu
Alfredo Sauce in the microwave (this can also be done on the stovetop), stirring occasionally.
Combine the pasta and sauce, season with Italian seasoning, garlic, Parmesan cheese, salt, and pepper. Top with crab meat and enjoy! (Try adding a spoonful or two of
Ragu
Tomato & Basil sauce for an added kick!)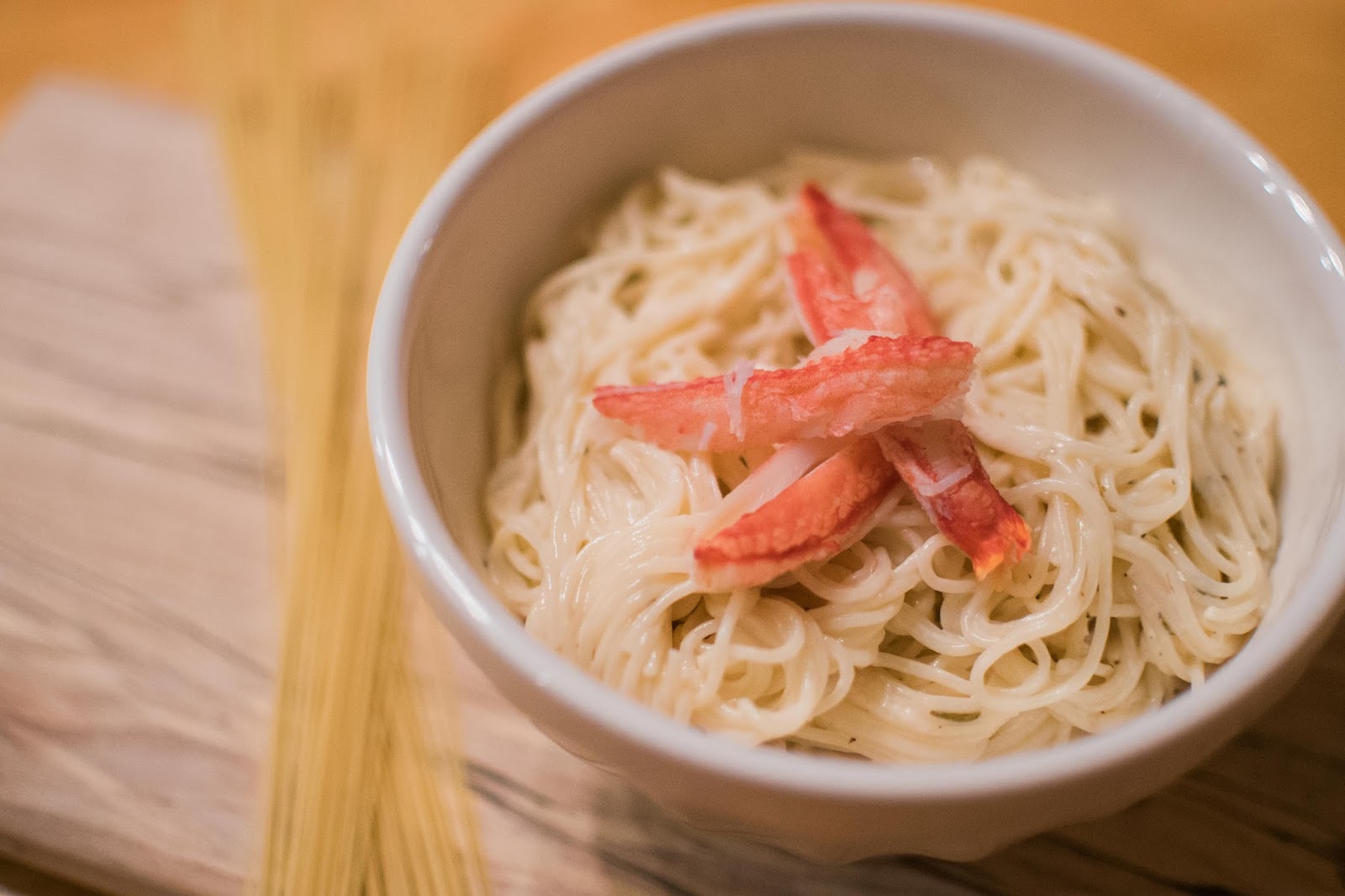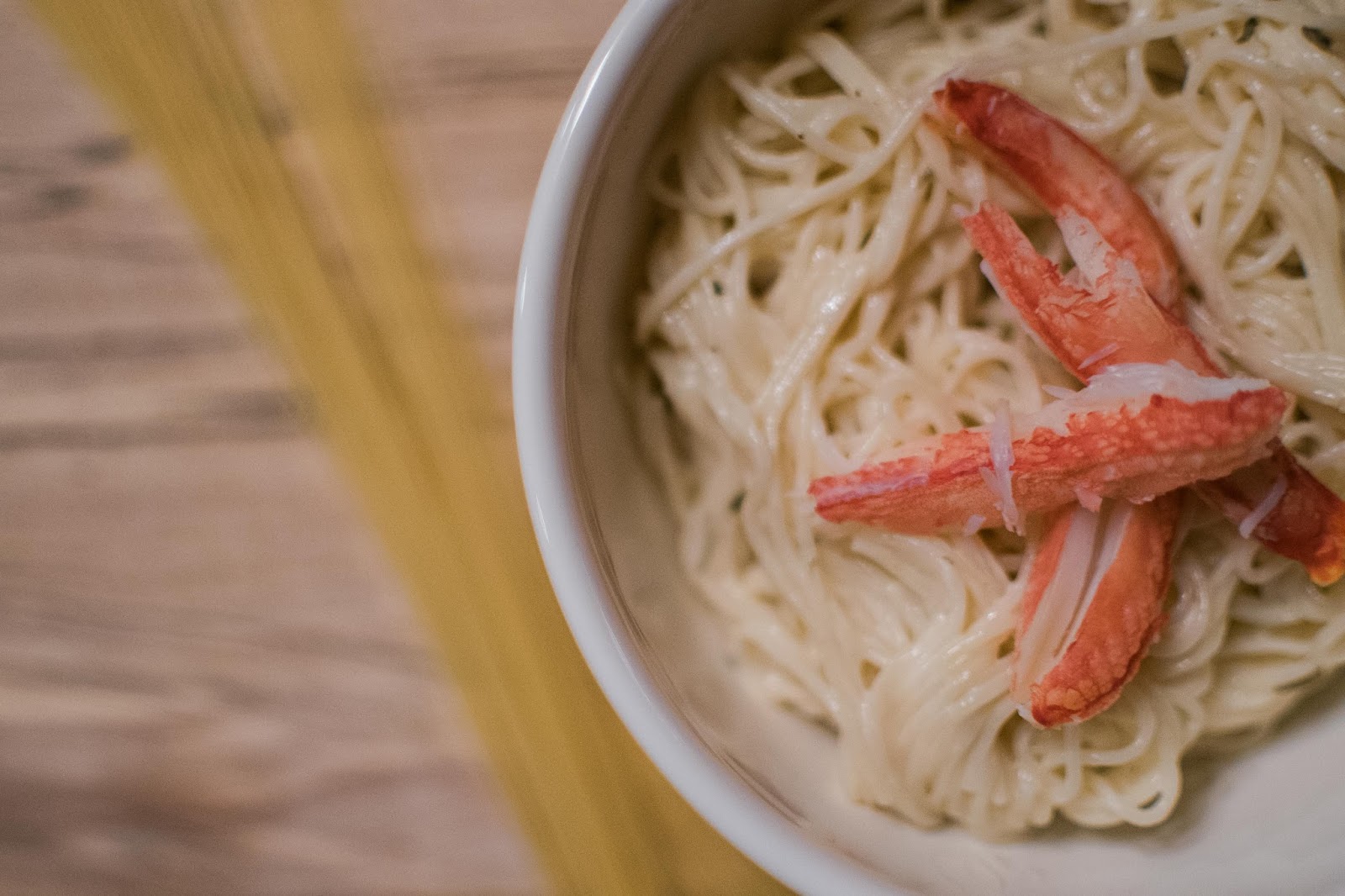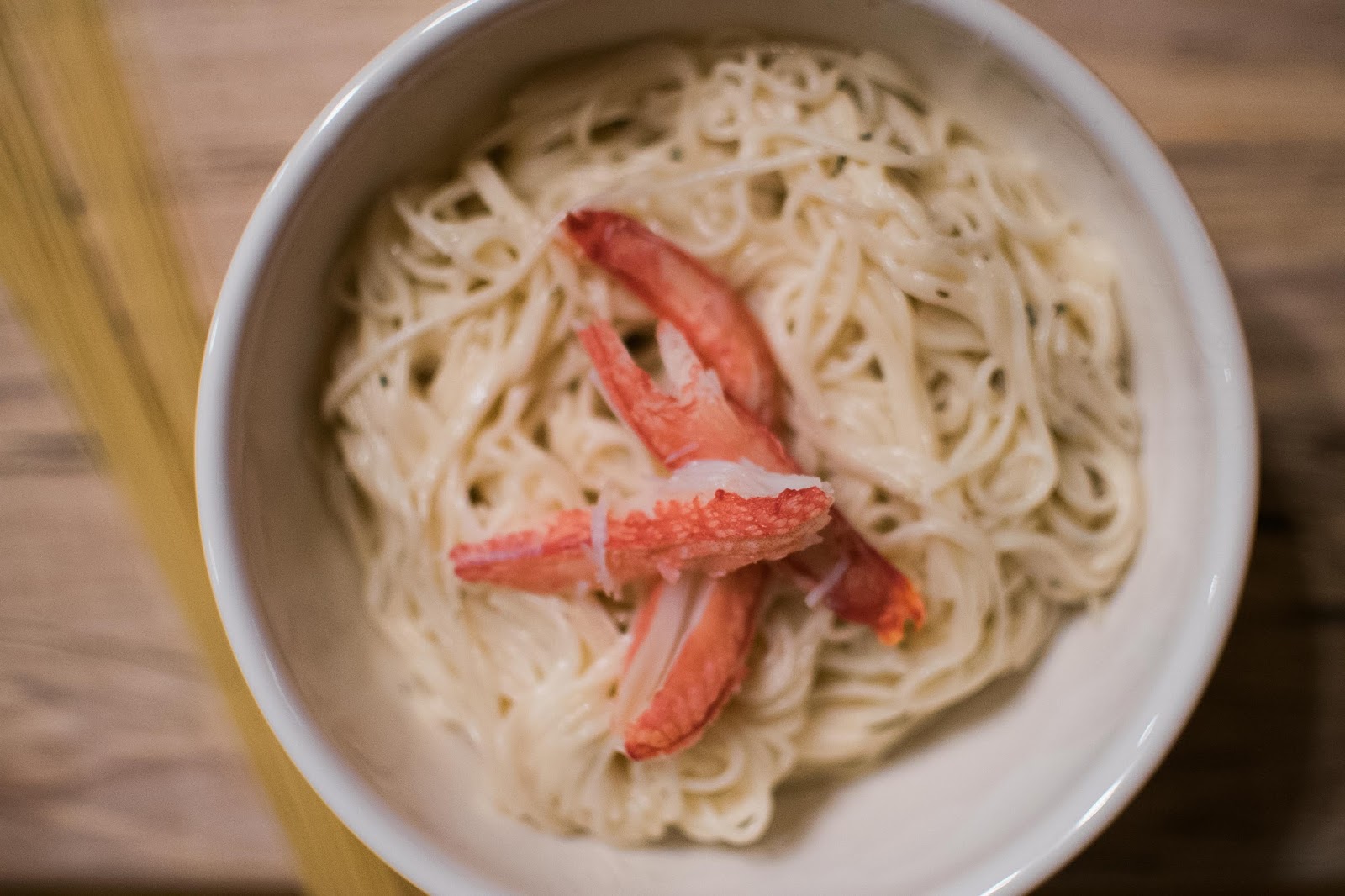 Ragu
carries on the family tradition of
Assunta Cantisano
and her Italian heritage, and stems from an age-old family recipe. They use farm-grown ingredients with no artificial flavors and no high fructose corn syrup, making it a great choice for your next family dinner!