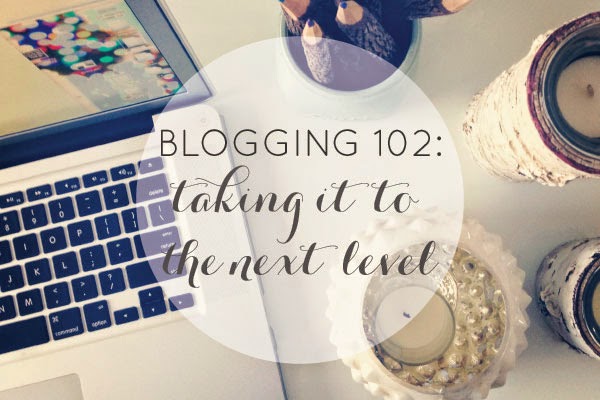 here it is
…
the second installment in the blogging faq series! if you missed the first post (blogging 101: getting started), check that out here.
today we're talking all about taking your blog to the next level. in this post, you'll find some answers to questions about crafting great posts, gaining a following, and advertising! if you've gotten your blog established and now are trying to figure out how to
make
it grow, then this post is for you!
i've asked a few bloggers to join me in answering some of the questions that have been submitted. joining in today are meg of
rivers & roads
and
heather of
honee
bee. check the end of the post to find them on social media.
What camera do you use? Who takes your pictures?
I have a Canon Rebel XS and I also use my iPhone. To be honest, I use my iPhone a lot more these days for taking my day to day shots for my posts. It's a whole lot easier to tote around on a daily basis :) I do love it when I am able to get my DSLR out for a photo shoot. There's just something about taking pictures with a real camera. I take all of my own photos that you see on my blog, unless otherwise noted. I currently don't have a style post series because I don't have anyone to take those pictures for me! :)
-Meg,
Rivers & Roads
i use a nikon d7000 and my most-used lens is a 50mm.
i take the majority of the photos on my blog (basically anything i'm not in), but for the rare outfit post, i either use a tripod or ask someone like my brother or my boyfriend to shoot a few pics for me! but don't discount your iphone either
…
i use a ton of pics from my phone on my blog all the time! -betsy,
heavens to betsy
Is there a standard sizing for photos in blog posts?
no, not necessarily, but i'd recommend making all of your photos the same width.

s

ee more of my tips for photography and blogging here. -betsy, heavens to betsy
the bigger the better! photos and photo quality are the number one drive to your site. make them good, use GREAT lighting, learn more about photography, this will be the biggest thing you can do to make your blog grow! -heather, honee bee
What do you think is the most important thing about a blog post?
the photos, hands down. sometimes photos dont matter but always make sure to include ONE photo, even if it doesn't super apply. but I cannot stress the importance of having GREAT photos. Invest in a nicer camera or teach your self composition tricks, it will do wonders!
-heather,
honee bee
i'd say 1) having eye-catching photos and 2) making sure your content is well-written and helps your readers connect with you.

ending your post with a question is always a great way to engage your readers! -betsy, heavens to betsy
Good pictures and authentic content. I'm going to be honest, if your post has a lot of text and zero pictures, there is a high possibility that I will not take time to read all of it. I'm a very visual person, so pretty pictures definitely help. I will remember your post better as well if you have pictures. Also, you want to post authentic content. Don't post content that you don't really believe in or support yourself. You want to connect with your readers on a personal level. Be yourself, talk about things that you like, review products you would actually buy, and so on.
-Meg,
Rivers & Roads
How do you gain and maintain a readership?
engage, engage, engage!

comment back on comments that people leave on your blog, read others' blogs and let them know you stopped by, sponsor other blogs, become a great, reliable blog to sponsor, partner with other bloggers on link-ups and giveaways.

consider the bloggers you care about to be your friends and treat them that way! -betsy, heavens to betsy
post often (at least once a week), comment on other blogs, sponsor other blogs, find your favorite bloggers and follow them on twitter and engage in conversation! starting out you need to be willing to make partnerships and friends, and it works best if you are reaching out!!
-heather,
honee bee
it's not easy!

if you're looking to get rich quick, blogging isn't your answer.

the most common way to make money for smaller bloggers is through sponsorships (sites like passionfruit make managing your sponsors really easy!).

some companies also offer affiliate programs for bloggers (like shabby apple and bonlook), where you can earn commission by referring readers through links on your blog.

i

t's definitely possible to make money on blogging, but my advice is to not let that be the only reason you blog! -betsy, heavens to betsy
Do I need a button for my blog?

How do I create one?
If you are wanting to do any kind of advertising to grow your blog, then you definitely need a button. There are a lot of blog button instructions out there as far as creating the html code for yourself. Design-wise you want something that reflects the design elements of your blog. Maybe it has a picture of you or maybe it's just your logo. Designers tend to offer some services a la carte, so if you aren't design minded, it's very possible you could have someone else design a cute button for you at an inexpensive cost. I am currently offering button design services for

$5 per design

!
-Meg,
Rivers & Roads
if you want other bloggers to promote you, then yes!

some bloggers will create one for you if you ask really nicely and maybe pay them a little.

but you can also create buttons through basic design software.

every blog will have different, specific dimensions that they'll need for a button.

not adhering to these dimensions will result in a stretched or distorted button, so pay attention to those guidelines! -betsy, heavens to betsy
Is advertising important?
offering ad spaces and advertising on other blogs are both great ways to build partnerships, discover other bloggers, and gain readers, so yes, advertising is important!

Monetizing your blog and allowing google to put ads on your page is a whole different ball game, and that's a personal decision you need to make!

-betsy, heavens to betsy
What if people do not read my blog?
keep at it!

if you're passionate about what you're writing, then don't get discouraged.

start promoting your blog on social media, and then go out and find other bloggers and comment on their blogs!

i try to click around every day and find new sites, so if you're engaging in the blogging community, chances are you'll build a readership eventually, it just takes time! -betsy, heavens to betsy


still have questions? submit them in the comments section!