a few weeks ago, i wrote
this post
about getting fit and staying motivated.
i'm so excited to say that i didn't just write it and then totally fall off the bandwagon a week later, which to be perfectly honest, would not have surprised me. but this time was different; this time (so far) i've actually stuck with my goals (woohoo!).
i'm a total geek when it comes to just about anything, but i particularly love tracking my workouts and sometimes what i'm eating. it keeps me motivated to see myself reaching goals and getting better at this working out stuff. plus, i like being able to look back and see that i accomplished things!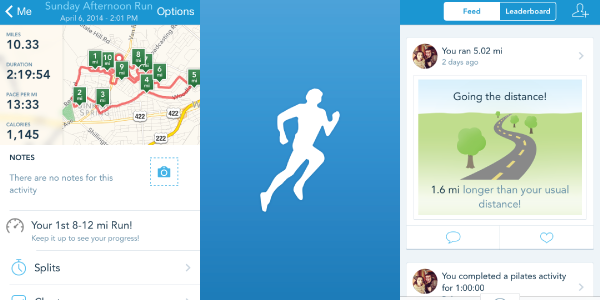 runkeeper // runkeeper is my all-time favorite workout app. it's the one i use the most and i love it. you can manually input workouts (not limited to just runs…they have a ton of different things on here like crossfit, zumba, pilates, you name it!), but you can also allow it to track you. periodically during a run/walk/bike ride, it will tell you how long you've been running, what your mileage is, and what your current pace is. it also allows you to play music while running the app and after a workout, it will give you a summary, let you know if you hit a personal record, and save your workout. you can set goals for yourself like a particular distance you want to run, an amount of weight you'd like to lose, etc., and there are built-in training plans as well. if you can't tell, i love this app.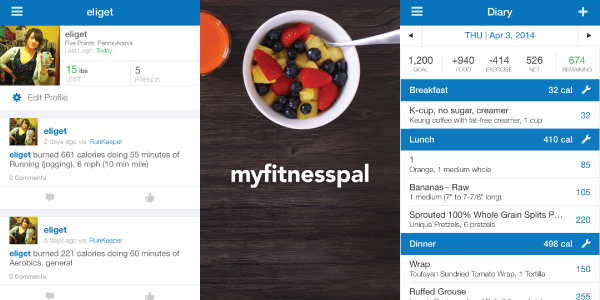 myfitnesspal // my fitness pal is one of those apps where you can track what you eat and what you burn. it keeps a running daily tally of calories in/out and a balance of what you have left for the day. you can also track your weight and measurements in it, set weight-loss goals, and get data about your nutrition and caloric intake. it has a social media feature, where you can follow friends and see how they're doing, but what i love the most about this is that it syncs with runkeeper, so when i use that to log a workout, it automatically updates myfitnesspal to reflect my exercise.
nike training club
// ntc is my go-to app when i can't get to the gym or don't have time for a run. it contains tons of workouts (in four different categories: get lean, get toned, get strong, get focused) that all target different things. many of the workouts can be done with little to no equipment and they range from 15min to 1hour. the app lets you play music and then start a workout, where it will tell you exactly what move you need to do (planks, burpees, lunges, etc.) and for how long, it then prompts you for each new move. the greatest thing about this app is that if at any point you don't know what a move is, you can tap the photo and see a video of the move. it's like having your own personal trainer or a gym on the go. it even keeps track of how many minutes you've spent working out through the app and also includes bonus workouts from celeb athletes!
what are your favorite fitness apps?