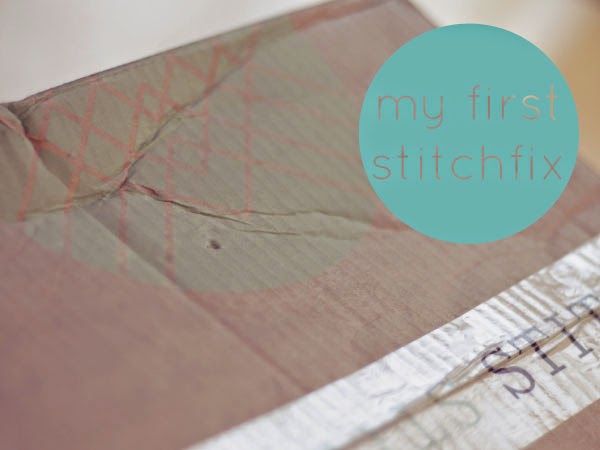 after hearing about a few friends' success with stitchfix, i just had to give it a try! with it's growing popularity, it feels like stitchfix is everywhere in the blogging world right now. so i thought, "why not drink the koolaid?!"
how it works //
if you've never heard of stitchfix, it's a box subscription service. you schedule a box (either monthly or as you want them), and fill out a style profile, and your own personal stylist sends you 5 items chosen just for you! there's a $20 styling fee, but that turns into a credit towards purchasing anything from your box. (and bonus! if you purchase all 5 pieces, you get a 25% discount on the whole box)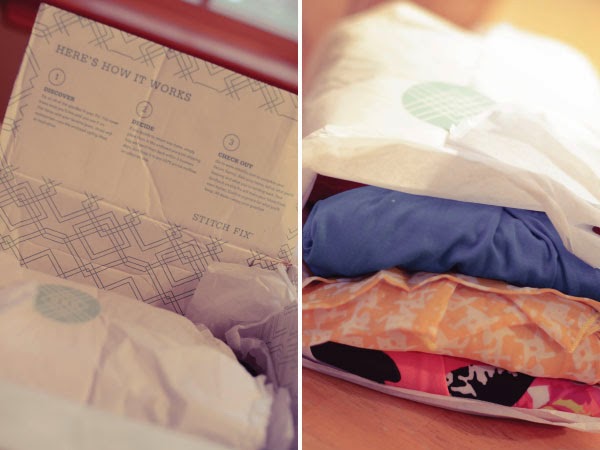 what i got // i was so excited to get my box. when i scheduled it, the wait was about 2 months, so the anticipation had been building! my initial impression was that the packaging was lovely. everything was folded and wrapped up and branded with the stitchfix logo. also inside the box was a note from my stylist with details about each piece she chose and a few ideas on how to style them. i loved the personal touch!
i got three dresses, a tank top, and jersey tee, pictured below. overall i really liked about 3/5 of the box. the quality of the items was great, and for the most part, i was prepared for the prices to be around what they were. (i had heard from friends that their pieces were usually around $40-$60)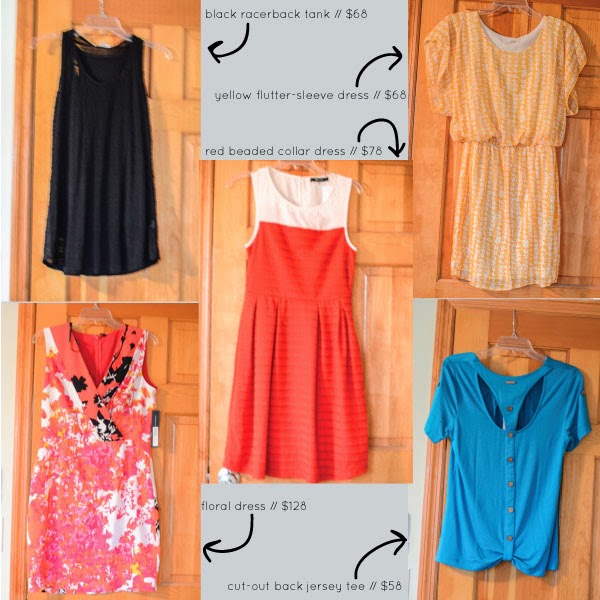 what i kept //
nothing! to my disappointment (remember, i was anticipating the box for 2 months!), i decided to send my entire fix back. the black tank was super cute, but nearly $70 for a tank top was just way too much for me. i loved the yellow dress, but it was cut a little too narrow for my hips. i didn't totally love the cut-out tee. the button detailing just wasn't for me and again, it was too expensive for what it was. i really didn't love the floral dress…way too business casual for me (i wear jeans to work) and i couldn't see myself wearing it enough. i loved loved loved the red dress. like
really
loved it. but in the end, it just wasn't quite flattering enough on me to justify dropping $80 on it. if it had fit perfectly, i would have kept it in a heartbeat.
overall impression //
overall, it was a fun experience. i liked being surprised with items that were picked just for me. my stylist wrote that all of the pieces were inspired by
my pinterest style board
(a personal touch that i loved), but i'm not sure that i see the influence in all five of the pieces. it was on the pricey side, but i would have been ok with that had i loved a piece and it fit perfectly. finally, i was a little disappointed that i got three dresses. while i do love dresses, i didn't specifically mention a need for them and none of them were really casual enough for me to get everyday wear out of them. upon checkout online, i was able to give feedback on each piece, so that was a plus if i decide to try it again someday!
what i learned //
i learned a few things from the stitchfix experience:
1. i really
do
like shopping for myself. i think i would have been more likely to purchase something if i really disliked shopping, but i enjoy it, so that isn't a huge draw for me.
2. i'm really picky about spring style. you know how you have that season that you usually find a ton of clothing that you love? well spring is
not
that season for me. it's been particularly difficult for me to find spring clothing that i love this year in general, so that might have something to do with my bad luck on this fix.
3. i'm cheap. i definitely have a desire to invest in quality pieces, but i'm not going to do it unless i really love the piece and it fits me perfectly.
would i do it again? //
despite my less-than-perfect experience, yes! i think i would do it again. maybe in the fall, which is typically a season when i find a lot of clothing that i love. they do say that the more feedback you give and the more you order boxes, the better they get in terms of matching your style, so i'm definitely not opposed to giving it another try!
if you're on the fence about trying stitch fix, i say go for it! you can sign up
here
! the most you can lose is $20 and it's worth trying it out…maybe you'll love it! i've seen tons of bloggers & had a bunch of friends get fantastic pieces from their fixes. and it really was a fun experience. it was an opportunity to get pieces i might not have chosen for myself and i got to try them on in the comfort of my own home with items that i already owned to see how they paired with my current wardrobe.