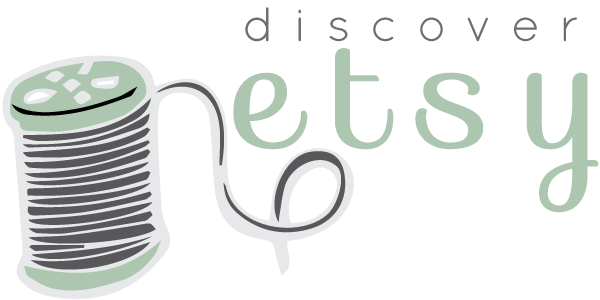 this might be the best discover etsy post yet! i'm so so so excited to introduce you to melissa of
sew what scarves
. not only because i know her personally and think she's amazing (she baked a crazy ton of
delicious
whoopi pies for jen's wedding!), but also because i have one of her scarves and absolutely adore it!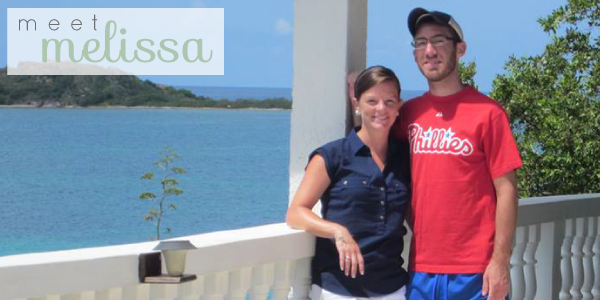 When did you start making scarves? Has sewing always been a hobby? //
A long time ago, I decided to join Pinterest. When I say a long time ago, I mean back in the day when you had to request membership and were placed on a waiting list...a long time ago. Since that day, I have been obsessed with pinning and found that I was drawn to crafts that I could make myself such as crochet patterns and scarves. I BEGGED my incredible parents (I mean Santa) for a sewing machine two Christmases ago and was blessed to receive one! However, it ended up staying in the box for almost an entire year until last September. After a particularly stressful day at a job that I was struggling to enjoy, I decided that I needed to get my sewing machine out of the box and put it to use. Complaining wasn't getting me anywhere. I figured that I could channel my energy into something productive by making something that I've spent a lot of money on - scarves. My 14 year old sister, Emily, was home and bored so we got in my car, drove to Joann's. We each picked a fabric that we liked, I found a pattern to make the scarves, and, after a quick lesson on my sewing machine from my sister who just had sewing in Home Ec, we were going to town! The first scarf wasn't pretty….and the pattern just wasn't quite right. Nonetheless, I wore my handmade scarf to work the next day and couldn't stop thinking about how to make it better. After some research, I redid the scarf and it was perfect! I discovered the method I still use today. Without my sister's eye on fabric tastes and her patience to give me a quick crash course, I wouldn't have made it this far.
While a lot of my experience on my sewing machine comes from the scarves, I'm definitely considering dabbling in some other fun projects, you'll just have to wait and see :-)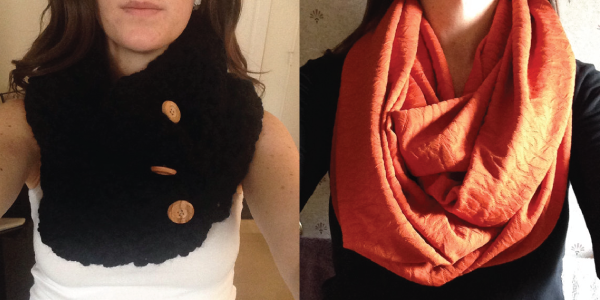 When did you first open your etsy shop & what made you decide to open one? //
I first opened my Etsy shop on October 31, 2020 (I only remember because it was Halloween). I was reluctant to open it at first as I was afraid that it would turn a loved hobby into an arduous task. However, after some persuading from friends who admired the work I had been nonchalantly posting on Facebook and Instagram, I decided to give it a go. Apparently I opened at just the right time - the holiday season - because, within a month and a half, I sold over 100 scarves. The sewn scarves were such a hit so I decided to list some of my crocheted pieces as well - they took off! I'm so glad to know that something I love to do in my spare time, something that gives me such peace and joy and helps me escape reality, makes others just as happy. I feel so blessed to have found this passion of mine and am forever thankful to the friends who encouraged me to give Etsy a try.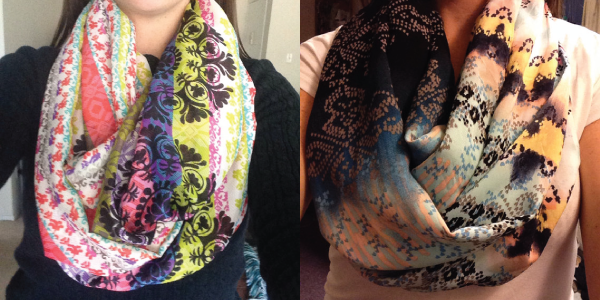 What inspires you? //
I don't really consider myself "trendy" in any way, but I found scarves to be a way to add just the right amount of that little something extra to an outfit that made me feel more confident and ready to take on the day. I was never much of a scarf person until I noticed the gorgeous scarves a coworker of mine, Briana, would wear to work. Her collection was quite extensive and I loved how she paired them with her outfits. Scarves are different than jewelry - they're a fun way to mix patterns, show your mood, and make a statement in one piece. She did all of this with her scarves and I found myself obsessed. When I shop for fabric, I find myself looking for patterns that remind me of happiness - whether that's in colors, patterns, or the feel of the fabric. I'm also inspired by my little sister, Emily. She has incredible taste in fabric and gave me the idea to pair different pieces together - my half and half scarves. Mostly, though, I'm always on the lookout for something that will make a positive statement.
One of the reasons I was so drawn to my coworker's scarves is because I have an allergy to nickel. I can't have as much fun as the general population in buying cheap and fun jewelry. My jewelry is an investment for me. Scarves provided a fun way to spruce up my outfits without having any type of reaction and without draining my bank account! My scarf purchases started to get a little out of control. After that, and realizing that I could make them, I broke out my sewing machine that was sitting in a box for almost a year, grabbed my incredibly talented younger sister, and started down the road of what is now Sew What Scarves. My sister's knack for picking out fun and vibrant patterns inspired me to break out of my normal routine and reminds me every day that just because I don't like something doesn't mean someone else won't.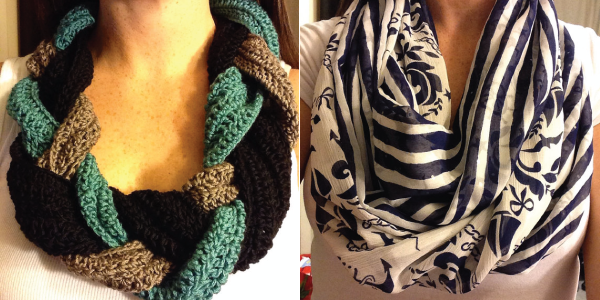 Are there season that you particularly enjoy designing/sewing scarves for? //
Since I've only been in business for a couple of months, I haven't had the chance to go through all of the seasons yet. Making scarves for the holidays was fun, but I am finding a lot of joy in shopping for fabric for the spring. While fall/winter are mostly scarf seasons, I'm looking for unique ways to make scarves relevant all year round. I'm excited to see what I'll find and come up with!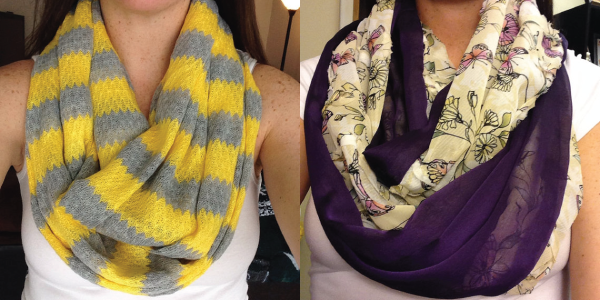 What is your creative process like? //
I don't think I can say that I have much of a process. Usually I find myself yearning to look at fabric, wanting to find the newest patterns to keep the styles fresh on my site. I find shopping for fabric very therapeutic and it helps me relieve my stresses of the typical work day. When I get to the store, I get in the zone and go to town touching everything, pairing things together, making a mess :-) I've also been asked to create some custom pieces as gifts, which is always a fun task! It even helps inspire me to look for more fabric and branch out. My taste in scarves isn't always someone else's tastes so I rely on my family and friends' opinions.
i can't tell you how happy i am with my scarf from sew what scarves! it's the perfect light scarf for summer and the fact that its an infinity scarf makes it even better.
if you're interested in ordering a scarf from melissa, check out her etsy shop and use the promo code "HEAVENS2BETSY20" to get 20% off of your order! i'm already picking out my next scarf!
and to get updates about melissa's scarves, new patterns, and new fabrics, follow her here: