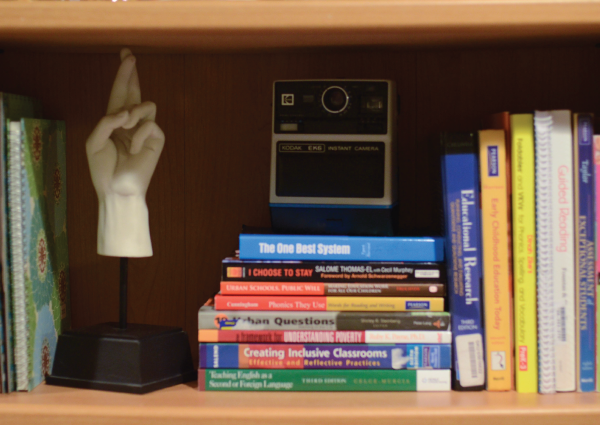 Last week, I spent a significant amount of time cleaning my room.
Part of that project was purging myself of books.
I love books.
It was one of the hardest things I've ever had to do.
(TIP: when getting rid of books, check sites like Amazon and Chegg to see if they'll buy them from you for a gift card or cash...I made $40 off of some of my old textbooks)
What cleaning off bookshelves did give me was space to work with. I love decorating and I really love organizing book cases. So here are a few pointers!
Don't be afraid to put
more than
just books on your shelves. A notebook and some folders might find a home, or a statue or even vintage camera might be a perfect accent to your shelves.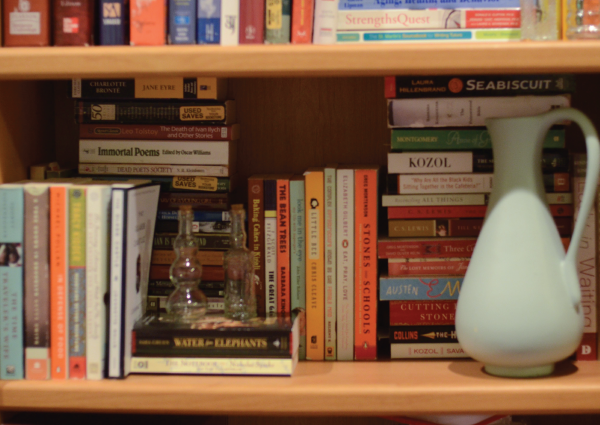 Arrange your books in a variety of ways. The traditional standing up in a line works, but try laying a few down in a stack. You'll fit more on a shelf this way, and it breaks up the shelf a little instead of just having books lined up.
Use books as bookends. Also try going two books deep if you have extra deep shelves.
Accent with glass bottles or a vase!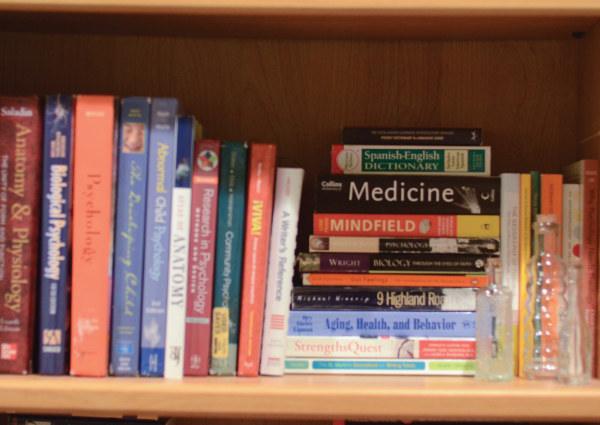 Keep books that pertain to topics together. This shelf houses all of my psychology and biology (and a few random college texts) books.
I'm constantly changing and rearranging my bookshelves. They're one of those pieces in a room that is easy to change around and brings a little bit of detail into a space!
Try accenting with different items (a globe, old table games, painted mason jars, fresh flowers) or adding baskets and photos.
Store seldom-needed books elsewhere to create even more room.
And if you're a lover of books, like me, learn to let go. I always peruse bookshelves of thrift stores, because who doesn't love picking up a new book for a dollar? But I'm learning that I need to make my bookshelves revolving doors at times. I can't keep every book I ever buy. Swap books with friends or give someone a favorite read and tell them to pass it on when they're done with it!
Head on over to
Hooah and Hiccups
today and enter into Samantha's HUGE holiday giveaway! You can win a month of large ad space on Heavens to Betsy, as well as a ton of other prizes (including gift cards!). You don't want to miss out!