I'm so happy to welcome Laura Jean to the blog today! Laura is one of my very best blogging friends, and this isn't the first time she's lent her guest posting skills to Heavens to Betsy (see her DIY scarf shirt here!) I'm not entirely sure how long Laura and I have known each other through the blogging world (definitely more than two and a half years), but it's been a lot of fun to see us both grow and have exciting things happen in our lives since we've been friends! Laura is also on The Peony Project Core Team and she plays a huge role in caring for the spiritual needs of our girls, so she is such a blessing to me! Laura's here sharing some tips for creating boundaries between blogging and marriage, so grab a pen, take some notes, and enjoy!
_________________________________
Hello friends! I am Laura Jean and it is such a pleasure to be with you today while Betsy is off getting married and celebrating life. I am the author of According to Laura Jean, a lifestyle blog and community centered around embracing daily life. When I am not eating Chipotle or blogging, you will find me riding my road bike or spending time with my sweet husband. Speaking of husbands and blogging, let's talk about that.
For many of us in the blogging world, our blogs are a significant part of our lives. Our brains have a constant running list of new content and ideas. Our husbands take photos for us in cute outfits while out on dates. Some of the most texted people on our phones are blog friends. Lifestyle blogging is truly that, a lifestyle. While the lifestyles we live directly influence our blogs, our blogs also have a strong impact on our lifestyles. The blogging part of my life naturally bleeds into many areas of my life, including my marriage. Just like these other parts of life, it is important to create healthy boundaries between blogging and marriage to preserve both.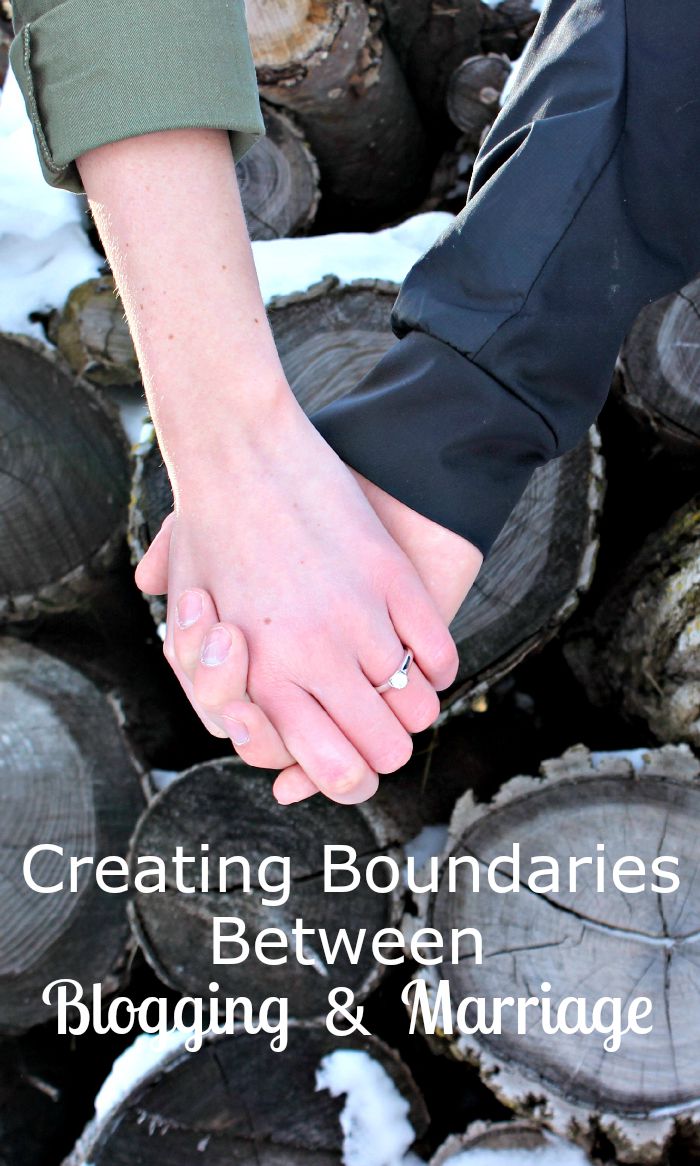 Prioritize Opportunities //
When I jumped aboard the blogging train several years ago, I would have never imagined the possibilities that were to come of this endeavor. There are new and exciting opportunities around every corner as well as ways to constantly grow bigger and better. For a perfectionist like myself, this can be the best challenge ever and the worst nightmare.
To preserve your marriage and sanity, learn when to say no. Prioritize what opportunities are the most important and draw a line where too much is too much. Saying no to something or putting it on the
back burner
for this point in time does not mean it is forever a lost opportunity. If too much is on your plate, you will constantly feel the pressure to work more and sacrifice time in other important areas of your life.
Choose to be Unplugged //
Being a blogger instantly marries you to social media. Most bloggers maintain a strong social media presence and work to share the brand of their blog through different platforms. I want to keep up with everyone on Instagram, schedule tweets ahead of time for blog posts, and make connections with others in Facebook groups. The struggle is real.
Choosing to be unplugged from these outlets is one of my biggest struggles, but largest blessings. Make an intentional effort to unplug from blog life and be fully, physically present. Instead of scrolling through Pinterest, take time to cuddle with your husband while watching a movie together. Instead of taking photos for the sole purpose of blogging, bring your camera on a walk with your husband to capture special moments just for fun.
Involve Your Husband //
If blogging is primarily your cup of tea, try to include your husband in your dreams, ideas and plans. It is really easy for me to make blogging my life instead of our life. I am a strong believer, however, that endeavors are better and stronger with collaboration. Bounce ideas off of him and see what thoughts he has. It may not be his favorite hobby, but I imagine if it is important to you, it is important to him. And if he is really up for it, have him join in the Guys Behind the Blog monthly link-up with Betsy and I!
How do you create boundaries between blogging and marriage? What do you make a priority? Where do you draw healthy lines between your online and personal life?