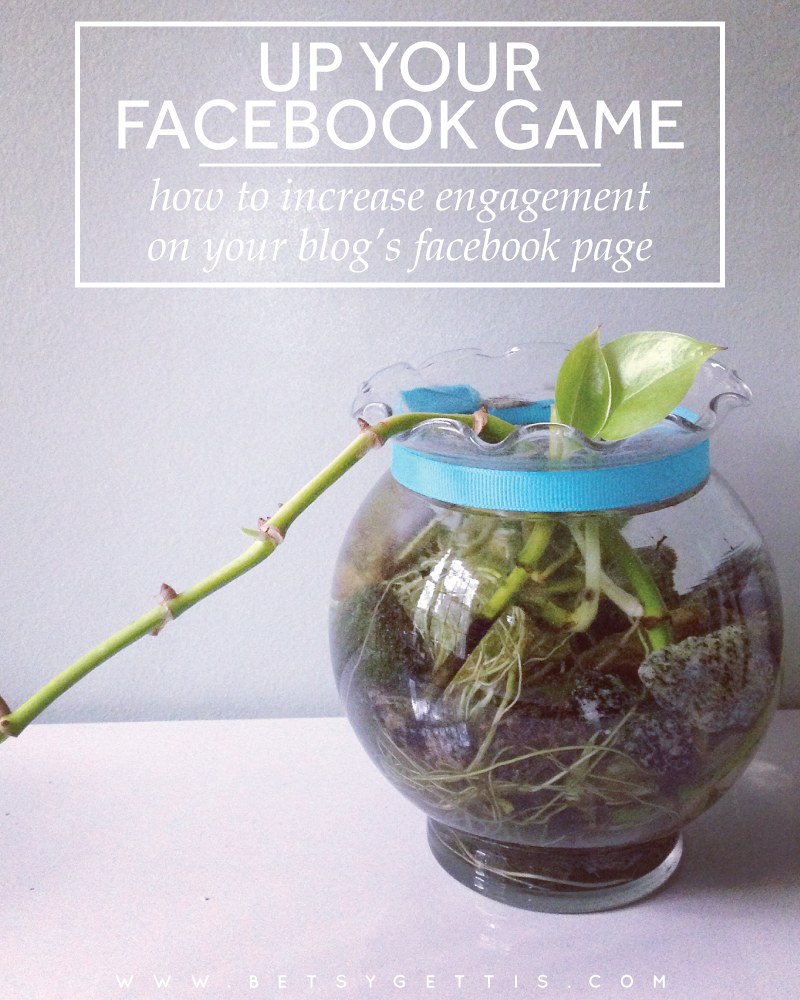 If you have a Facebook page for your blog or business, then you probably know how hard it is to get your audience to actually
see
your posts. Facebook is sneaky like that, and ultimately, they're a business, so they want you to pay to get your content in front of people.
Maybe you're just starting out and you're page only has a few likes, or maybe you have thousands, but either way, it doesn't take much to realize that getting your content out there on Facebook can feel like paddling against the current with only your hands for a paddle.
I've wrestled with Facebook and tried everything to get my reach widened. I've thrown a tiny bit of money behind a post here and there, just to see if it worked (I wasn't impressed), and I've come up with a few different tried-and-true methods for upping your Facebook game and getting your content in front of more eyes. So here are my five tips for boosting your engagement on your blog's Facebook page!
1 // Ask Questions
I'll be honest...I'm kind of terrible at this one...I have the hardest time coming up with good questions! But I see other pages doing it all the time and it works! The key to getting your content to show up in people's news feeds is for people to engage with your page through likes and comments. Ask engaging questions and your readers will respond! Another tip: Facebook is much more likely to show things to your followers when there isn't a link included, so simply asking a question is the type of post that will automatically be shown to a larger audience!
2 // Link Your Instagram to Your Blog's Page
Up until a few months ago, I didn't even know that you could link your instagram account to your blog's page instead of your personal timeline, but you can and it's awesome! It's pretty simple, too...open Instagram and go to your profile. Click on the gear in the top right-hand corner and scroll down until you see "Linked Accounts". If you already have your personal Facebook account linked, you'll see your name next to Facebook on the list of Share Settings. Click on Facebook/your name, and it should take you to a screen that says "Share to". The next screen will give you a list of your timeline and all of the pages you manage on Facebook. Select the page you'd like Instagram to share to, and you're good to go!
Sharing your photos to your Facebook page allows for a broader reach because in general, people respond to photos. Be sure to tag yourself in photos after they post to Facebook for even better reach! I've noticed that family and friends who like my page interact with Instagram photos that post to Facebook much more than they ever interact with blog posts that I promote on Facebook...there's just something about a photo that makes you feel more personally tied to someone! Not to mention the fact that you probably post to Instagram more than you post to your blog's Facebook page, so linking the two accounts will increase the amount that you post on your blog's page, therefore giving people more opportunities to interact with you!
3 // Share Posts that Aren't Yours
I once read that Facebook likes when you share posts that aren't yours. Whether that's simply "sharing" posts that you see on Facebook (like I did with
this article
), or actually
promoting other people's blog posts
(great option if you offer ad spaces on your blog!), sharing links that aren't to your site is a great way to increase engagement. It shows that you're not solely focused on promoting yourself and that you're interested in creating a a community!
4 // Share Your Page's Posts to your Personal Timeline
I don't like to inundate my friends and family by sharing every post that I write on my personal timeline. If they want to get my blog's updates on Facebook, they can like my page. However, once in a while there's a post that I'm particularly proud of and I want a larger audience to see it. One surefire way of widening your audience is to share things that you post to your blog page on your personal timeline. By sharing instead of simply posting the link to your timeline, you're gently reminding your friends and family that you have a page for your blog, while widening your reach and also getting a little extra love on that post you kicked butt on!
5 // Share Your Own Posts Well
There are a number of different ways to share your blog posts to your Facebook page. For example, you can: simply leave the link with the automatically-generated preview (the easiest way), create a Facebook post with a featured image and add the link to the post either in the caption or the comments (the most effective, in my opinion). Again, Facebook likes to fill people's news feeds with images...people respond to them! When I share a post on my blog's Facebook page, I typically upload a photo, write a good, descriptive caption, and then include the link in either the caption or the comments. You can see examples
here
and
here
. The benefit to doing a little bit of extra work and uploading a photo instead of just going with the link preview is that it looks cleaner and is more eye-catching, and you really have control over what people see when they look at a post on your blog's page.
Oh, and just one more bonus tip: when people comment on a post on your Facebook page, respond! Take the same attitude that (I hope) you take with your blog posts...if someone takes the time to comment, you should try to take the time to respond! Showing people that you not only read their comment but also engaged them further will only encourage them to continue engaging with you in the future!
For the record, I don't have any sort of data or research to back these tips up, but these are just things that I've
noticed around Facebook and have put into practice successfully on my own page! I hope you find these tips helpful....is there anything that you do on Facebook that I missed in this list?