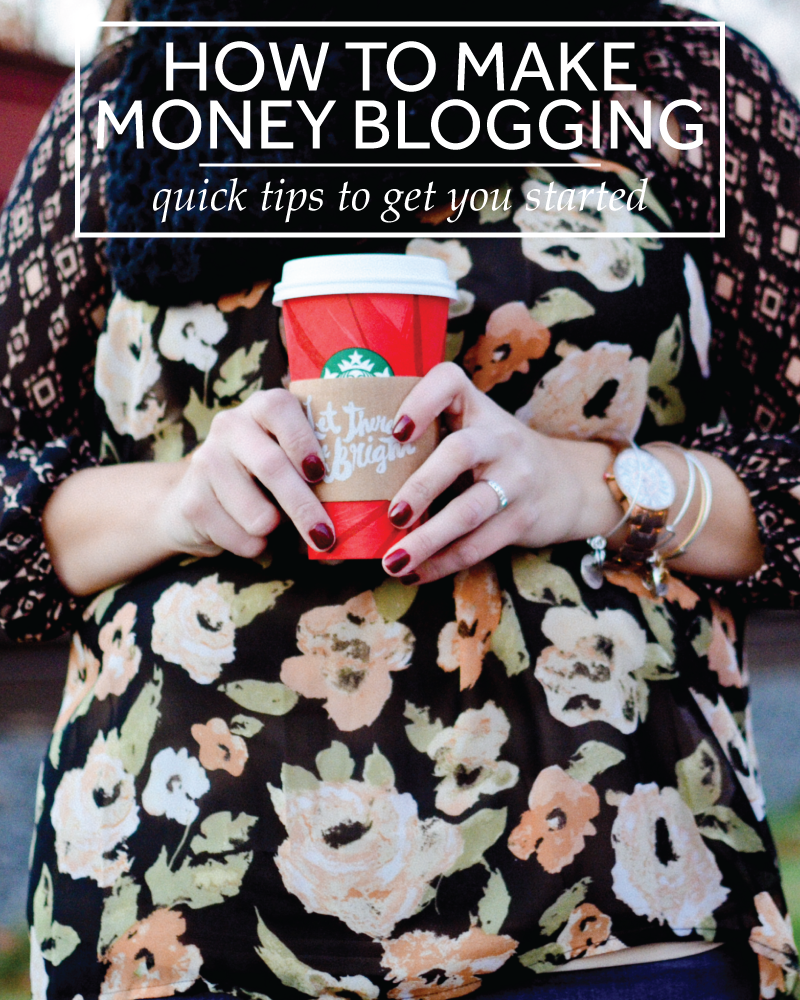 the farther i get into this blogging thing, the more i learn. (
thank you, captain obvious
) when i first started blogging, i looked at bigger bloggers and wondered in awe how they could afford to make blogging their full-time job. how did they make enough money doing it? how did they land all of those paid blogging opportunities?
my personal road to making money off of my blog has been, actually, pretty fun! i started with offering advertising packages on my blog and the past few months, i've had the opportunity to write a few sponsored posts. i'm still nowhere near making a full-time income off of my blog (and it's possible that i never will!), but as i've dipped my toes into the world of creating a blog income, i thought i could share a few things that i've learned along the way with you!
blog sponsorships & advertising packages //
opening your blog up to sponsors is not only a great way to make a little extra cash, but it's also a great way to build community! you can sell sponsor spots by having bloggers email a button to you and sending you payment through something like paypal, or, if you want to make it even easier for you, you can use a plug-in like
passionfruit
or adproval. if you are just getting started into creating an income from blogging, this is a great place to start!
affiliate programs //
affiliate programs are another good way to dip your toes into making a little money, but may not be especially fruitful unless you're bringing in hundreds of thousands of pageviews each day/week/month. you'll earn commission on sales made after someone navigates to a business' website from your blog. usually, this commission is pretty small and in all honesty, i haven't really made any money from affiliate programs! but they do exist, and there are bloggers out there who do make money from them! so don't write them off completely...just know that they might be more time than they're worth. they are, however, a great way to show that you're willing to work with companies...often, being an affiliate is as simple as putting a businesses ad on your sidebar.
here are a few companies that have affiliate programs:
offer goods and services //
about a year ago, i posted some bridal shower games that i had designed for my best friend's shower. i pinned them on pinterest without really expecting them to take off, but they did. i added my email address to the post and a year later, i've sold customized versions of those games to over 100 people. so, think about something you know how to do! are you a graphic designer? are you an expert at a craft like crocheting or making jewelry? why not open an etsy shop or sell your goods or services through your blog? you already have a platform and a following, so make sure to utilize that to promote your product! if you host a shop on another website like etsy, be sure to add a direct link to it in your navigation bar.
sponsored post opportunities & media groups //
there are a number of media companies out there that work directly with brands to provide sponsored post opportunities to bloggers. basically, you apply to different campaigns and if you're selected, you write a post (like
this one
or
this one
) promoting a brand or product. the great thing about these is that it's a one-time post (and usually some social media promotion) and you'll make a decent amount (typically around $100-$200 on a post, but sometimes a lot more!). some of these media groups require a certain amount of page views before they will accept you, but i say try anyway and apply to as many campaigns as you can! (for example, i recently applied to a campaign that was looking for mommy bloggers, which i am not...but i pitched the idea to use the product as a preschool teacher and that got me in!)
here are a few media groups that provide sponsored post opportunities
odds & ends (and some tips & tricks!) //
+ sometimes, you may have the opportunity to get paid in product. only you can decide what's worth it for you, but a few programs that i work with regularly and really enjoy are
influenster
and
blogging for books
!
+ patience and perseverance are key! you won't get every campaign you apply to and you won't sell out of ad spaces in your first month offering them. but keep at it! this world can be incredibly competitive, but it can also be incredibly rewarding.
+ offer promo codes! everyone likes a deal; if you're offering ad packages on your blog, offer some promo codes from time to time!
+ community, community, community! (have i mentioned that i love community?) find yourself some blog friends who get this whole thing. they can pick you up when you don't succeed and celebrate the wins with you! plus, community is the best part of this blog world...even better than the money, and you definitely don't want to miss out on it!
i hope those tips were helpful! if you have any more questions, feel free to email me at
[email protected]
or leave your question in the comments and i promise i'll do my best to respond!
and in case you missed them, here are a few other posts in my blogging series!