Today I'm welcoming Jenna to the blog! Jenna is the girl behind
A Savory Feast
, as well as a wonderfully sweet blogger friend with a heart after Jesus! Even better, she's in the midst of her own wedding planning, so we have been able to relate a lot to one another these past few months! Jenna is brining you a great quinoa salad today, perfect for a healthy dinner or your next cookout!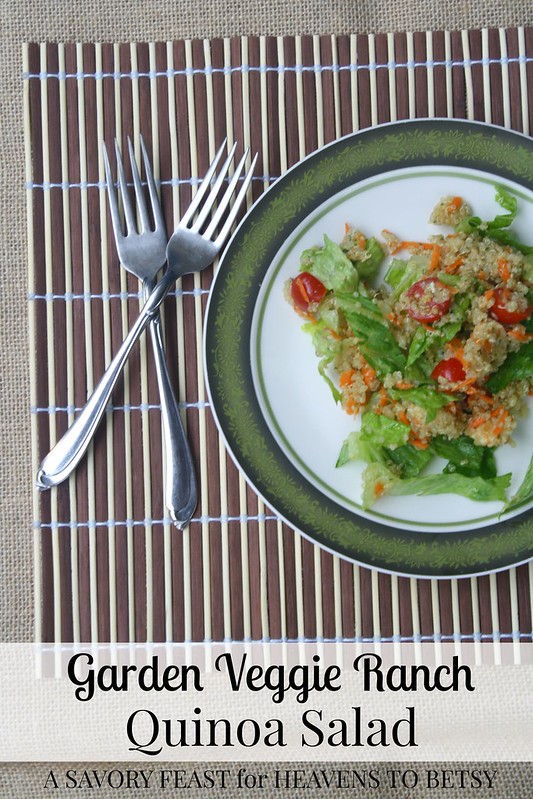 Hi friends! My name is Jenna and I blog over at
A Savory Feast.
Food is one of my passions, and I share everything from recipes to foodie road trips to kitchen tips and tricks. When Betsy asked me to guest post for her during her wedding month, I couldn't be more excited! I first found Heavens to Betsy back when she started The Peony Project, a community for christian women bloggers. I've always loved reading her posts, so I'm thrilled to be here sharing with her readers. Betsy asked me to share a recipe, so I came up with this colorful Garden Veggie Ranch Quinoa Salad. It's easy to throw together and tastes light and fresh.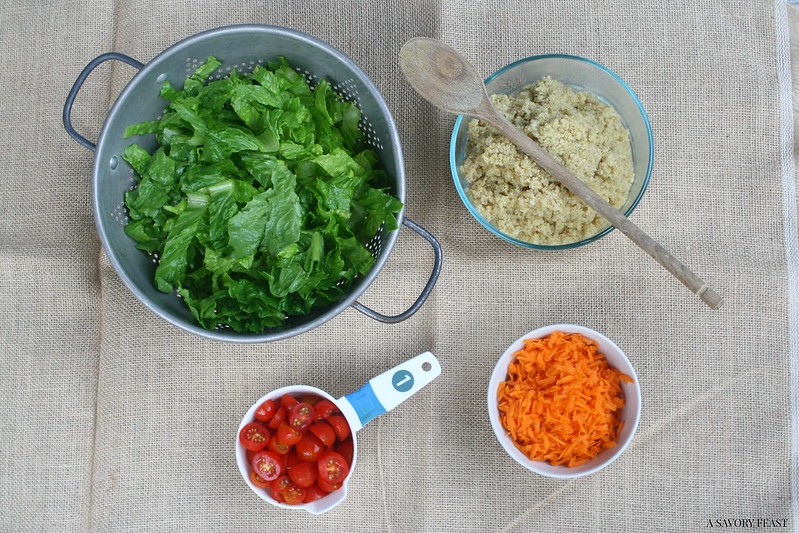 I've been obsessed with quinoa salads lately. I'm really big on texture when it comes to my food, so something like this with all sorts of different ingredients is right up my alley. This salad combines bright, fresh ingredients like romaine lettuce, cherry tomatoes and carrots. Add some quinoa for texture, chicken for protein and a packet of ranch dressing mix for flavor. Mix it up and you've got a simple, all-in-one dinner that's super good for you.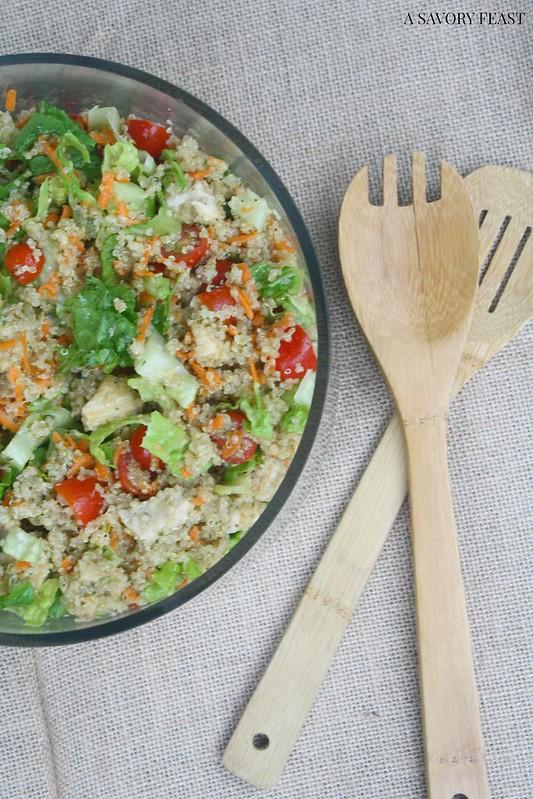 WHAT YOU NEED (Serves 4) //
1 cup quinoa
1 lb boneless, skinless chicken breast, cubed
2 tablespoons coconut oil
Salt and pepper to season
8 large romaine lettuce leaves
2 large carrots
1 cup cherry or grape tomatoes, cut in half
1 packet dry ranch dressing mix



INSTRUCTIONS //


1. Cook the quinoa according to the directions on the package. Put in the fridge to cool.
2. Heat the coconut oil in a large skillet on high. Brown the chicken for 2 minutes on each side. Lower the heat to medium and cook for 5-7 minutes or until done.
3. Shred the lettuce into long, thin pieces. Use a grater to shred the carrots.
4. In a large bowl, combine the quinoa, chicken (with all the coconut oil), salt, pepper and ranch packet. Mix well.
5. Add in the veggies and stir until everything is evenly distributed.
6. Serve immediately or put in the fridge and serve cold.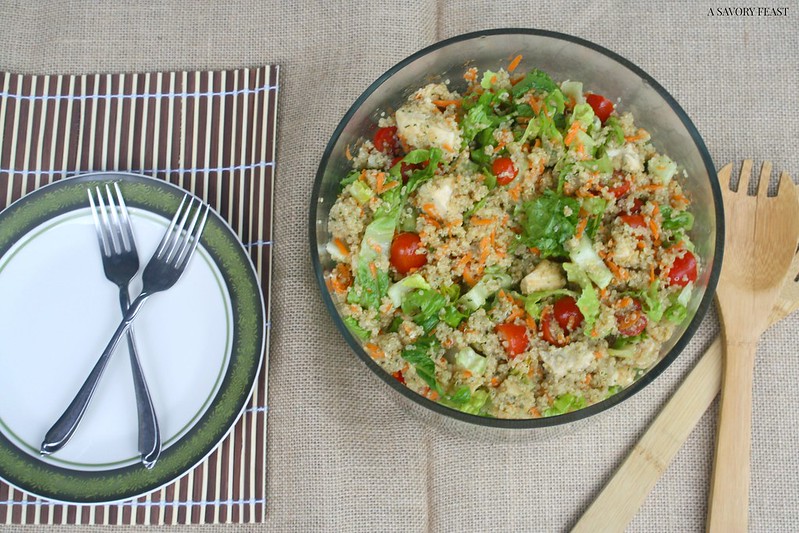 HAVE YOU TRIED MAKING QUINOA SALAD BEFORE?
WHAT INGREDIENTS DID YOU USE?