As AJ and I get into the swing of this married thing, we are enjoying figuring out a dinner routine. We've always loved cooking together, and we love trying new things, but we're also super busy and don't always have a ton of time to cook up an elaborate meal. This means that we often find ourselves eating out (and have as long as we've been together), and we seriously need to nip that trend in the bud now. Because a) it's expensive and b) ain't nobody got time to gain that newlywed weight.
One of the things we've always loved to eat together is southwestern food, and we enjoy creating some twists on classic recipes. In an effort to find things to help us be both healthier and time-conscious, we discovered
Betty Crocker's Suddenly Grain Salad
! These grain salads are incredibly easy to make (just boil in the bag and whip up the dressing!) and can be eaten cold or hot, so they're great packed in lunches throughout the week.
I'm working on getting us to the point where we're meal planning and doing meal prep, and the three varieties of
Suddenly Grain Salads
(Harvest, Southwestern, & Tuscan) will be great go-tos for weekly meal prep on Sundays.
To start us off, I tried out the
Southwestern Suddenly Grain Salad
and came up with three ways to make it! The Southwestern variety is a mix of brown rice, quinoa, black beans, red peppers, and corn, and has a chipotle vinaigrette to drizzle over it.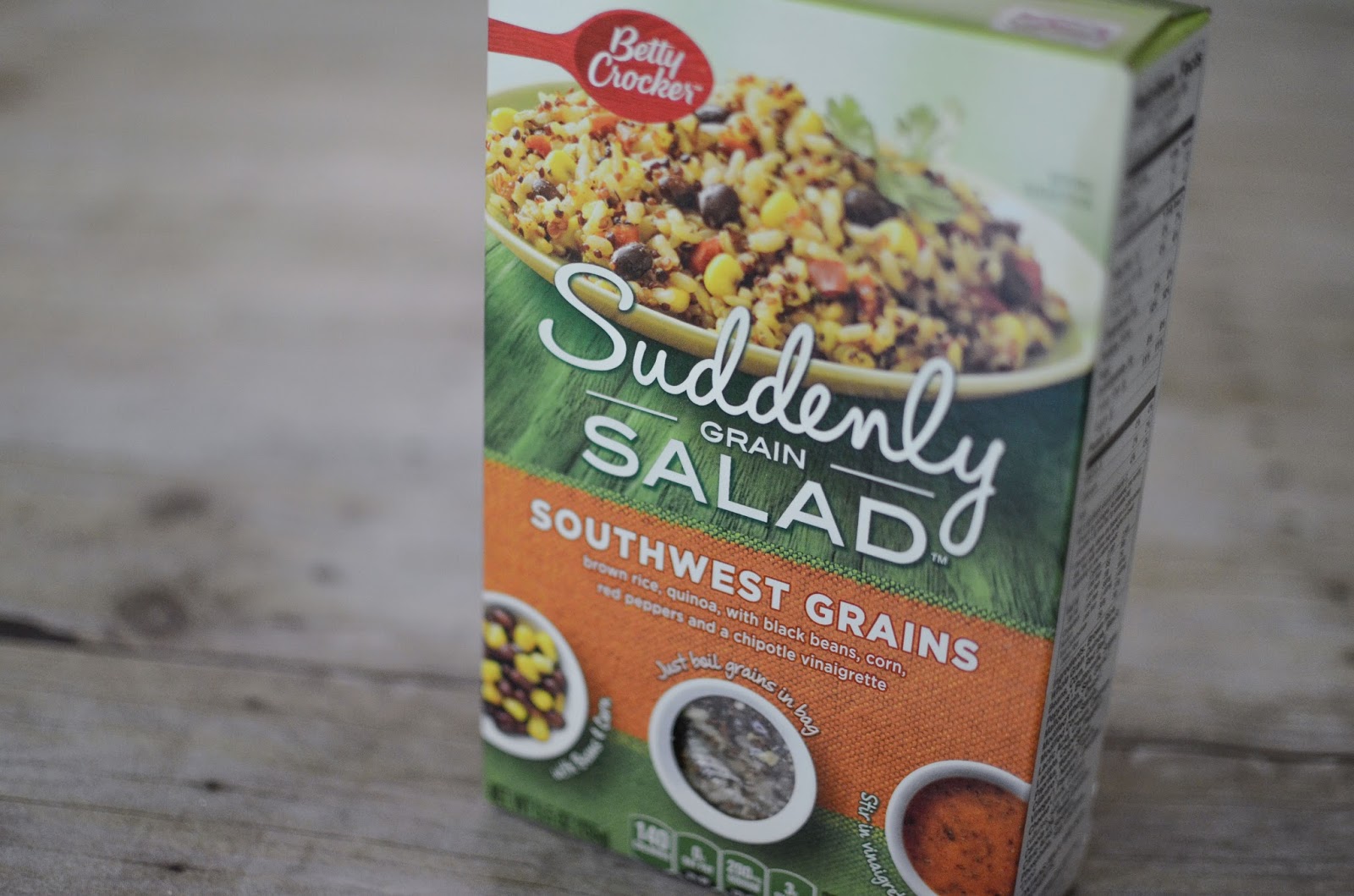 1 // Taco Bar Twist
Serve the
Southwestern Suddenly Grain Salad
hot as the base for your next taco bar! Top it off with your favorite protein (chicken, fajita veggies, steak, etc.) and then offer a variety of taco toppings like pico de gallo, guacamole, sour cream, shredded lettuce, and shredded cheese, and enjoy for a super easy, customizable dinner option!
2 // Mason Jar Salad to Go
The
Southwestern Suddenly Grain Salad
tastes great cold, so toss some in a mason jar and top with some grilled chicken for a super easy, grab-and-go lunch that you can eat at your desk or even take on a break outside the office.
3 // Spice up your Sides
Serve the
Southwestern Suddenly Grain Salad
as a side to your next dinner. Squeeze a lime over a few tilapia filets and then dust with paprika. Pre-heat your broiler on high and broil the filets for 20-25 minutes (until fish is flaky) and serve alongside the salad for a great, quick, light meal!