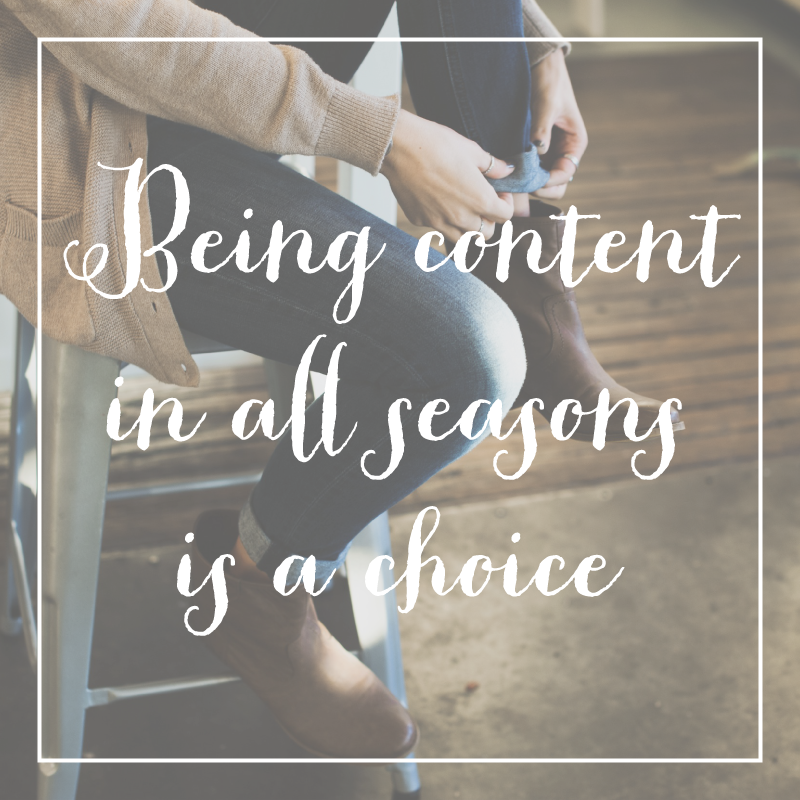 contentedness is something i've never been good at. when i was in high school, i dreamed of college, of having boyfriend, of what my life would look like someday. i'm a planner, and i always thought i knew exactly what my future would hold. attend college as a pre-med major, start seriously dating someone, get married soon after graduation, and then on to medical school or grad school and eventually have a career and a family. but oh, if only the twenty-five-year-old me could have coffee with seventeen-year-old betsy.
i headed off to college north of boston with the intent of not dating my first year so that i could "figure out who i was." a noble thought, in my mind, and surely god would honor that commitment and reward it by bringing the perfect guy along at the perfect time....in my sophomore year! i worked on being content throughout that first year, and honestly, i'd say i did a pretty good job of it. i focused on school and my friends, and just enjoyed my freshman year. but then, when i hit my second year of school, the expectations and pressure of what i hoped for weighed on me.
discontentment began to seep into my relationships with others and with my school, and i ended up questioning nearly every decision i had made that got me to where i was. that year was the hardest of my college career, but also probably one of the years that made me grow the most. i didn't understand at the time (or even at my graduation, when my life looked so differently than i had imagined as a freshman), why god wasn't giving me the desires of my heart. and of course, i didn't have the foresight that he has.
on the other side of those college years, and now being engaged to my best friend, i'm so glad that i trusted god's timing. but that doesn't mean that the waiting period was easy. in fact, there were times during those years where my heart physically hurt within my chest and i questioned if god ever would fulfill my desire to become a wife and mom someday, or if that season of loneliness would ever end. and i know it sounds cliche, but it really wasn't until i had found a place of true contentment in my season of singleness that aj walked into my life.
after i graduated, i had gone through a pretty hurtful few months with a guy that i liked, and i decided that no man that god would give me would ever make me feel that way. and in that time, one of my friends suggested that i listen to andy stanley's sermon series,
the new rules for love, sex, and dating
. in those messages, he talks about becoming the person that the person you're looking for is looking for. (confusing, i know) and i realized something: i wanted to be a girl who was so in love with jesus, that it was evident in everything i did, and that no guy could get to me without going through him first. and along with that desire can a true sense of contentment.
eventually, i learned that contentment doesn't mean giving up the things that we dream about or want most, it means learning to balance the tension of wanting those things with the peace that god's timing is best. ultimately, it's believing with everything you have that christ is enough for yesterday, for today, and for tomorrow. and it's looking at whatever season you're in as an opportunity to fall even more in love with jesus.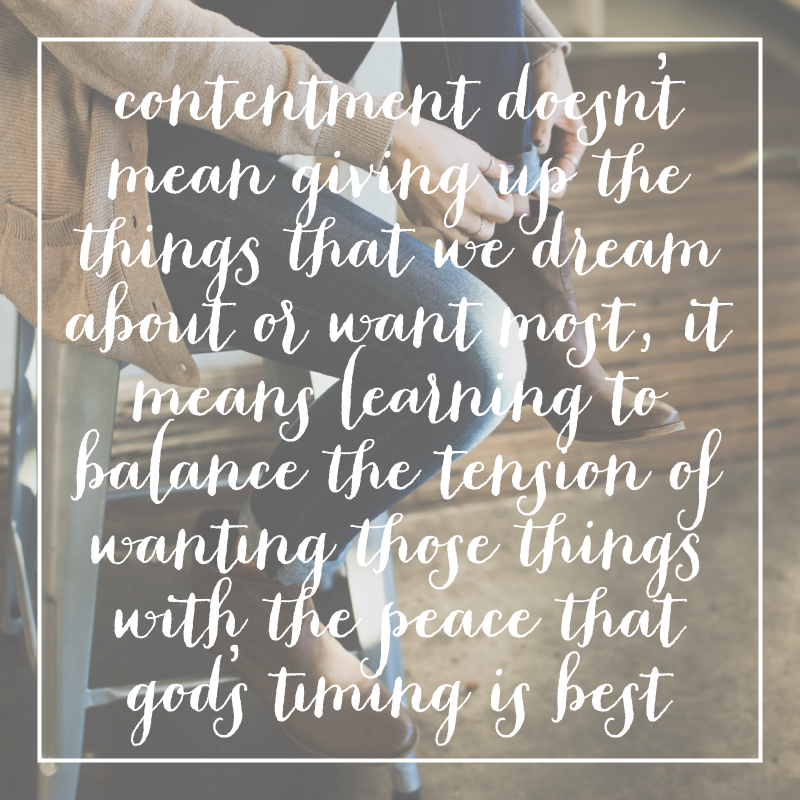 i'm convinced that discontentment is one of satan's favorite weapons. he whispers lies to us and plants seeds of discontentment in the slyest ways, and we live in a culture that promotes discontentment. we're wired to always want the next best thing; to desire to look or act a certain way; to have accomplished all of the things before our neighbor. and that life of comparison and want leaves us robbed of joy. but god wants so much more for us. he asks us to be content with him and to lose ourselves in him.
see, discontentment doesn't end when you get the dream job or find yourself in a relationship with the perfect guy. it's always there, and it always tries to snatch away your joy. contentment is a choice that we must make every day. it's a battle that we face every time we turn on the tv or flip through a magazine or step outside. contentment isn't a switch you can flip; it's a learned attitude, and it's won through intentionality and hard work and a whole lot of prayer.
no matter where you are in life, being content is a choice. how are you choosing to be content right now?