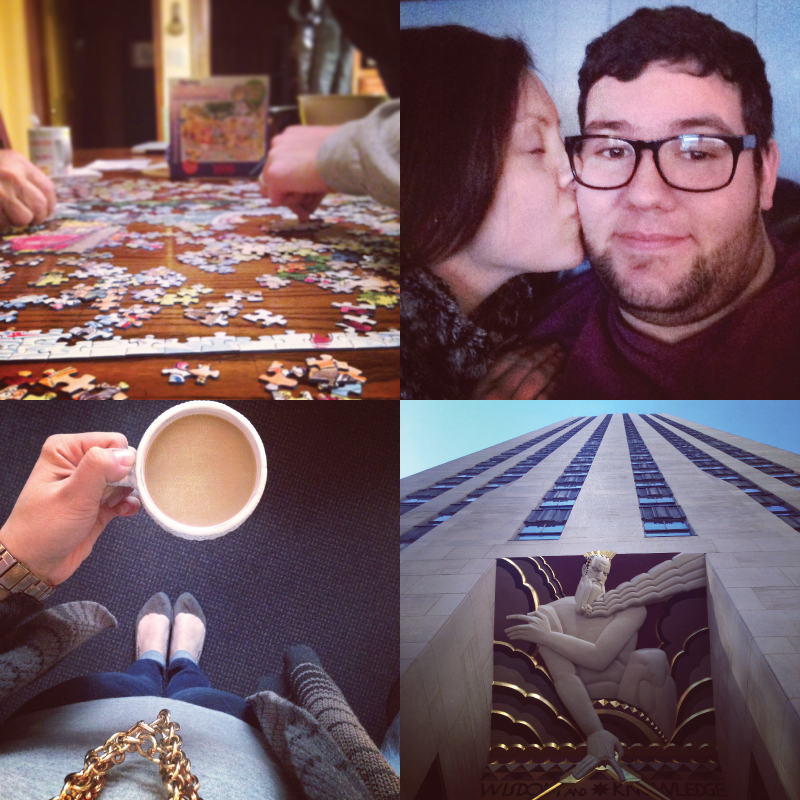 i hope you had a happy valentine's day yesterday! i started off my valentine's day celebrations with a bunch of cards and candy from a class full of adorable three and four year olds, and yesterday, i got to celebrate my first (and only) valentine's day as a fianc矇! i hope that you're enjoying your weekend, no matter what your plans. spend some time being grateful for the people in your life who you love!
here's what you might have missed this week on heavens to betsy:
happenings:
+ we celebrated
my grandmother's birthday last weekend with a few little parties and a whole lotta puzzles. maybe i'm an old lady, but i could do puzzles for days.
+ aj came home on wednesday (and is here
until
tuesday night!) and it's
been
so great to have him around for a few days!
+ i worked like crazy to get all of my hours in from sunday-tuesday because of aj being home, so i maybe
drank
a lot of coffee this week!
+ i drove up to nyc on wednesday to meet aj, zac, and amanda and we all went to see late night with seth meyers. it was a ton of fun. if you ever get the opportunity to see a late night show, do it!
in case you missed it:
+ a whole new line of prints launched in
the
shop this week! check them out in this post, or head directly to the shop!
+ i blogged a little bit about my winter haircare routine and my experience with head & shoulders' new moisture care line.
+ do you ever consider exercise to be a form of worship? i'm excited to dive into this lent devotional by vaulter fit that combines exercise and time spent with jesus!
+ i joined in on
the golden vlog
and answered faith's questions about childhood memories and valentine's plans!
+ i blogged a list of
5 ways to make valentine's day great
...and some of them are good for any day of the year!
don't miss these:
+ these black bean burgers (yum!) from rachel.
+ do you lead a life of simplicity? if not, here are
5 areas of our lives that need simplicity
.
+ if you're engaged, read this post on
why premarital counseling is a must
! aj and i had our first session this week and it was so good!
+ these yummy
juice recipes
from sarah! (my mom and i are planning a juice cleanse for the end of february!)
+ beth has
5 great reasons that you should avoid 50 shades of grey
!
and if you're a fan of anthropologie, then be sure to check out the
giveaway
that i'm a part of on instagram...you could win a $120 giftcard!