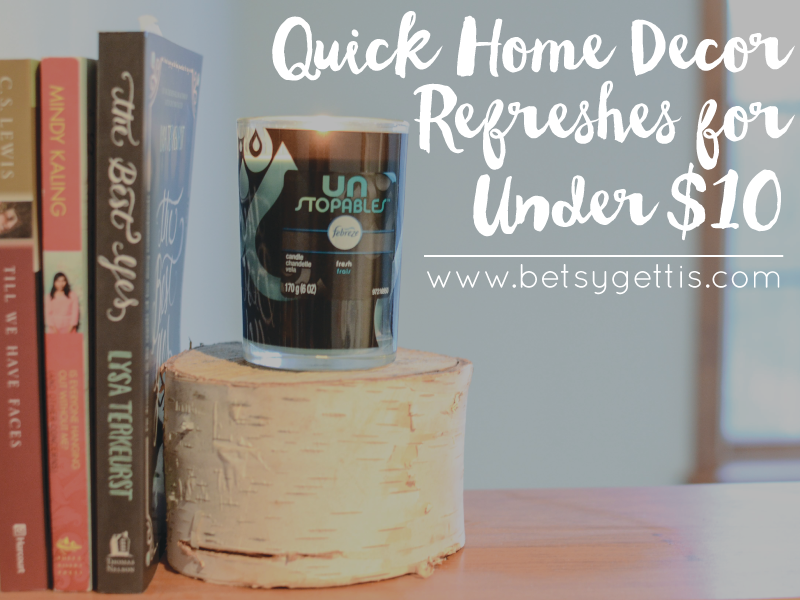 it never fails that sometime in february, the winter blues sink in for me. i know that
spring
is on the horizon, but i'm just wishing for it so badly that i am starting to go a little
crazy. can i get an amen??
one of the things that always helps is to freshen up my decor around the house! i love constantly changing the decor around my space, and i'm all about doing it on a budget, so as spring has been approaching, i've been working on repurposing things i already had laying around or making small home decor updates for ten dollars or less.
when your'e stuck inside for so long due to snow and cold, it's so easy to get bored with your space! i love what designer nate berkus says about freshening up your home decor: "when you get bored with your room, the easiest thing to do is switch it up! consider moving your sofa to another wall, bring in a side table from another room, swap out your throw pillows. you can totally refresh a room without spending a cent. for curtains, couches and rugs that can't be washed, a few spritzes of
unstoppable fabric refresher
will add long-lasting freshness." he's so right...you don't have to spend a fortune to update or refresh your space.
if you're feeling those winter blues like me, here are a few quick updates that you can do in your home to mix it up and make being stuck inside a little bit easier!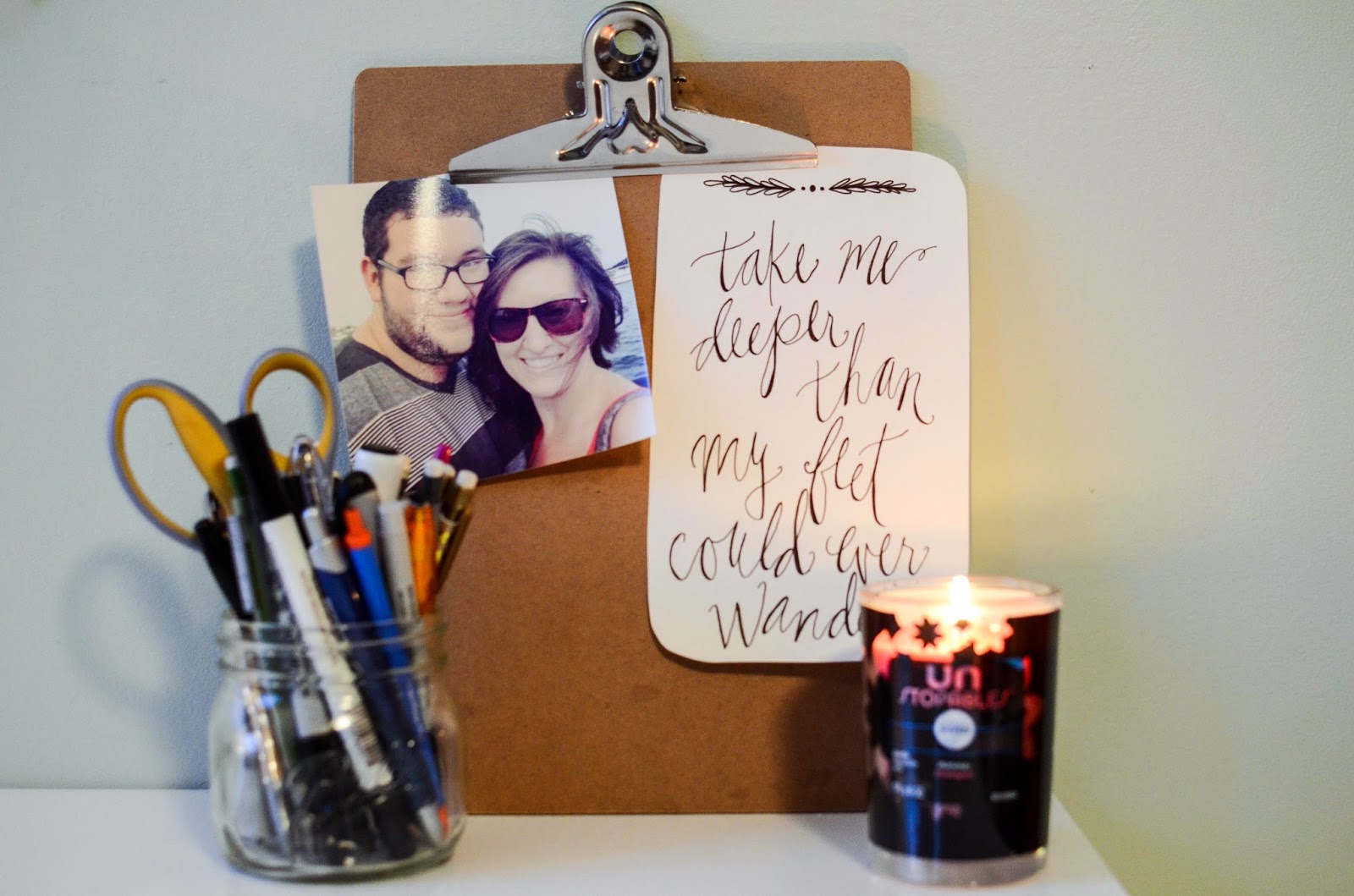 1. pick up a clipboard //
one of my newfound loves is clipboards. they're crazy cheap (you may even have one lying around already), and they're great for displaying photos, quotes, or other paper mementos like ticket stubs or cards! you can easily hang a few on a wall (i have three above my couch, each holding a hand lettered print), or you can set it on a desk top, like pictured here. clipboards are so inexpensive and versatile, that they're practically a design staple as much as they're a necessity in the office.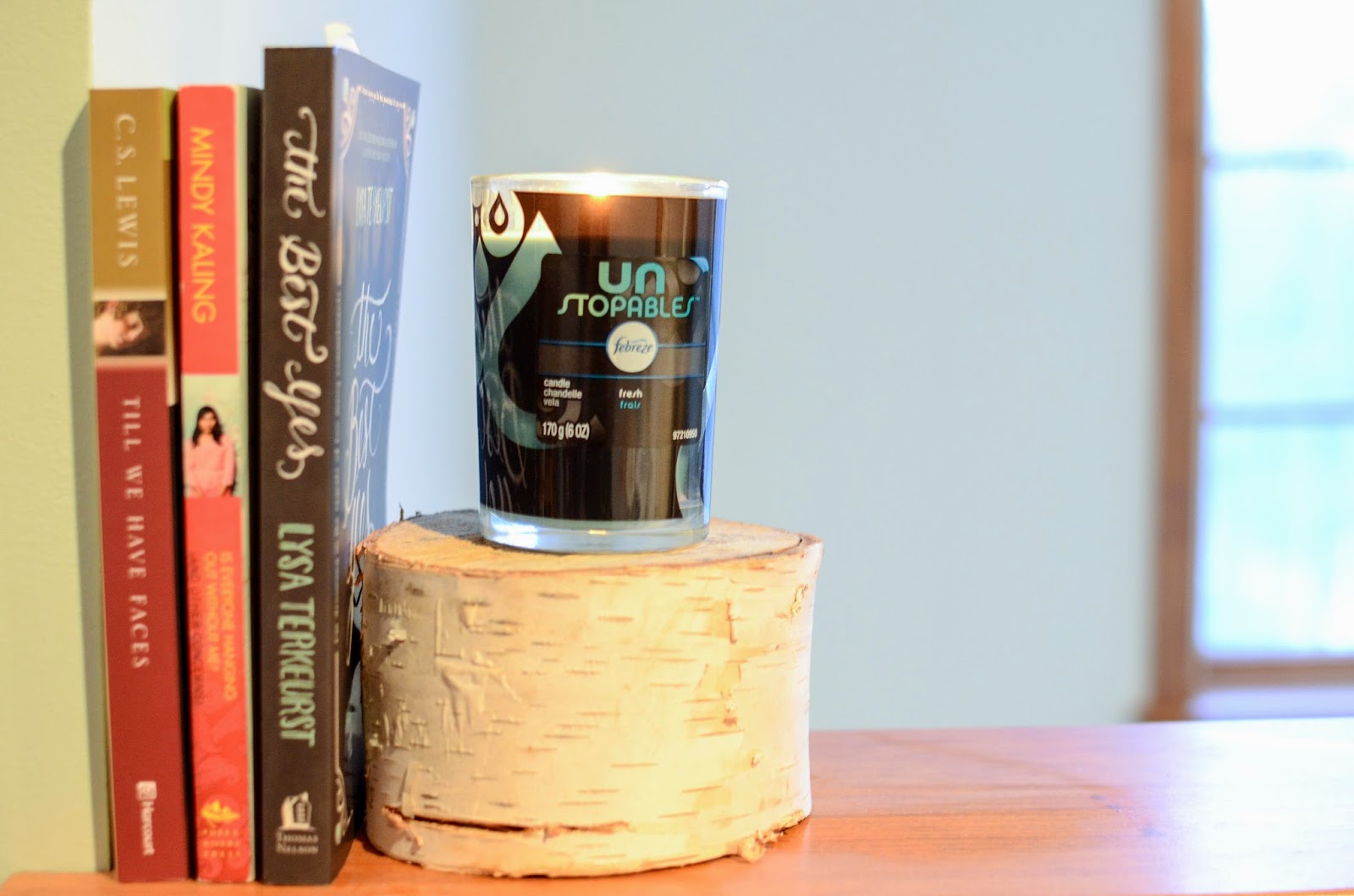 2. books & wood can be decor //
this one might seem obvious, but i love displaying books around my room! there are so many pretty book covers out there which makes them easy to display, and they can become great points of conversation. another thing i
love
using in decor is slabs of wood. white birch is hands down my favorite, and i actually got this little cutting at a friend's wedding (she used them in her centerpieces). they are great for adding height to candles or for simply displaying! any wood works, and all you need is some wood, like a fallen tree or a branch or stump, and a chainsaw (or in my case, a willing dad who happens to have a chainsaw).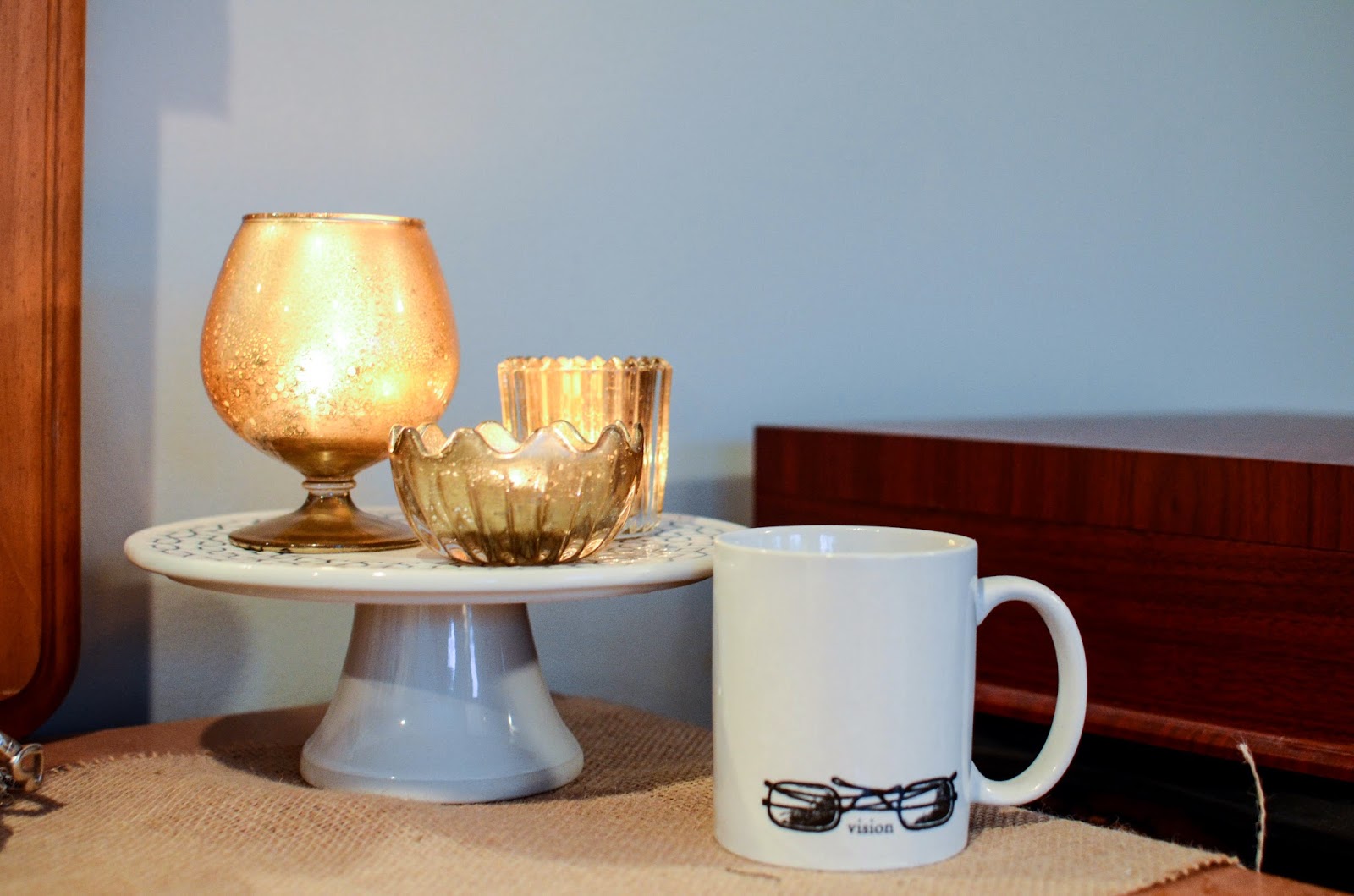 3. repurpose items you already have
//
i just shared
this easy diy
to turn votives you already have laying around into gold mercury glass. this update literally cost me the $3 that i spent on the paint. i already had the votives in a box in my basement, but if you don't, you can find some at goodwill for about $0.50! you can also repurpose things like cake stands and mugs to utilize outside of the kitchen. i love the way these votive holders look on the cake stand, and i also often use a cake stand to display my perfume collection. mugs are great for using as flower planters or even as a pretty way to hold spare change.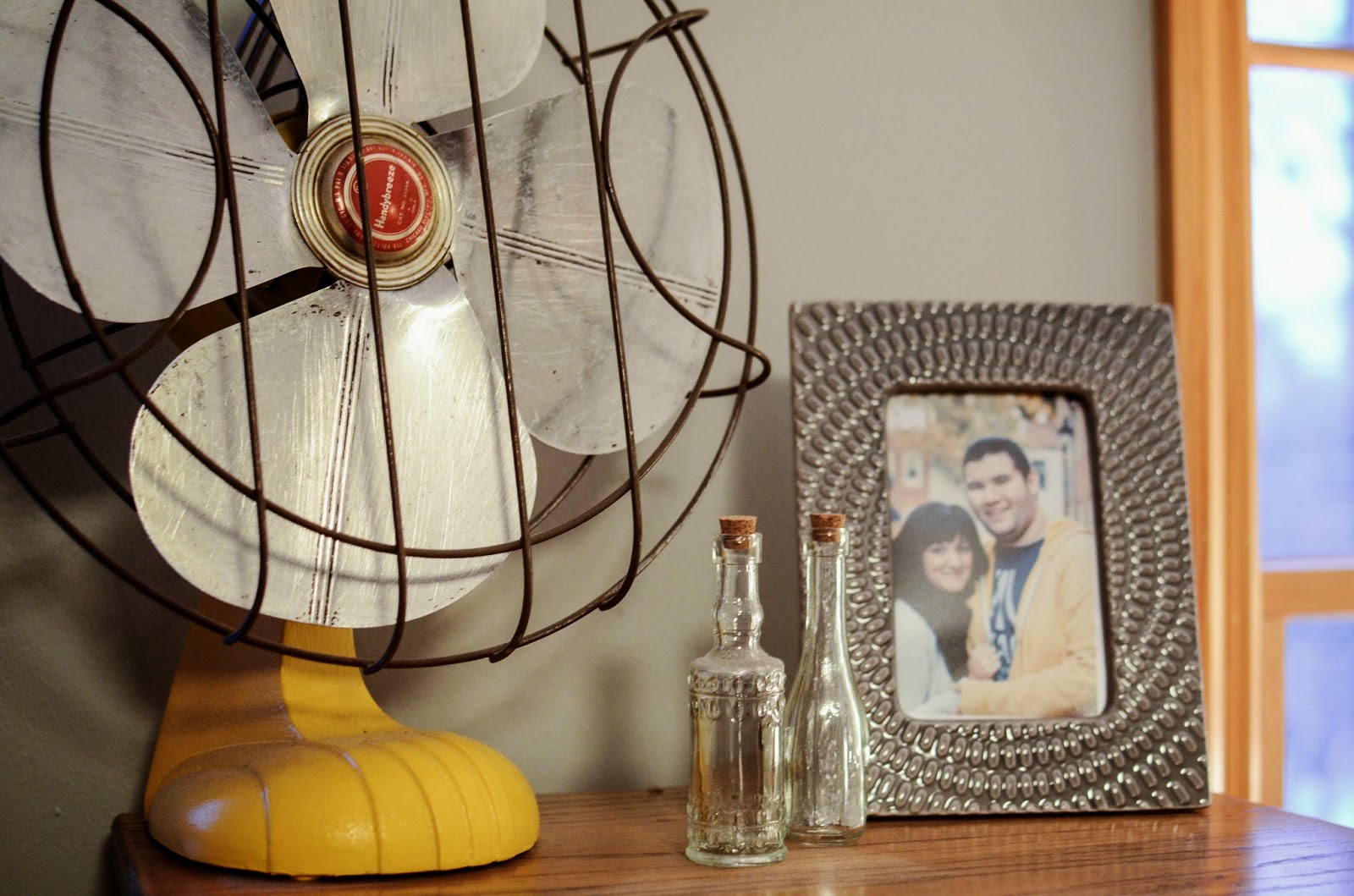 4. go picking //
one of my favorite places to find decor items is in my grandparent's basement. my grandfather's old workshop is a treasure trove that aj and i have rescued tons of old items from. this fan is just one of our finds, and i threw a coat of mustard-hued paint on it and made it an accent piece. i also have an old toolbox of his that i use to hold mail, and a few other items that i love seeing daily because they're great daily reminders of my grandfather. if you don't have a grandparent with a basement ripe for picking through, consider keeping your eyes peeled for estate sale, garage sales, auction, and even rifle through your local goodwill or salvation army store from time to time! it's amazing what sorts of pieces you can find for little to no money, and if you keep an open mind and consider the potential of the pieces you come across, you'll find that you can get some really great steals!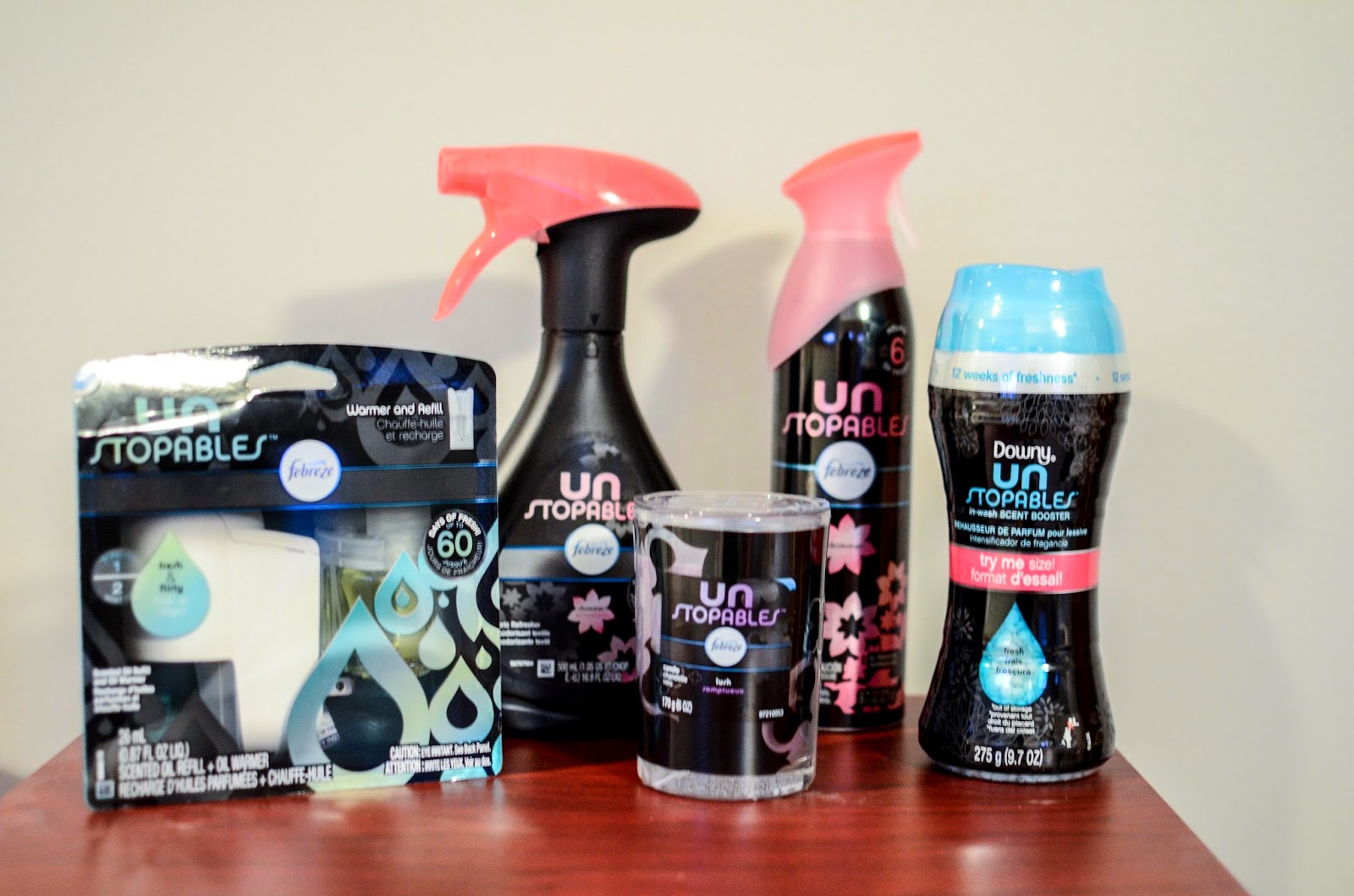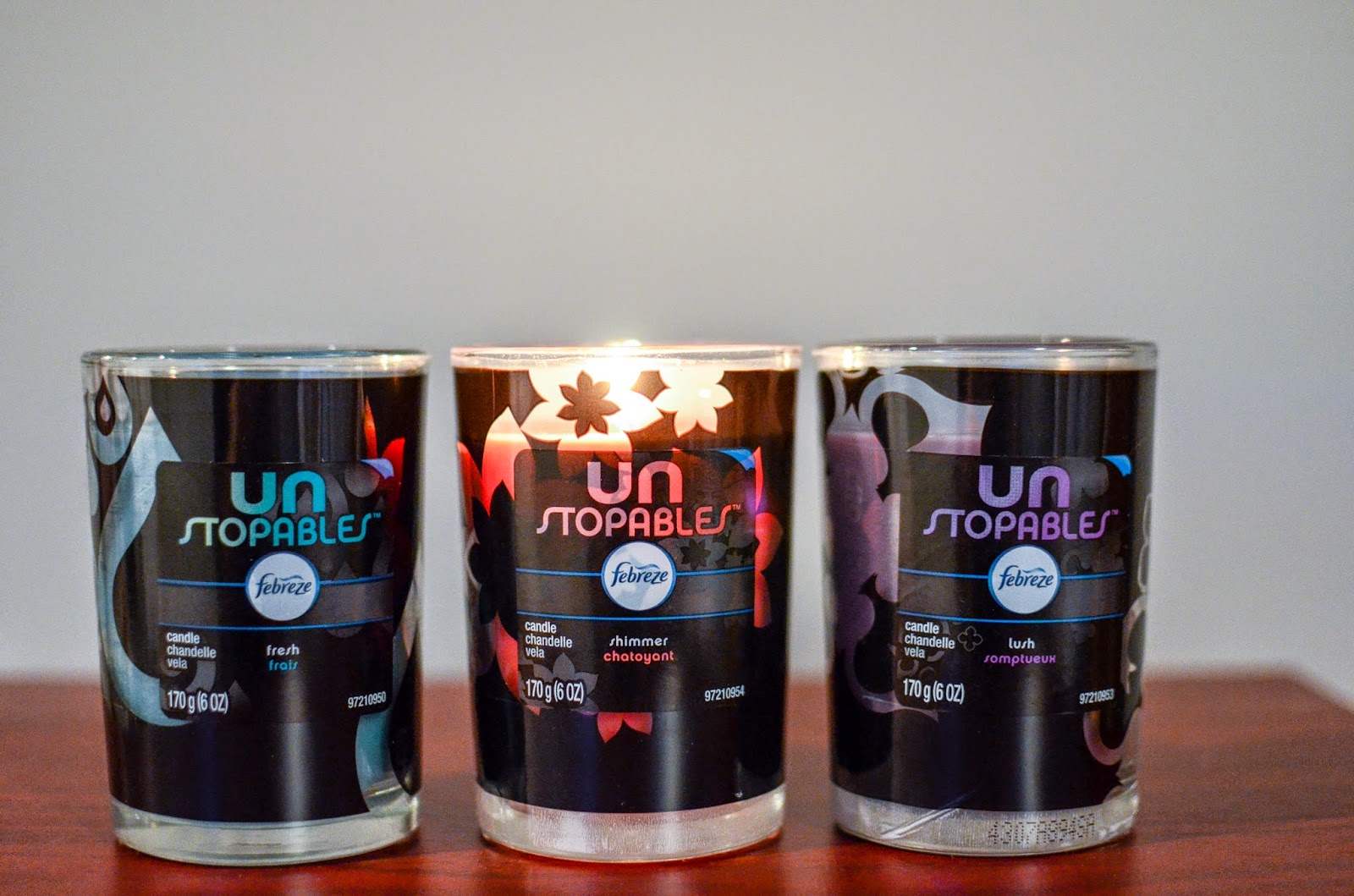 5. don't underestimate the power of scents! //
scent decor
is just as important in setting a mood for a room as is visual decor. i never remember that fact until we reach the depths of winter and everything is just so bleh. but lighting a candle or spraying some fabric refresher can take a room from drab winter to the freshest spring! the new line of
p&g unstopables
is perfect for incorporating springy scents into any room. the entire line includes candles, fabric refreshers, laundry scent boosters, oil warmers, and air fresheners, and comes in three scents: fresh, lush, and shimmer, so you can choose a signature fragrance and carry that scent into every area of your home. each
p&g unstopables
product smells luxurious but is available at an accessible price point. these long-lasting scent products can help you choose and design your own scent decor - a personal scent profile that you can use to style and upscale your environment day in and day out!
i was selected for this opportunity as a member of clever girls and the content and opinions expressed here are all my own.