I seriously can't believe that it's time for the Golden Vlog again...and that we've already hit mid-November! To be honest, I kind of got a bit of the holiday fever yesterday....my boss gave me a spruce-scented candle the other day and now our office smells like a Christmas tree forest...pretty great, if you ask me!
Anyway...this month's Golden Vlog is all about work and jobs! Watch below to hear more about what I do for work now, what my first job was, and to see my special guest on this month's vlog!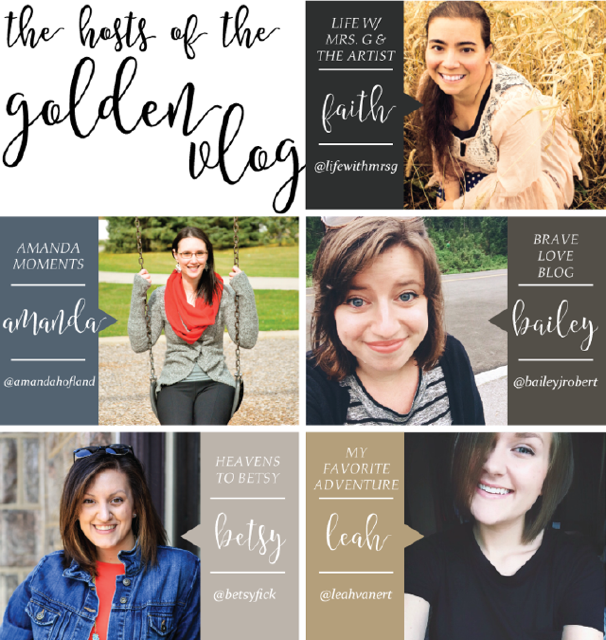 Life w/ Mrs G & the Artist ~ Twitter | Instagram | Bloglovin
Amanda Moments ~ Facebook | Twitter | Instagram
Brave Love Blog ~ Instagram | Bloglovin | Twitter
Heavens to Betsy ~ Instagram | Twitter | Facebook
My Favorite Adventure ~
Twitter
|
Instagram
|
Pinterest
Here's the Rules . . .
1. You must follow your hosts on at least ONE form of social media to linkup w/ us.
2. We want to see your face! How many times you roll your eyes, and if you talk with your hands! So link up a post featuring your VLOG answering this months questions! Please link up a post not your blog's home page, and be sure there is a VLOG (video blog) featured! This is the Golden Vlog after all ;)
3. Add the button above or a text link to one of the hosts to help us promote this crazy thing!
4. Spread the love! go watch, listen, and comment on other blogs and make some new friends!
If you have any questions at all or want to be included on our monthly Golden Vlog Letter with next months questions just email
[email protected]
*all links not featuring a vlog or this months questions will be removed!