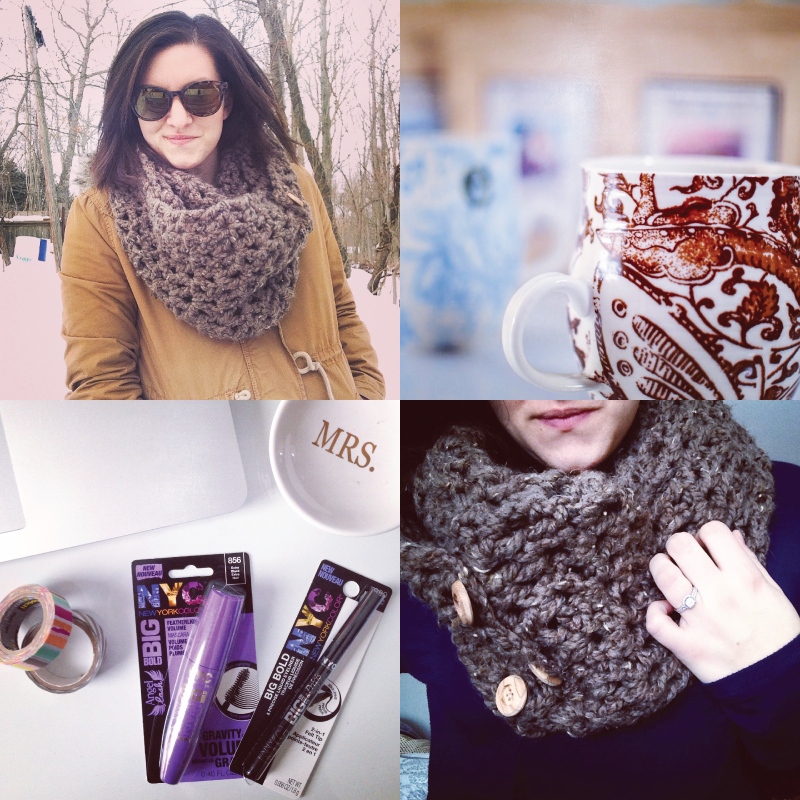 welcome to the last day of february! i have such a hard time believing that march will be here as of tomorrow (and daylight savings time is just a week away...yay!). i'm so excited for more sunlight, runs outside, and spriiiinnnngggg! like, it makes me want to break out into a song.
("ttthhhheeee hiiiiillllssss are alliiiivvvveee!")
ok, enough of my craziness (can you tell i have a touch of cabin fever?!).
here's what you might have missed this week on heavens to betsy:
happenings:
+ i got a hair cut on tuesday! nothing drastic, just a trim...but it's amazing how just getting your dead ends snipped off makes you feel so much better!
+ i loved hearing all about your coffee cup moments this week...aj told me that he liked me over a cup of coffee, and i'm a bit of a mug addict, which means that i
also drink a lot of that liquid gold.
+ i got a voxbox from influenster for testing purposes with nyc's big & bold angel lash mascara and big & bold felt-tipped eyeliner. as it were, i'm also a bit of a mascara addict, and i love the way these products plump my lashes and frame my eyes!
+ i was gifted this scarf made my melissa of
sew what scarves
, and i
love
it! i basically haven't taken it off all week!
in case you missed it:
+ you won't believe how easy it is to make your own mercury glass!
+ aj took over the blog on thursday for our second guys behind
the
blog link up!
+ i designed a couple of movie night
games
to go along with disney's big hero 6! if you haven't seen it yet, you need to! it's adorable.
+ i shared 5 ideas for quick and easy home decor refreshes that you can do for under $10!
+ i talked a little bit about five star coffee's romantic moments collection, and there's a
giveaway
going on until monday for a free coffee sampler box!
don't miss these:
+ i love how rachel shared her journey to ethical fashion this week!
+ wardrobe updates must be trending (spring cleaning, anyone?), because daisy shared her
5 goals for a capsule wardrobe
!
+ i loved madison's tips on
increasing spiritual intimacy
!
+ i've been wanting to visit harry potter world, and meg's
10 things to do
there have me wanting to schedule a trip asap!
+ cassie is a total pro on twitter, and she shared
11 easy steps to becoming a tweet master
on her blog this week!