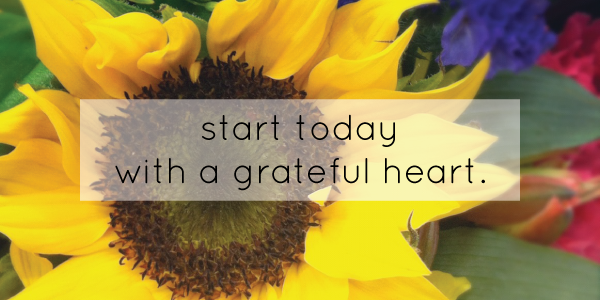 Happy Memorial Day friends! I hope you're enjoying your long weekend and taking some time to remember the sacrifices of all of those who have and are serving our country today! I'm so grateful that we live in a country where freedom is valued, and where men and women are ready to fight and even give their lives for that freedom. If you or someone you know serves our nation, thank you!
I'm joining in today with Emily over at Ember Grey for her Grateful Heart Monday link-up. It's always great to start the week off by listing some things I'm thankful for, and today is definitely no exception. In fact, my heart might need this list today more than ever. In just a few hours, we'll be hitting the road to take AJ to the Philly airport. He'll be spending the summer back in Boston taking a full course load of classes and working. Though he'll be back for the 4th of July, these next five and a half weeks (and the five and a half after the 4th) are going to be hard. It was so great to have him home for the past two weeks and we're in the final months leading up to our wedding, so there's lots of prepping to do. It's just starting to hit me how much I'd like to be able to do all of that prepping together.
In addition to that, my dad is really feeling the fatigue that a year of chemo brings and I so wish I could do something to help him. I just want him to feel better again, especially since his scans have been good.
So yes, today's grateful heart post is necessary. Here's what I'm grateful for today:
+ Having two weeks with AJ
+ The long weekend
+ My schedule is about to normalize a little bit, and I'm ready to be super productive on my days off!
+ AJ and I bought living room furniture this week!
+ I'm so grateful for great brothers & sisters in Christ who support my family
+ Summer has arrived in PA...we're looking at temps in the 90s all week!
+ Getting big things crossed off of the wedding checklist
+ My first year of teaching is behind me! While preschool wasn't necessarily what I always wanted to teach, I'm grateful for all that I learned this past year!
WHAT ARE YOU GRATEFUL FOR TODAY?