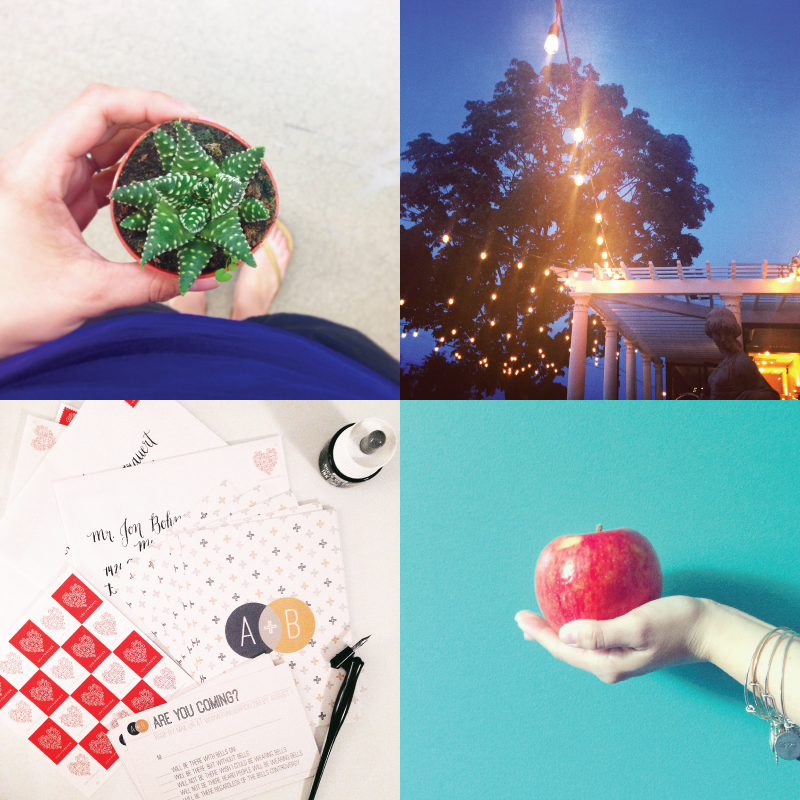 Happy Sunday! I hope you've all had a great week! AJ has been home which has been good for my heart...and our wedding checklist! We have gotten a bunch of stuff done and it feels good. He heads back to Boston in just over a week and he'll be there up until two weeks before the big day, so this was our opportunity to check some things off of the to-do list!
Here's what you might have missed this week on Heavens to Betsy:
HAPPENINGS:
+ Anybody else a succulent addict? I have way too many already, but I couldn't resist picking up this little cutie at Home Depot this week!
+ We went up to Carlisle to have dinner with some friends on Thursday night, and ate at the loveliest Greek restaurant! The food was great, the conversation was life-giving, and the atmosphere was perfectly summer!
+ AJ and I put together our wedding invitations on Friday night. I've already spent a good 15+ hours doing all the calligraphy on them, so it was great to have him there to help assemble them!
+ Do you ever have one of those times where you just want a good apple? I picked this beauty up on Wednesday for lunch!
IN CASE YOU MISSED IT:
+ I showed off my
fancy pants
earlier this week.
+ I shared a
few tips
on what to say to someone who is facing a cancer diagnosis, and shared a new, free resource from Allstate for anyone diagnosed with breast cancer.
+ This week was Faith's Golden Vlog link-up, and
I joined in
and talked all about summer vacations!
+ If you're running any races this summer, don't miss my
5 tips for race day
!
+ How do you catch some me-time?
Here's a kit
I keep in my car so that I can pamper myself on-the-go!
CHECK OUT THESE POSTS:
+
10 things
that Beth has learned since graduating from school
+ These great tips from Hayley on
5 words your husband needs to hear today
+ Jenna's
tips for an easy summer cookout
make me want to get out and grill right now!
+ Laura's
rib recipe
also has me wanting to grill (and I'll be sharing my own rib recipe tomorrow!)
+ Natalie's
thoughts on graduating from college
are great for anyone facing the "real world" for the first time!