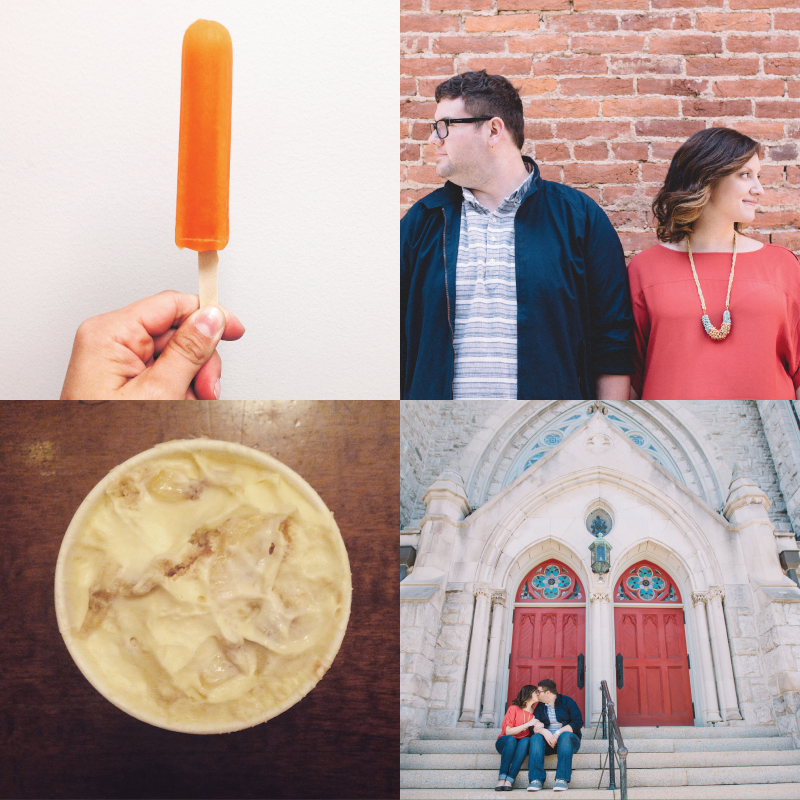 Happy Sunday! I hope you've all had a great week! It was a busy busy week for me, and that meant not blogging as much as I would have liked to. But I've got some exciting posts coming up, including our
Guys Behind the Blog link-up
coming this Thursday! This past week, we had our engagement photos, I finished my first year of teaching, AJ's sister graduated from college, and we bought living room furniture! I told ya...busy!
Here's what you might have missed this week on Heavens to Betsy:
HAPPENINGS:
+ I bought a box of popsicles for our last day of school this week and was reminded of the magic of a good popsicle! So quintessentially summer!
+ One of my favorites from our engagement shoot this week...can't wait to share more of these!
+ We had dessert at Magnolia Bakery in NYC after Amanda's graduation on Friday. I've been there a bunch of times for cupcakes, but this was the first time I ever tried their banana pudding. It. was. amazing. For real...if you're ever in NYC, get it.
+ Another fave from our shoot! We met up with our wedding photographer in downtown Lancaster, and it was a perfect spot for our pictures!
IN CASE YOU MISSED IT:
+ Do you partner with brands to write sponsored content? Here's why I think you shouldn't
work for free
.
+ This
DIY College Survival Kit
is a great gift for any grad!
+ AJ and I made some
grilled BBQ ribs
and our recipe for a great dry rub was on the blog on Monday!
CHECK OUT THESE POSTS:
+ Stacey's post on
how to become a better you
was on point!
+ I loved
this post
from Hayley...these desk accessories are adorable!
+ Jenna's
panko, cream cheese, and herb stuffed mushrooms
have my mouth watering!
+ I can totally related to Beth's feelings about
trying new things
(and I love seeing other's take a shot at hand lettering!)
+ Did you see Laura & Jacob's
big news
?