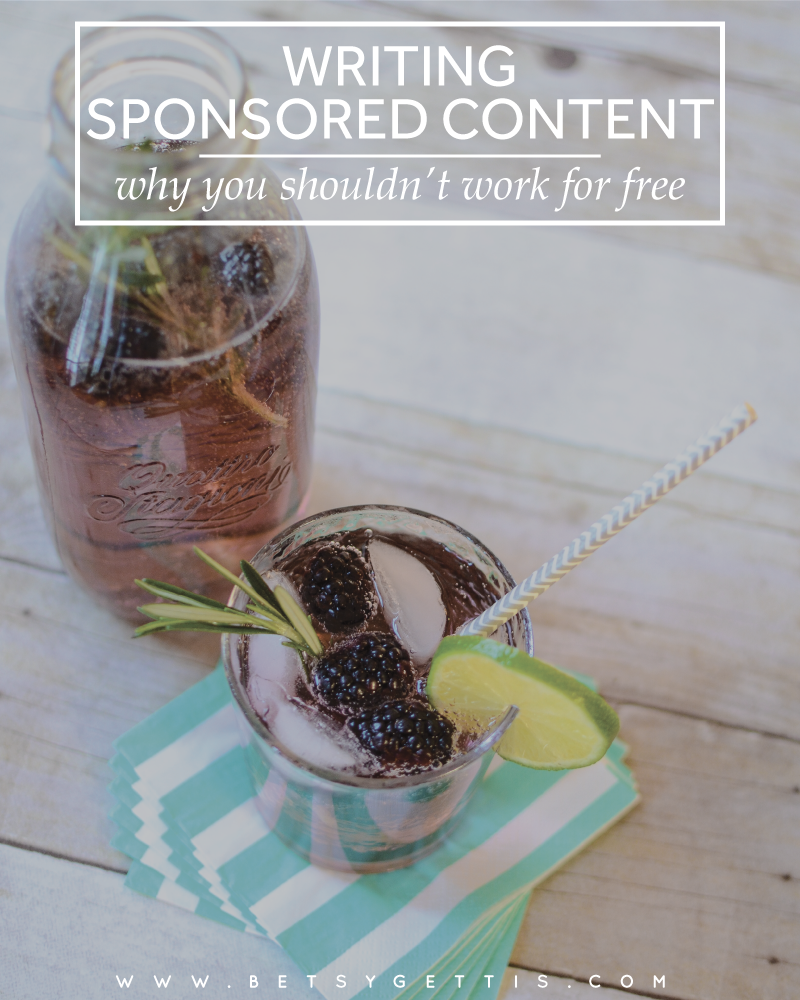 Six years ago, when I first started blogging, I only dreamed of making any sort of money from my blog. I loved reading some larger blogs and I knew that there were woman out there making full-time income off of their blogs (and I knew that there were probably women out there making six figures off of it!), but I had no idea how they were doing it.
Then, randomly, I got contacted by a company who wanted me to write about them. Yay! This was it...my break into working with brands! Surely by writing this post, other companies would see my work and start reaching out too, and it didn't really matter that I wasn't being paid to do it because I was getting my feet wet, right?
Yes. And no.
I wish someone would have told me back then that what I was writing and what my voice could do for a brand was
valuable
. I wish that someone would have empowered me by telling me that what I was doing with my blog was worth more than what this company was offering. I wish someone would have explained to me why blogging is important in the marketing world. (
Disclaimer: When I refer to being "paid" to write, I'm talking about monetary compensation, but in some cases, product is also acceptable)
When I received that first opportunity to work with a brand, my blog was considerably smaller. I wasn't necessarily writing with the same frequency and passion that I do now, and so I accepted the opportunity and didn't mind (at first) that I wasn't being paid and that I wasn't receiving product. But then, after spending time and effort putting together a post, I realized something that should have been obvious from the start:
I was working for free.
And not in the way that you help out a friend, but for a company that I had no relationship with. I was spending time and effort and space on my online home to promote a product that I wasn't even given the chance to try out for free.
Something about even feeling annoyed by that felt selfish to me. I never really intended to make an income off of my blog when I started, and I don't mind helping out small businesses or businesses that are doing awesome things gain some traction by mentioning them on my blog. But when I got my first paid sponsored post, the game totally changed.
I realized then that there are brands out there that value bloggers and the voice that we can lend to a marketing campaign. Our readers trust us and our opinions, and brands recognize that. (
Side note: I firmly believe that writing sponsored content does not make you a sell-out or devalue your blog. There's nothing wrong with making an income off of a hobby that you love, as long as your voice is still shines through!)
So why do I think you shouldn't work for free? Here are just a few reasons I think you should be paid for your voice:
You're selling yourself short.
Your voice and your opinions matter and your readers value you and trust you! And guess what, friend? You're worth having a company pay for that exposure.
Working for free hurts other bloggers.
When you work for free, you end up harming other bloggers because you're sending the message to the company you work for that they can get away with free marketing. If they can get it from you, they may expect it from other bloggers.
Think of it outside of blogging.
Would you apply to work for a large company in their marketing department and then when you sit down for an interview, tell them that they don't need to pay you? Probably not. This is no different, it's just on a smaller, more isolated scale!
When a brand says they "don't have a budget", then it's a little insulting.
I hate saying this because I truly like to think the best of people, but I get insulted by a brand who contacts me and asks me to write about them, but then tells me that they "don't have a budget for that" when I ask them how much they are paying. Basically, they're asking you to advertise for them for free, but they don't think what you have to offer them is worth
investing in
. Unless it's a small company and you really believe in their vision, I'd pass.
It's ok to get your feet wet.
Remember that first campaign I talked about at the beginning of this post? I don't regret doing it. I think it's fine to do a couple of campaigns for free when you're first starting off. Those posts are low-pressure...you can't do anything wrong because you're not getting hired or under any sort of contract! Take those opportunities to get your feet wet and establish your voice and style for writing sponsored content, but don't stay there long.
It takes time.
It took me years to build up the numbers and following to be able to make consistent money off of my blog. Doing a product review here and there and getting paid in product for a while is a great way to go as you start and until you're ready to join networks that will help you bring in an actual paycheck. If you want some more info on a few ways to make money blogging, check out
this post
!
If I can leave you with anything, it's that
you're worth it
. Please believe that. Whether you decide to work for brands without pay or you make a consistent income from your blog, you need to do what's right for you. But don't underestimate the influence that you have as a blogger and sell yourself short!