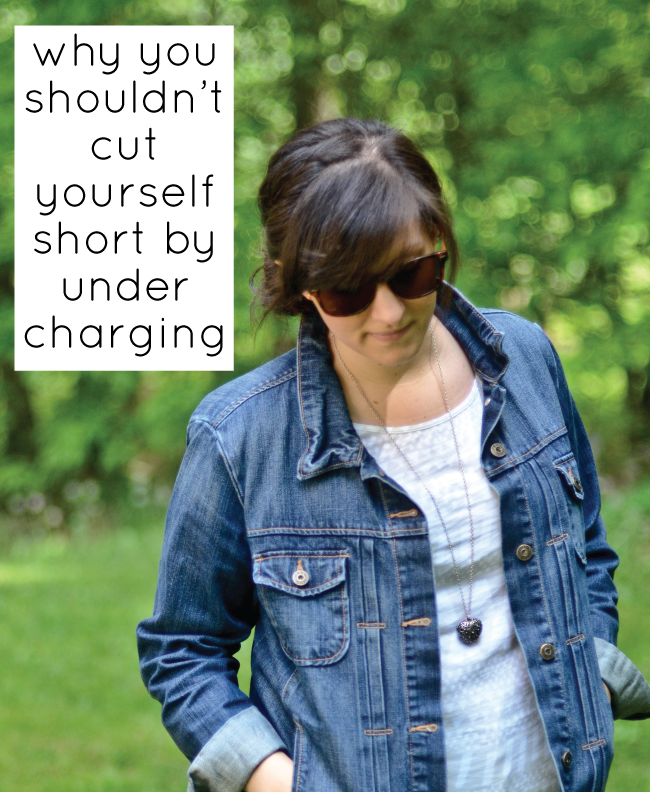 i'm gonna be really honest with you right off the bat: this post is probably more aimed at me than you, friend.
the farther into the world of freelancing (photography + design) i get, the more i'm realizing that what i do is
worth
what i'm asking for it. i wrote
this post
last week on why freelancing is both awesome & awful at the same time, and one of the most difficult things about being your own boss that i've found is figuring out what to charge and how to get people to pay what you're asking.
one of the hardest pills to swallow is when someone tells you "i'm gonna go with someone else because they're giving me a discount" or tells you that their budget is $X when you're charging $X+10.
i love my clients and i always try to work with their budgets, but i'm learning that sometimes, a client will expect way more than what they're paying for. (for example, if you're shooting a wedding and a bride asks you to cut your prices and add extra things to the package, like a second shooter or an engagement shoot…when that happens, i might end up only charging $1,000 for what should be a $1,600 package.)
yes, it's good to cut deals for clients, especially when your business is just getting rolling. and of course it's worth it to offer discounts when it will be the incentive a client needs to utilize your services.
but don't sell yourself short by undercharging. your talents are worth what you think they're worth! too many freelancers undercharge for their creativity and time just because they're afraid a client won't pay what they're asking.
so here are a few ways to stop undercharging for your services:
1. compare. // normally, i wouldn't recommend comparing yourself to other photographers/designers, etc. but in this case, it's good to know what the market runs for similar services. if you're charging $5,000 to do photography for a wedding, you're not booking clients, and most photographers in your area are only charging in the $2,000-$3,000 range, then you might want to reconsider your pricing.
2. talk budget. // i always like to get a feel for what a client's budget is when i start a project for them. (this is really specifically for larger projects that will cost more, like a wedding, vs smaller projects, like a senior photo shoot) finding out what your client can pay or has budgeted will help you determine what you can actually do for them.
3. create levels in your pricing. // when aj meets with a client who is interested in his web design services, he gives options. putting together packages with more/less extensive services (more customization options, more shooting time, etc.) allows your client to feel like they have some control over what they're going to pay and it also allows you to be realistic about what you can offer for what you're charging.
4. don't be afraid to change your prices. // if it's just not working for you, then remember it's ok to change what you charge! you need to be honest with yourself about the amount of time you're putting into a project vs how much you're making, but you also need to be making money! so don't fret about changing your pricing structure from time to time while you figure out what works for your market & client base.
5. shed the guilt! // there's always a level of guilt for me when giving a client pricing. (i'm not sure where that comes from, but it's really just annoying!) stop feeling guilty for asking for a fair payment for your talents and own it! you're awesome and you deserve what you're asking for.
so what are some ways you determine pricing? what do you find helpful when deciding how much to charge a client?