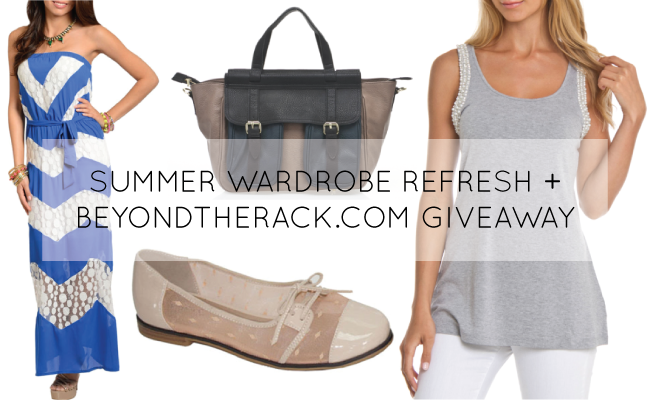 summer is here and in full swing! it's been in the 80s all week here in pa and i've been loving the opportunity to wear shorts and skirts and dresses! i picked up my very first maxi dress last week and i kind of never want to take it off! (so much so, that aj actually commented on how much i was wearing it. you know it's bad when the boy notices you're wearing something a lot.) so i went out and got myself two more!
here are a few things that are on my summer wish list:
a few more maxi dresses perhaps?
the perfect pair of jean shorts (i cannot find some that i really love…any tips?)
tank tops & pretty blouses
so, in order to get your summer wardrobe refreshed for the season, i'm partnering with beyondtherack.com to offer one lucky reader a $50 gift certificate for any purchase from the site!
beyondtherack has also offered all readers who enter this giveaway a $10 credit just for creating an account on their site. you can't beat that with a stick! just use the invitation code: BETSY10
beyondtherack is a private shopping club that carries clothing, shoes, and accessories for men & women and even has home decor! the brands range from kenneth cole to lacoste, to bcbgeneration, and their prices are awesome. most of the items i found on their site were less than $20!
so go check out beyondtherack and enter below to win $50 from them! (all entries will be verified so play fair!)
what summer wardrobe staples are you hoping to add to your closet this year?