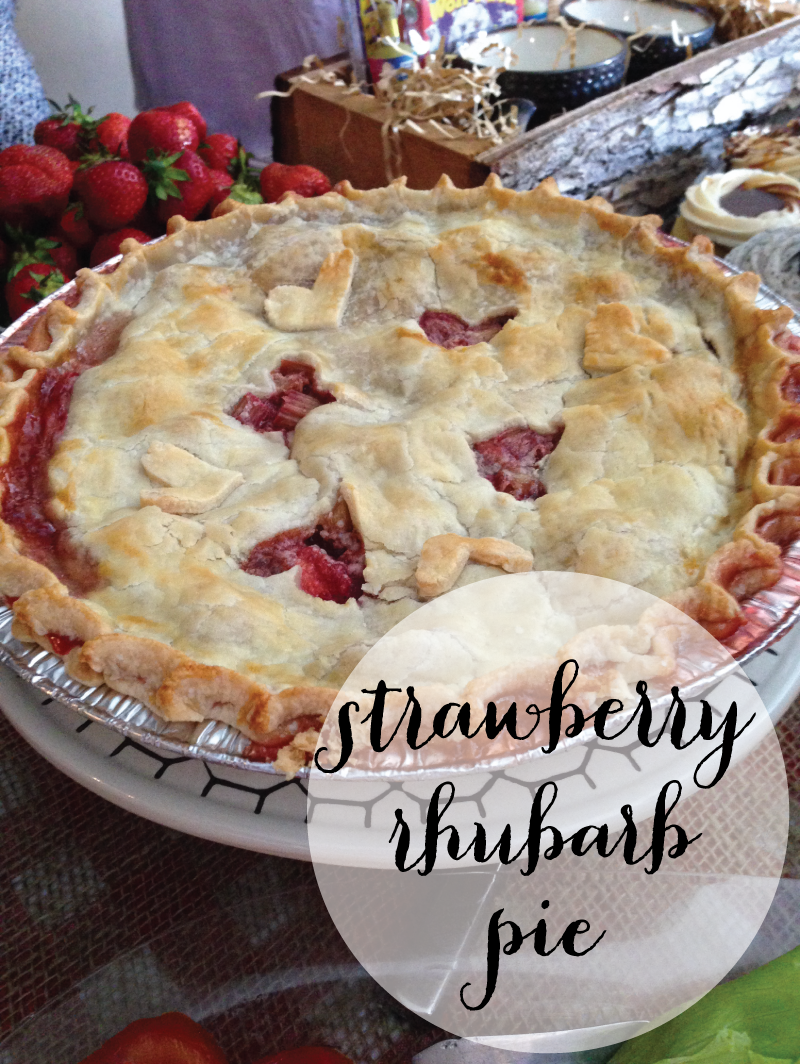 strawberry rhubarb pie is one of those pies that doesn't come around too often, but it's got such a heartfelt feel to it, if that makes any sense at all.
it's a pie that grandmothers have secret recipes for, and one that makes most people fondly remember the woman that baked it for them as a child.
i first tried my hand at strawberry rhubarb pie when i was throwing a bridal shower for my cousin and his wife-to-be. it was a hit and since it was incredibly easy to make, it's now become a staple in my summer pie repertoire.
pies are easily one of my most favorite desserts to bring to summer gatherings. they're so simple and people always seem to be thrilled and impressed with said pie-making abilities (again...i'll mention that they're
super
easy, so this always makes me laugh)
and today, i've got a yummy recipe for strawberry rhubarb pie to share with you!
here's what you'll need:
2.5 c fresh chopped red rhubarb
(you can usually find this near the strawberries in the grocery store or even better, at local farm stands;
i have had to ask for it at the store on multiple occasions)
2.5 c sliced strawberries (leave these in larger slices/chunks)
1.5 c sugar
2 tbsp minute tapioca
1 tbsp flour
1 tsp lemon juice
1/2 tsp cinnamon
1 tsp vanilla extract
3 tbsp butter
1 egg white
2 pre-made pie crusts...one for the crust and one for the top
(i buy the ones that come rolled up in a box at the store, obviously, you can also make your own!)
first, chop the rhubarb & strawberries. combine these with the sugar, tapioca, flour, lemon juice, cinnamon, and vanilla and mix together in a bowl.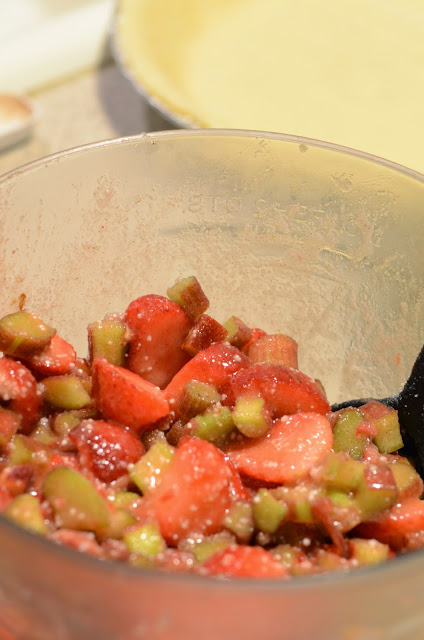 press your pie crust into a pie plate (a 9" pie plate works well for this recipe), then pour your filling into the pie shell. it shouldn't be overflowing, but should fill your pie plate. then, cut the butter into cubes and dot the top of your filling with the butter.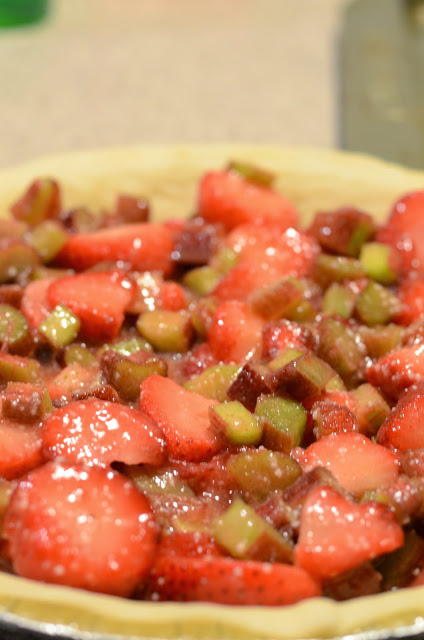 cover your pie with the other piece of pie crust dough. i like to be festive and cut hearts in the top of my pies, but feel free to get creative here! this is where your pie becomes pretty. then, brush the top of your pie with egg whites. you can also sprinkle large granule sugar all over the pie as well.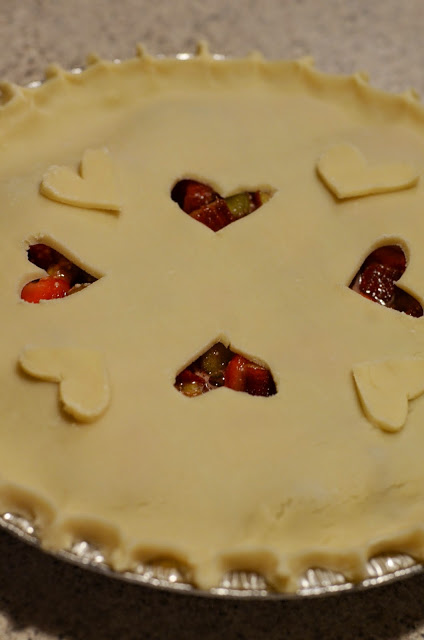 collar the edges of your pie with foil. do this by ripping a piece of foil large enough to cover the pie and then cutting a circle out of the center so that just the edges are covered. place it lightly on the pie...you're just trying to protect the edges, it doesn't have to be on the pie too tightly.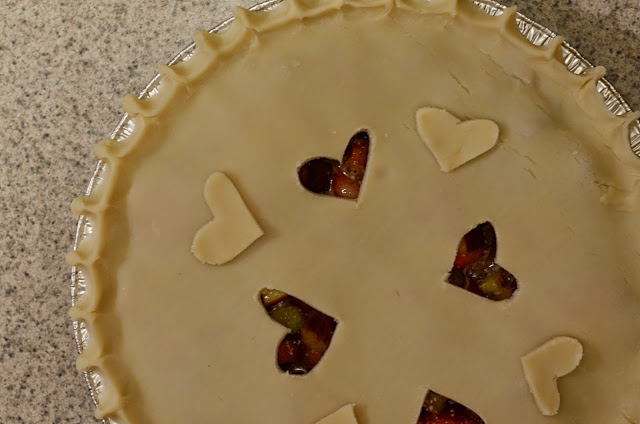 set your oven to 425ºf and bake for 15 minutes. after 15 minutes, decrease the temperature to 375ºf and bake for an additional 45 to 50 minutes.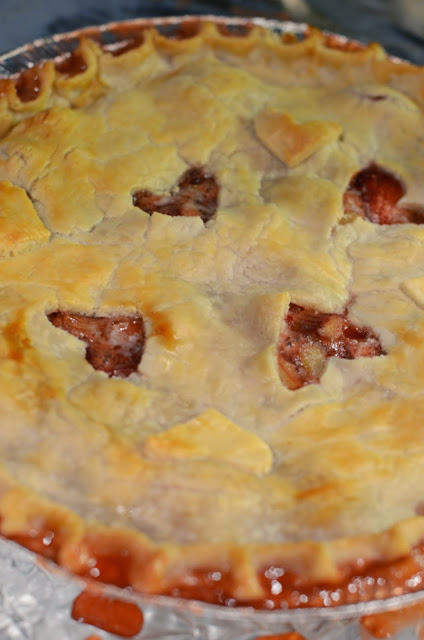 wha-la! your pie is pretty in pink! i've never had a strawberry rhubarb
not
ooze it's filling through the pie crust...if you've been successful in this area, share your secret! either way though, it's still pretty.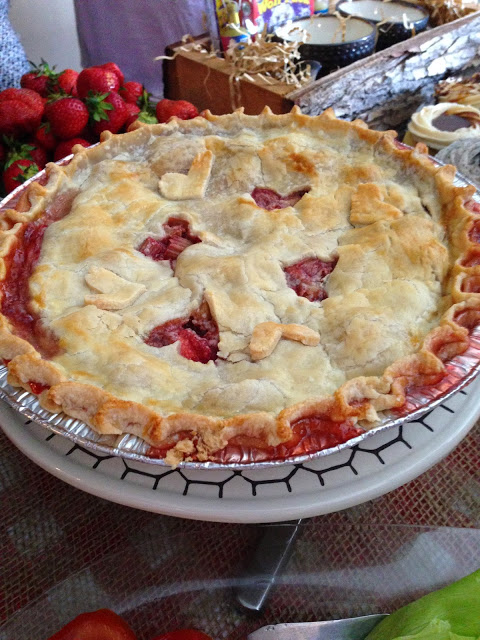 seriously, this pie will be a hit at your next picnic, and you'll marvel at how easy it is to make! trust me!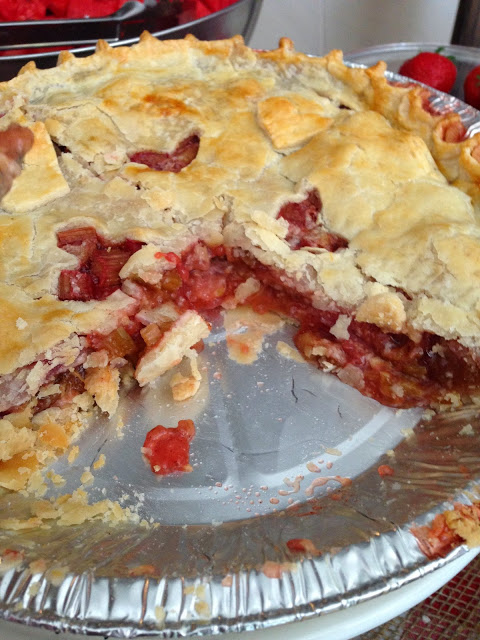 have you ever had strawberry rhubarb pie? did you like it?