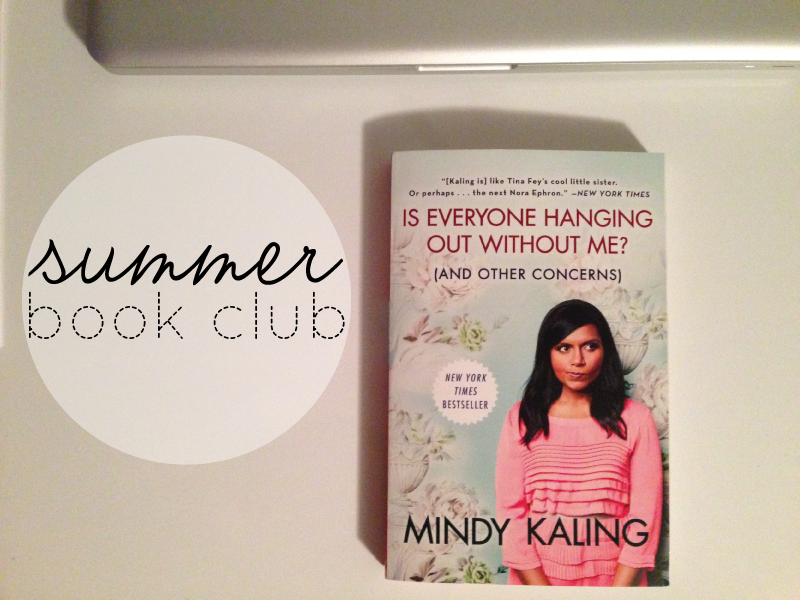 summer is finally officially here and one of
my goals for this season
is to read, read, read! i've got a stack of books calling my name, and as i started to think about what i'd like to read this summer, this book came to mind.
i read
is everyone hanging out without me? (and other concerns)
about a year and a half ago and laughed through the entire thing. it was the kind of book i never wanted to end, or at least it made me immediately think "c'mon mindy! hurry up and live some life so you can write a sequel!
of course, like most people, i first met mindy kaling as kelly kapoor thanks to
the office
. i'll be honest, i was never a huge kelly fan. i mean, she was fine and all, and she definitely had her hilariously funny moments, but i was fully in it for the jim & pam storyline.
but then when
the mindy project
started, i decided to give it a try and developed a major friend-crush on mindy. (she's definitely on my list of celebrities-i'd-like-to-be-bffs-with) she's like that friend who will say something along the lines of "do you want me to be honest? because if so, then you look a little like a marshmallow, but if not, then it's so cute and i love it!" when you ask her if she likes your new coat.
is everyone hanging out without me?
is a collection of essays and anecdotes from kaling's life, many of which have made it into
the mindy project
in some form. she's hilariously blunt and talks like she writes for tv...witty and quippy and a little dramatic. i mean, with chapter titles like "don't peak in high school", "the day i stopped eating cupcakes", and "revenge fantasies while jogging", this book will keep you giggling from cover to cover. (for real...even if you're sitting in the waiting room at the dentist's office, you'll be choking back laughter trying not to look crazy and then it'll come out as a snort instead and everything will just be embarrassing)
if you couldn't tell already, i loved this book. i definitely still have a stack of female comedian memoirs to read (including
bossypants
by tina fey and awaiting amy poehler's book coming out this fall!), but this one spoiled me. it's a fantastic beach read and you can pick it up for less than $12 on
amazon
, so what's not to love?
what about you? have you read mindy's book? what's on your summer reading list?