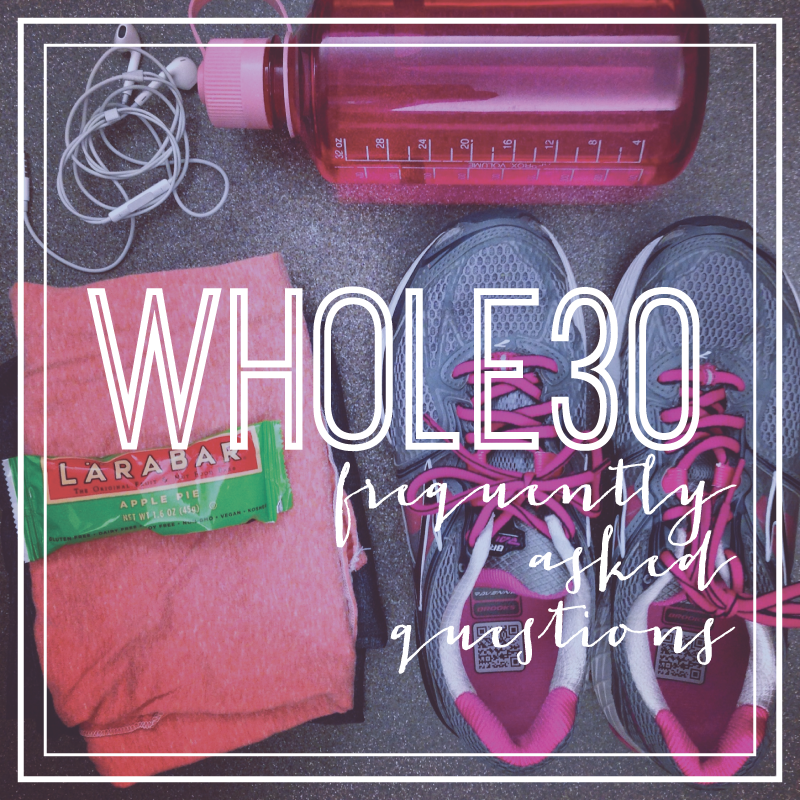 i've officially come to the other side of my whole30! it feels really good to have accomplished thirty days of clean eating. i did take before/after photos, but since i didn't have the foresight to take web-appropriate photos (i took them in running leggings and a sports bra), i won't be posting them. but, read on as i answer some of the questions that i had when i first started my whole30, and feel free to let me know if you have any questions about my experience!
1 // what is whole30? what made you decide to do it?
whole30 is a thirty-day cleanse. you commit to a modified diet for 30 days, no excuses, no cheating. essentially, you eliminate 4 types of inflammatory food from your diet: grains, dairy, sugar, and legumes (including soy). there are a few exceptions to those rules (you're allowed to have green beans and snow peas), but the goal is to completely axe all four of those from your diet. you also agree to not weigh or measure yourself for the duration of the cleanse, except for once on day 1 and once on day 30. i decided to do whole30 because i needed to reset my system. you can read more about that decision
here
!
2 // was it hard to give all of that up for 30 days?
yes. and no. there were a lot of moments when i just wanted to give in and have the darn creamer in my coffee, but i went in with the mindset that i was going to commit to it, so i was able to talk myself out of the temptations that i had.
3 // did you lose weight? how did you feel?
i lost 8 pounds and over twelve inches total on my body (eight of which were on my waist and stomach). other than a short period in the middle of week two, i really didn't feel bloated at all throughout my thirty days. i did have some headaches as i cut sugar out of my diet and i also went through a short period of feeling pretty tired. once i got into my third week, however, all of the negative side effects i was feeling as my body adjusted were gone and i was feeling good.
4 // what other benefits did you notice about whole30?
the whole30 community is all about celebrating "non-scale victories", which is part of why you're not allowed to weigh or measure yourself during the thirty days. other than not feeling bloated, i noticed that my skin was clearer and i just
felt
healthier and stronger.
5 // did you exercise?
yes! i got into a bad routine of not working out regularly in the last few months of 2014, so making exercise a priority was something i planned on doing in the new year anyway. i really wanted to get back to running and cycling, so i did a lot of that!
6 // how did you stay motivated?
you can't help but be motivated by how good you feel knowing that you're putting whole, healthy foods into your body! but i won't lie, there will be times when you just want to quit. here are a few ways i found motivation to keep going on those rough days
+ i downloaded the
whole eating app
, which proved to be a great way to keep track of where i was in the cleanse (it has a countdown), as well as offered daily motivation, a shopping list, recipes, and a quick reference of what i could and couldn't eat.
+ check out the #whole30 and #whole30results hashtag on social media...they're great ways to find others who are in this thing too and to find inspiration!
+ the biggest source of inspiration was the "tough love" section of the
whole30 website
. when i first started exploring whole30, that jumped right out to me, and i repeated the phrase "i can do anything for 30 days" to myself over and over throughout the cleanse!
+ read the
whole30 timeline
, so that you know what to expect throughout your 30 days!
7 // healthy foods are expensive, did it break the bank?
not really. yes, fresh, healthy foods can be expensive. but you shouldn't be doing a lot of snacking and you also aren't buying all of the not-so-healthy stuff that you're used to having in your pantry, so it evens out for the most part.
8 // did you still crave foods that weren't whole30 approved?
yep. in fact, i broke my whole30 by splitting breakfast with aj for valentines day, part of which was the best french toast ever. while i definitely find it easier to say no to foods that aren't allowed on the whole30, it doesn't mean the cravings totally went away! in fact, my dad mentioned captain crunch to me in week one, and despite the fact that i can't remember the last time i had that cereal, i still craved it for most of the thirty days! either way, it does get a little bit easier, and you feel really good knowing that you can say no to foods that aren't good for you!
9 // how will your eating change now that you finished whole30?
i felt really good on the whole30, and i want to continue eating this way. it is definitely a manageable way of eating, and i have a goal that i'd like to be at for our wedding, so i plan to maintain this lifestyle. aj adopted a paleo diet (which is largely the same as whole30) when i started my whole30, and so we both plan to continue eating a paleo diet. i do plan to have non-compliant foods from time to time (paleo allows you to have two non-paleo meals each week), but for the most part, i will be sticking to the way i was eating during the whole30.
10 // would you do it again?
yes! in fact, i think that i'd like to do another whole30 again soon. as i said, i plan to continue eating this way, so i hope that it becomes a complete lifestyle and that doing another strict whole30 in the future will be easier.
have you done the whole30? do you have any questions about it?