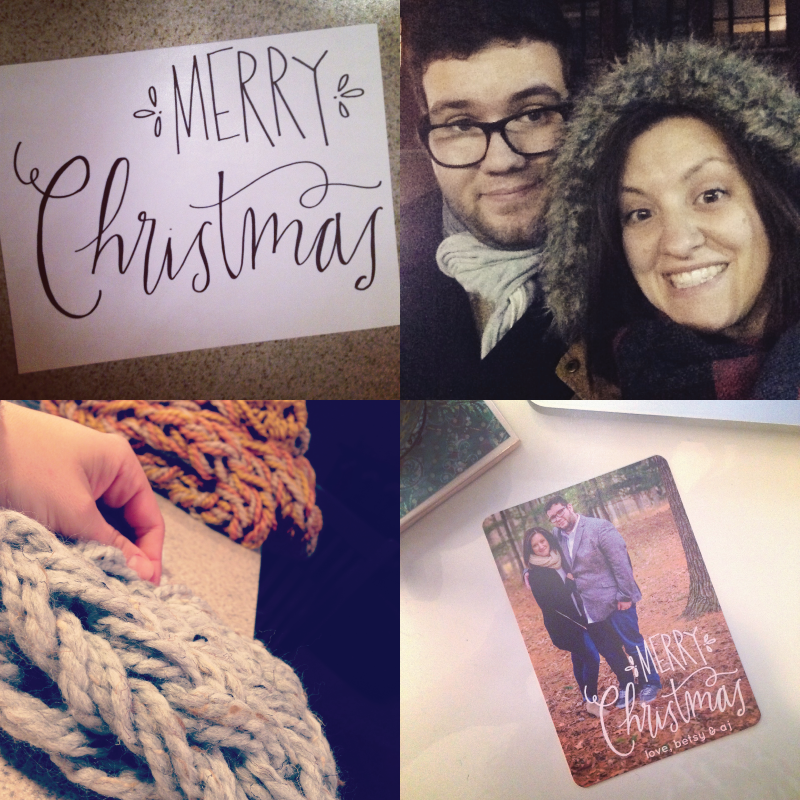 well, i'm a day late on my weekly recap, but better late than never! as christmas gets closer, i feel like my life is getting crazier! i'm officially on christmas break from teaching (woohoo!) and we had an adorable little sing along with my preschoolers and their parents. they sang
jingle bells
and the first verse of
away in a manger
and they were so proud of themselves!
happenings:
+ i designed our
family's
christmas cards this year and included a little hand lettering!
+ aj's mom and i drove to boston on thursday and
brought
aj and my cousin zac (who also goes to berklee) home for the holiday! it's going to be so great to have him home for a month!
+ i spent lots of late nights knitting this week...i think i
knit 10 or 11 scarves in the past 6 days!
+ our christmas cards arrived friday. i love them! but also disappointed because we ordered 25 and they only sent 20...boo!
in case you missed it:
+ in what ways is god calling you to be generous right where you are?
+ here are my five tips for having the
prettiest presents
under the tree this year!
+ i talked about
dressing down
and featured a beautiful necklace from pink lemonade!
+ two exciting
giveaways
are open right now for you! (but hurry!)
+ a quick little
grateful list
!
don't miss these:
+ if you're obsessed with washi tape like i am, then you need to check out this super simple diy
washi tape jar
from meg!
+ love love love this handmade holiday gift guide from farm pretty!
+ these fun diy cards from melissa!
+ summer's thoughts on advent.
+ these yummy granola & yogurt parfaits from madison!
have a fantastic sunday!